Mail from … Santa Barbara
PhD student Fabian Kleischmann reports on his research stay in the USA
Fabian Kleischmann is a PhD student at the Leichtweiß-Institute for Hydraulic Engineering and Water Resources (LWI) at TU Braunschweig. A scholarship from the German-American Fulbright Commission gave him the opportunity to advance his research project at the University of California in Santa Barbara. He reports on the opportunities and challenges of such a stay in our series "Mail from …".
This is where I live at the moment:
I am currently living in Santa Barbara, California, USA, in a shared house. Our house is about 15 minutes by bike from the beach and the campus of UCSB (University of California, Santa Barbara).
This is what I do in Santa Barbara
At UCSB, I am currently continuing my research on the topic of flocculation behaviour of small particles in oscillating flow as part of a Fulbright scholarship. We are looking at the interaction of very fine sediments and the surrounding oscillating fluid with high-resolution numerical simulations. The aim is to identify parameters that are decisive for particles to come together and form flocs or to move away from each other and possibly even separate floc structures. Among other things, this is important for understanding the sedimentation of particles in coastal areas, which is significantly influenced by the oscillation of the waves. So far, the main focus has been on numerical calculations. Soon, however, experimental work will also be carried out.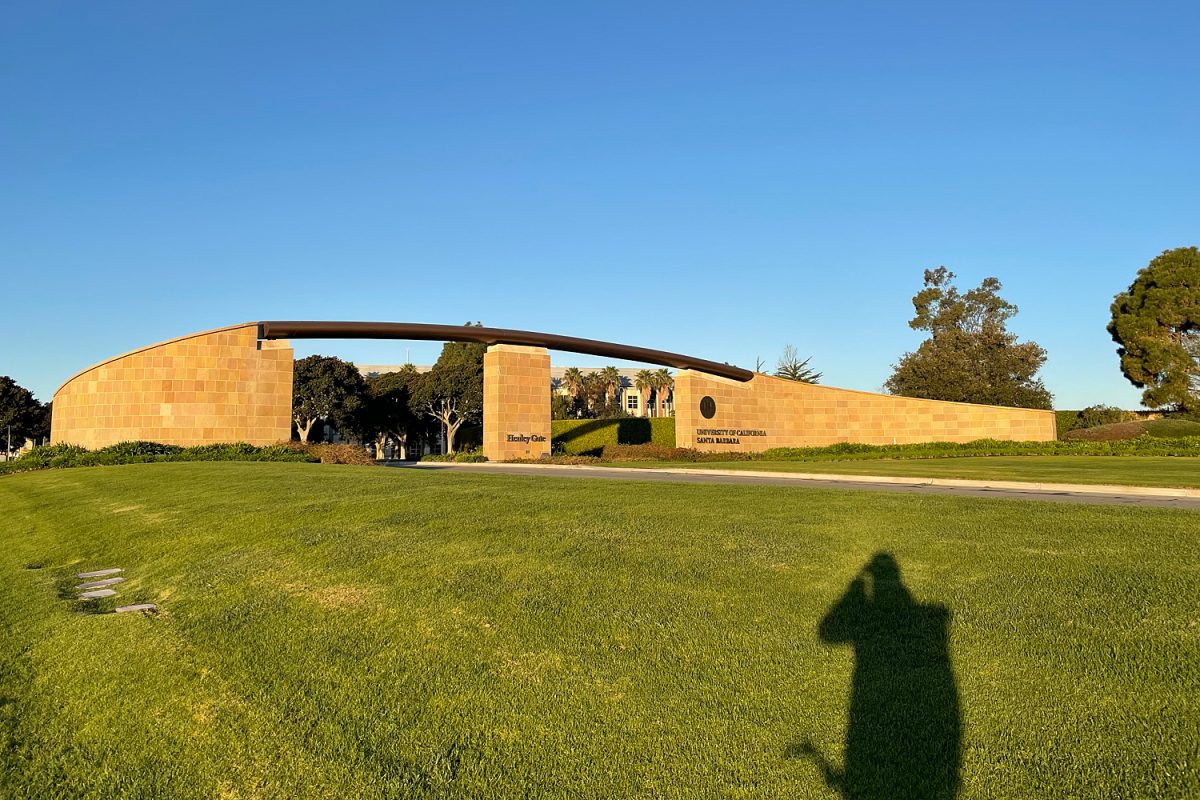 Henley Gate is the entrance to the UCSB campus. I cycle past here every morning and start my working day with the sunrise behind me. Photo credit: Fabian Kleischmann/TU Braunschweig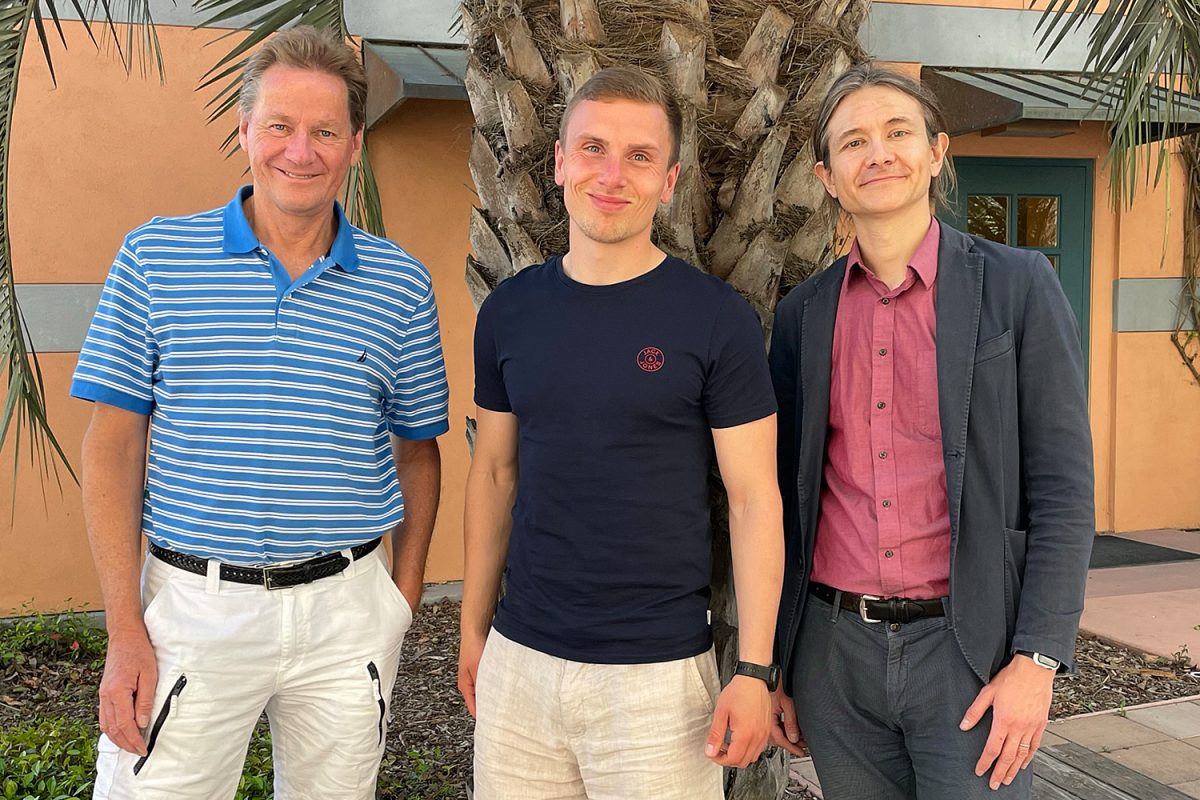 Together with my supervising professors Eckart Meiburg (l.) and Paolo Luzzatto-Fegiz in front of one of the countless palm trees on the UCSB campus. Photo credit: Fabian Kleischmann/TU Braunschweig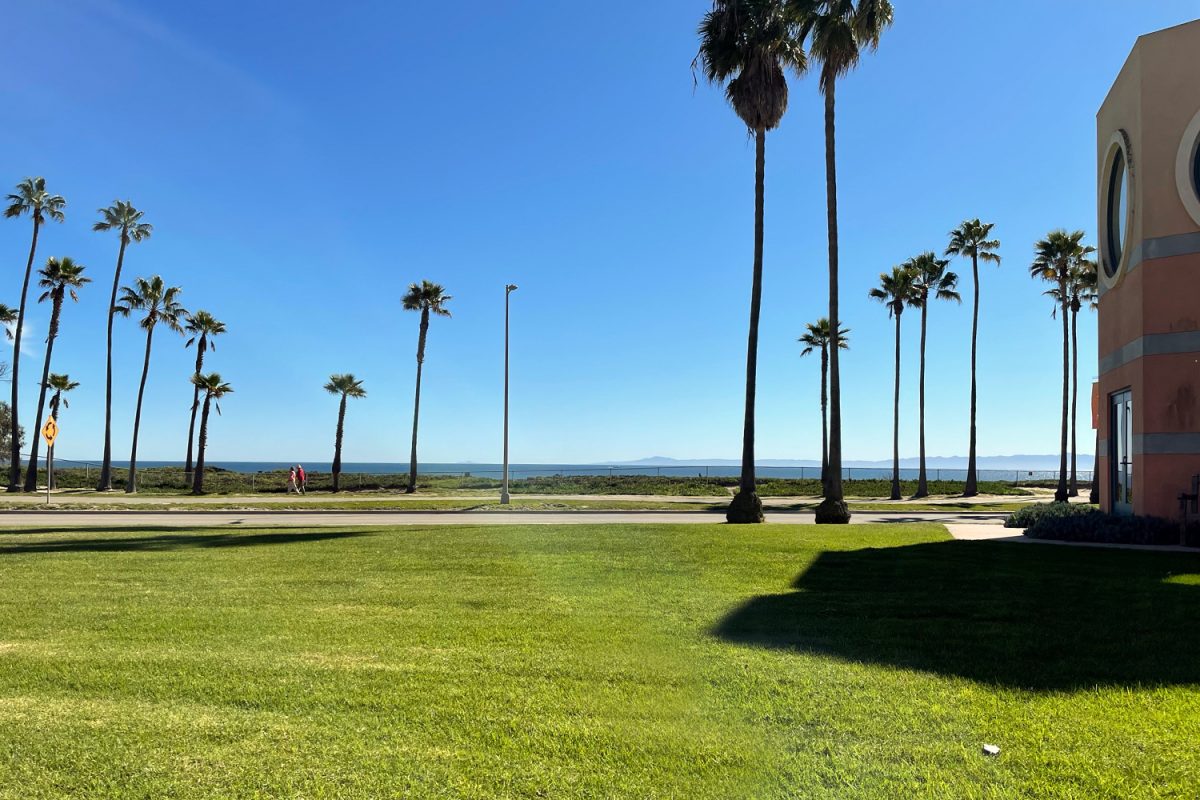 The UCSB campus is located directly by the sea and even has its own beach and lagoon. Enjoying such a view, with blue skies and sunshine, is a good way to spend a lunch break. Photo credit: Fabian Kleischmann/TU Braunschweig
In mid-April, we were at the Southern California Flow Physics Symposium (So Cal Fluids) at the University of California, Los Angeles (UCLA) with our entire research group. After my own talk, a few work colleagues and I still had time to explore the campus. Photo credit: Fabian Kleischmann/TU Braunschweig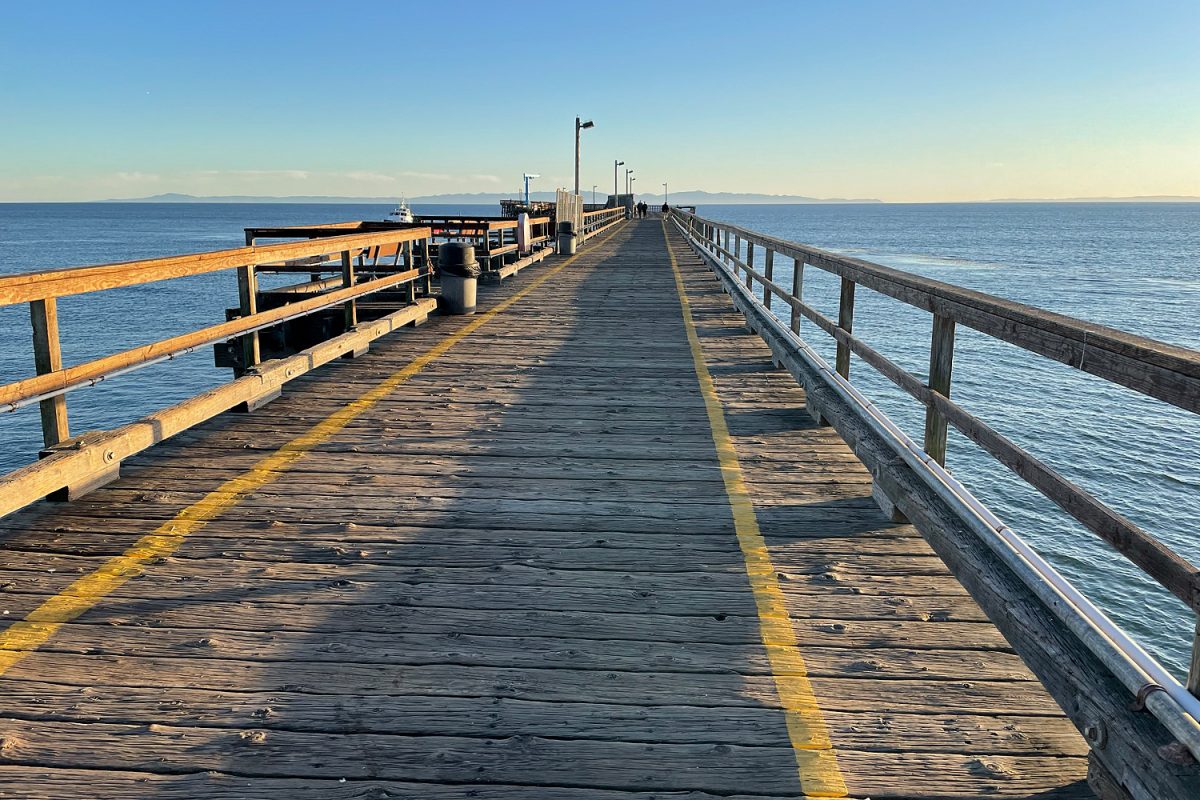 After work, I always stop at the nearby beach (Goleta Beach) to walk on the beach or pier and unwind. Photo credit: Fabian Kleischmann/TU Braunschweig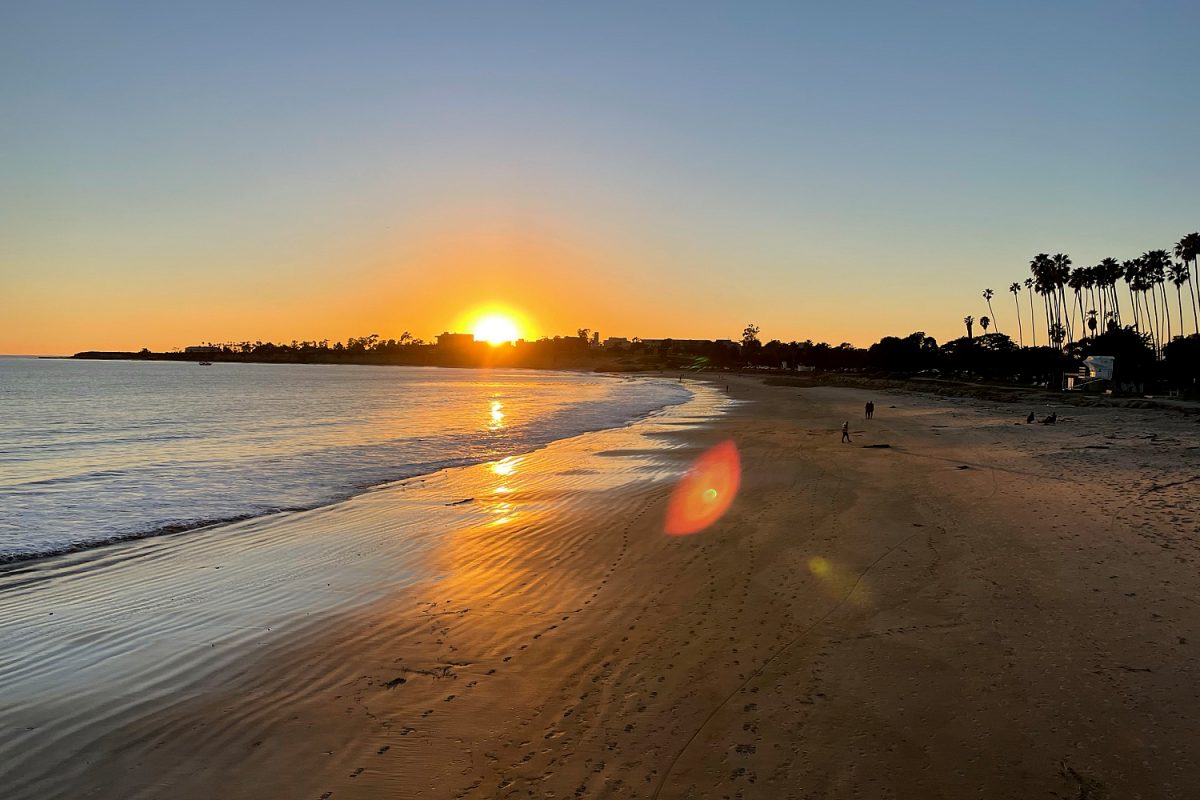 When the working day gets a little longer, you're at least rewarded with such a beautiful sunset over the campus buildings. Photo credit: Fabian Kleischmann/TU Braunschweig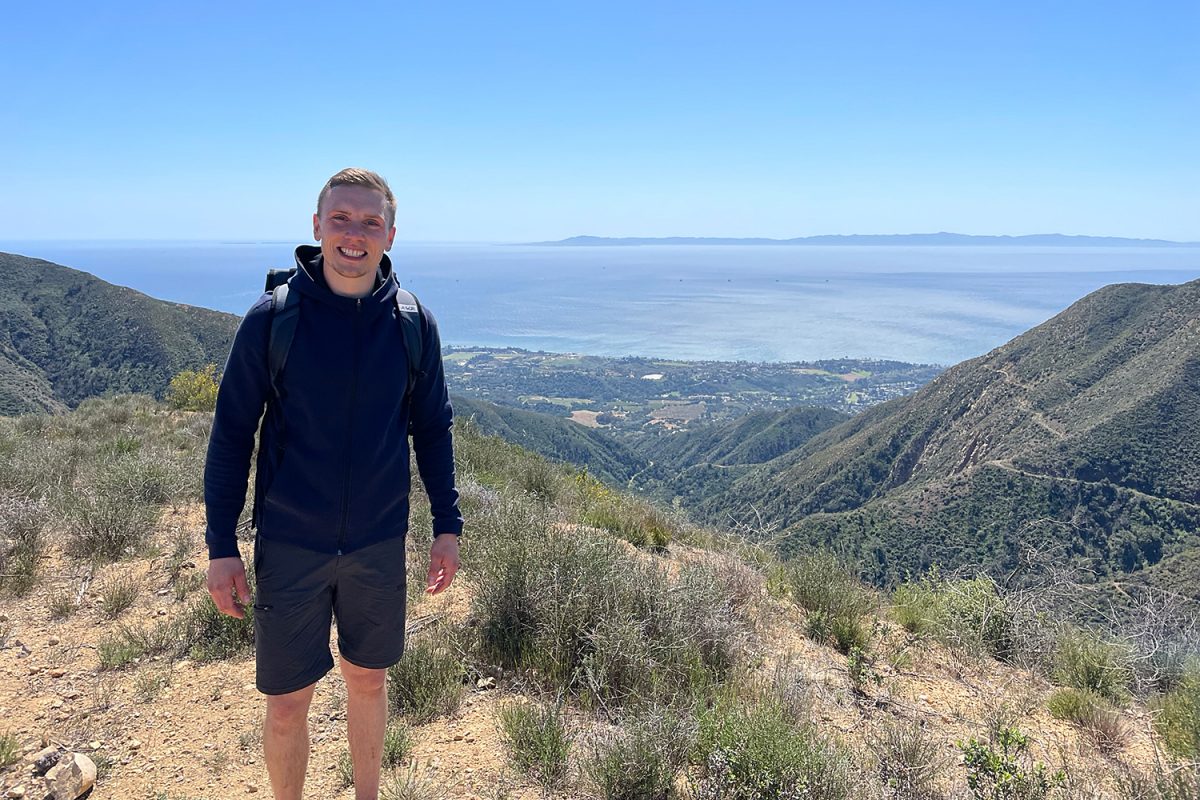 Over the weekend, I often go hiking in the nearby mountains with friends or colleagues. From here you (usually) have a great view over Santa Barbara and the sea. Photo credit: Fabian Kleischmann/TU Braunschweig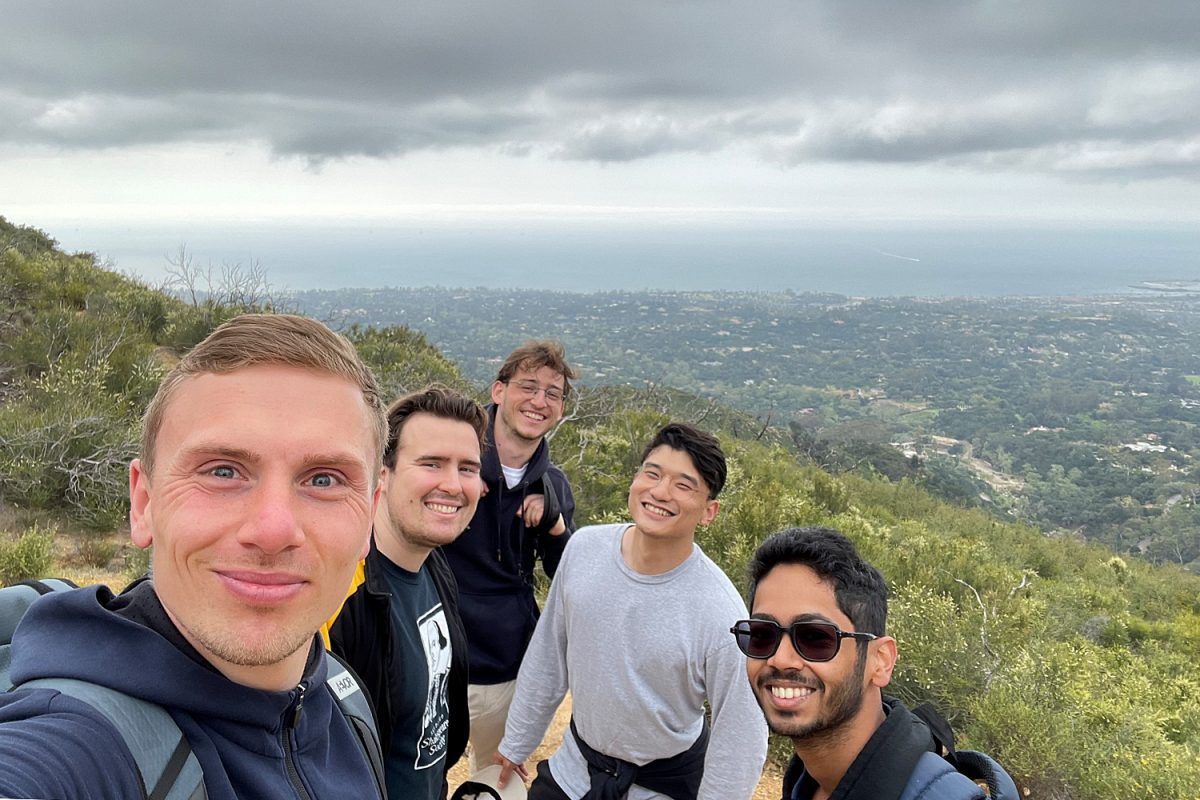 ... Exceptions prove the rule. Here I am hiking with some work colleagues and unfortunately we were not lucky with the weather that day. When we reached the top of the mountain, we were standing in the middle of a veil of clouds and could therefore only see a few metres away. Photo credit: Fabian Kleischmann/TU Braunschweig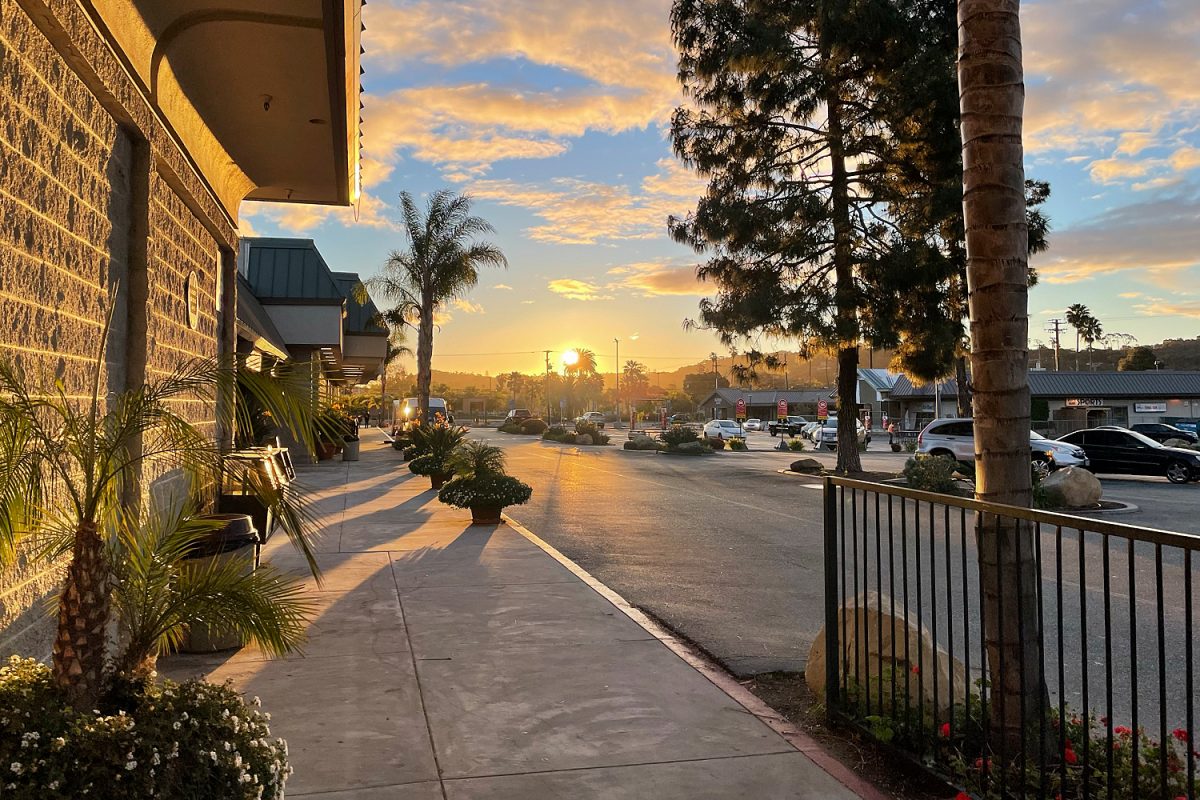 In addition to beautiful sunsets, early risers are also regularly treated to gorgeous sunrises. Photo credit: Fabian Kleischmann/TU Braunschweig
The total duration of my stay is:
My stay will last a total of seven months and is supported by the Fulbright Doctoral Programme.
My work at UCSB will last six months, from the beginning of February to the beginning of August 2022. Afterwards, I will use the 30-day residence permit of my visa to travel through California in a campervan together with my girlfriend.
This is why I decided to go abroad:
My supervisor at the Leichtweiß-Institute for Hydraulic Engineering and Water Resources, Dr Bernhard Vowinckel, drew my attention to the call for applications for the doctoral programme of the German-American Fulbright Commission. This programme supports research stays of PhD students at universities in the USA. My research builds on a previous project that Dr Vowinckel conducted as part of his postdoc at UCSB. As a result, there was already close cooperation with Professors Dr Eckart Meiburg and Dr Paolo Luzzatto-Fegiz. Receiving the scholarship thus gave me the opportunity to continue my research at UCSB and intensify the collaboration. In addition, I can work together with internationally renowned scientists and continue to network.
For me personally, the stay abroad is also an opportunity to broaden my horizons. This includes improving my English skills and getting to know exciting people and American life.
Local Life
This is how I live in Santa Barbara:
Here in Santa Barbara, I live in a shared house with my American landlady and a Chinese doctoral student. During the week, I spend most of my time on campus during the day and only see my housemates briefly in the evening. On weekends, we occasionally sit together, eat together or make ourselves comfortable by a fire in the fire bowl in the garden. My room is about 12 square metres and furnished. Because of the high rent, I still pay one and a half times as much as for a spacious 3-room apartment in downtown Braunschweig.
What makes research in the USA different from research in Germany?
Since I'm focusing on numerical simulations on the computer at the moment, my work is not that different from that in Germany yet. However, it is planned that I will soon carry out experimental trials with very small particles in vibrating flows. This represents a new field of work for me that I am very much looking forward to.
A fundamental difference to the German doctorate, however, is that in the USA you already start your doctorate after graduating with a Bachelor's degree. However, you have to take some courses at the beginning and submit final papers and project work.
Particularly typical for the country of my study abroad is:
Sunny and warm weather. Santa Barbara is located on California's "Central Coast" and the sun shines almost all year round, with average temperatures between about 10 and 25 degrees. Having the beach on your doorstep and the multitude of palm trees make it very easy to relax in your free time.
This is what I learned here during the first three days:
A "Hi, how are you?" is more of a greeting phrase instead of a serious question about your well-being. I became aware of this especially when many people looked at me annoyed after I had answered each time with my German politeness at the beginning.
The biggest challenge during my stay so far:
Fortunately, I did not need a long period of acclimatisation. My host professors and my new colleagues welcomed me with open arms and were very supportive at the beginning of my stay. The biggest challenge, however, is getting used to the high prices here in California. Besides the rent, healthy food is much more expensive than in Germany.
This is what I will take home with me from here:
I will definitely take a UCSB hoodie with me, which almost all students on campus wear. That way, I will always remember the wonderful time I had in Santa Barbara and at UCSB. I will also take home a whole lot of wonderful souvenir photos as well as many new friendships and acquaintances.
Good to know
This is a tip I give to other researchers and students who want to go abroad:
In addition to the preparations regarding the planned work and objectives on site, you should start looking for accommodation early, especially for a stay in California. The housing situation has become extremely difficult since the universities "reopened" after the Covid lockdowns. Not only has rent risen drastically, but the availability of free apartments and rooms has also decreased dramatically. Many students were left without accommodation at the start of the face-to-face lectures, so that they either had to stay in motels and hotels or in some cases even "live" on campsites.
One last thing I would like to say:
At this point, I would like to expressly thank my supervisor, Dr Bernhard Vowinckel, once again. He supported me in particular with the application for the Fulbright scholarship and gave me many valuable tips about life in Santa Barbara before I left. In addition, he continues to look after me through regular video conferences, which often take place in his early evening hours due to the nine-hour time difference.
Special thanks also go to my professors on site, Dr Eckart Meiburg and Dr Paolo Luzzatto-Fegiz. Together with their teams, they welcomed me with open arms and helped me a lot outside of work at the beginning of my stay.
I was also supported in all bureaucratic matters by the team of the German-American Fulbright Commission, which made my stay in Santa Barbara possible in the first place.