Mail from … Sweden
TU students Jan Brinkmann and Lars Klingenstein were drawn to the far north for their semester abroad. They are spending five months in Sweden with the Erasmus+ programme. In "Mail from", they talk about their experiences.
General Information
This is where we live at the moment:
Jan: I study in Luleå, the capital of the province Norbotten in the north of Sweden.
Lars: I currently live in the Swedish capital Stockholm.
This is what we do in Sweden:
Jan: I study at the Luleå tekniska universitet (LTU) for my Master's degree in Automotive Engineering. My courses here go a bit beyond that, though. In one course, for example, we deal with the properties of snow and ice, and got to build an igloo which was opened during the winter festival of LTU. The lectures that I visit are all held in English. On top of that, the current quarter includes a Swedish course and a subject for creative concept development. Additive Manufacturing and Project Management will follow in April.
Lars: I study Physics with a main focus on Astrophysics at the Stockholm University (Stockholms Universitet). Overall, I listen to three lectures: Astrophysical Spectra and Observational Astrophysics I & II. These are all held in English, and are part of the independent study programme of Astronomy. Especially Observational Astrophysics is a lot of fun for me, as it is very practically oriented and we get to plan and conduct our very own astronomical observation. In April, we will go on an excursion to the space observatory Onsala near Gothenburg, where we will operate the telescope ourselves for two nights and in the end analyse our data.
This is why we decided to go abroad:
Jan: I have always wanted to spend a longer period of time abroad. I want to find out more about the country, the people, and somehow also myself; more than I could perhaps learn on a regular vacation. Some of my friends also spoke very highly of their semesters abroad. Even though I had not been to Sweden previously, I already knew a few things and had taken an entrance-level Swedish language course at TU Braunschweig a while ago.
Lars: I wanted to spread out my Master's a bit, and to experience what it is like to study in a different country. I chose Sweden and Stockholm as my destination since I had always wanted to visit one of the Scandinavian countries. The nature here and the winter, which, contrary to Germany, is still very present, were further crucial points, since I like to be outdoors. In general, I have often heard that Sweden is great and was happy to see that I could apply for a spot in Stockholm.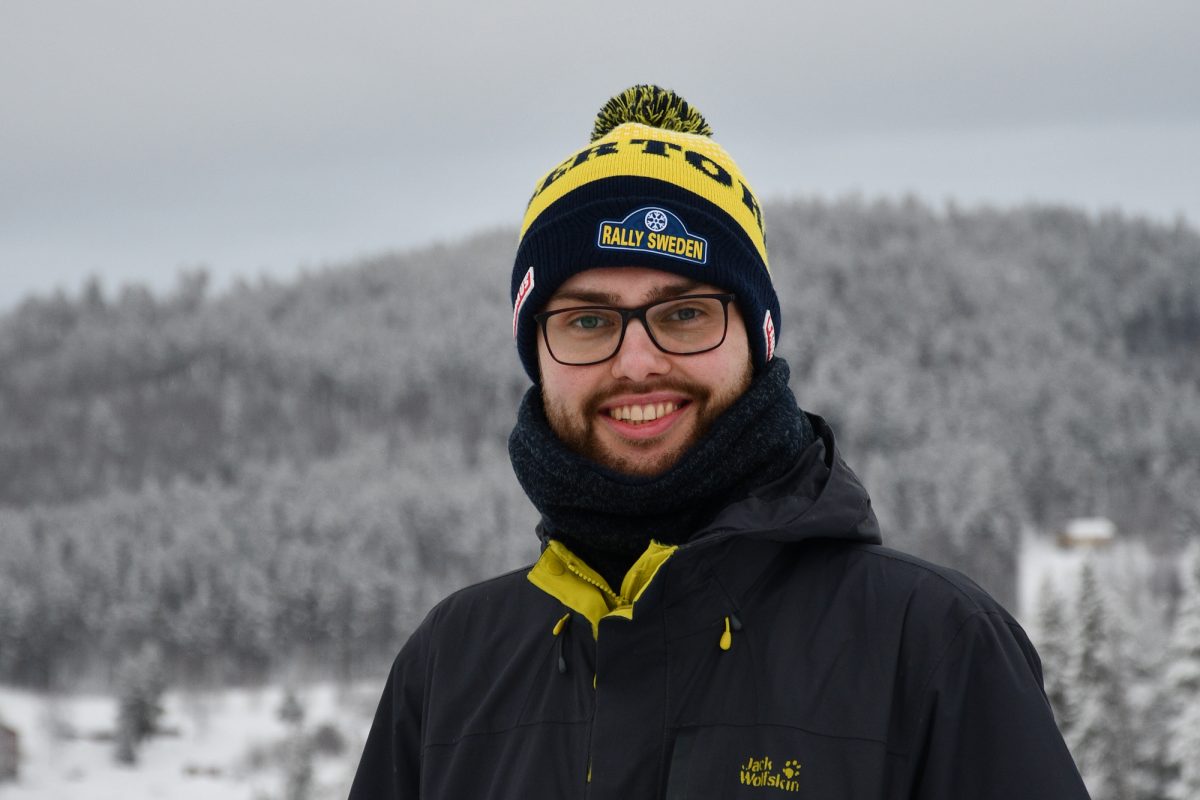 Here you can see me, Jan, - warmly wrapped up in the far north. Photo: Jan Brinkmann/TU Braunschweig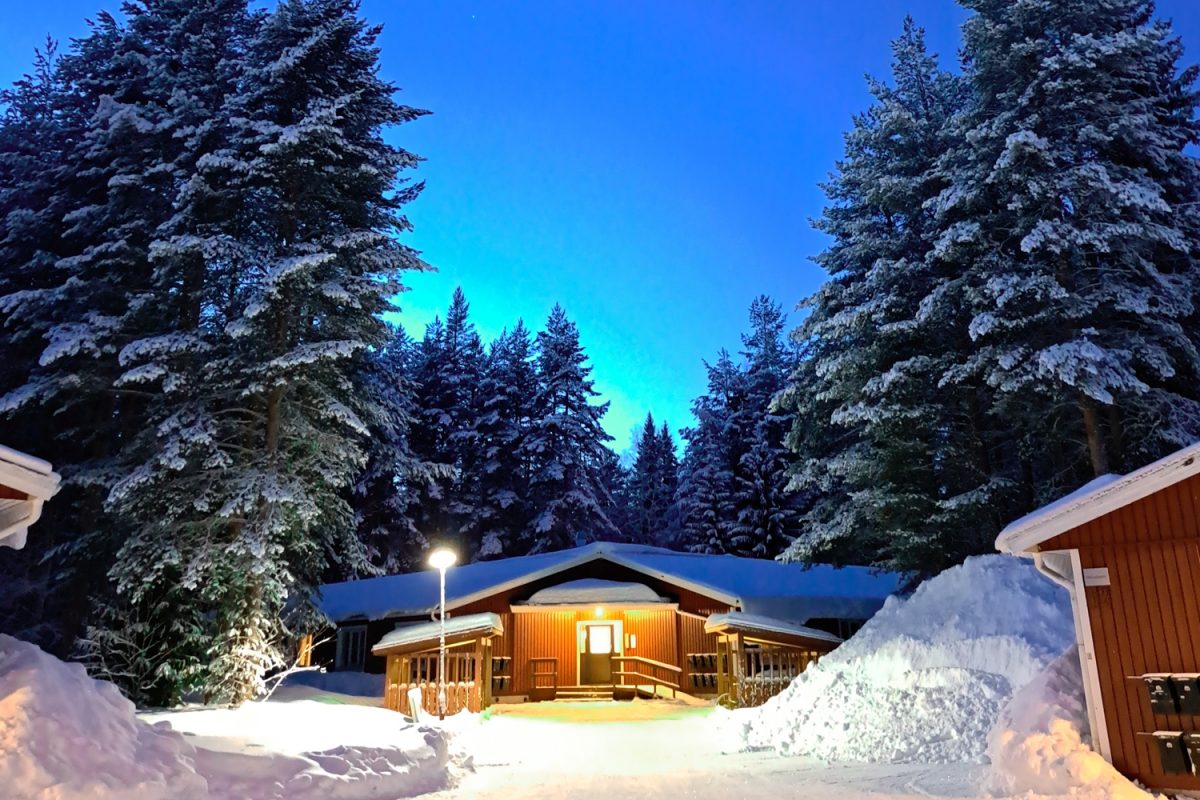 This house at the end of the street is a particularly beautiful view in all weathers when I come back from university. Photo: Jan Brinkmann/TU Braunschweig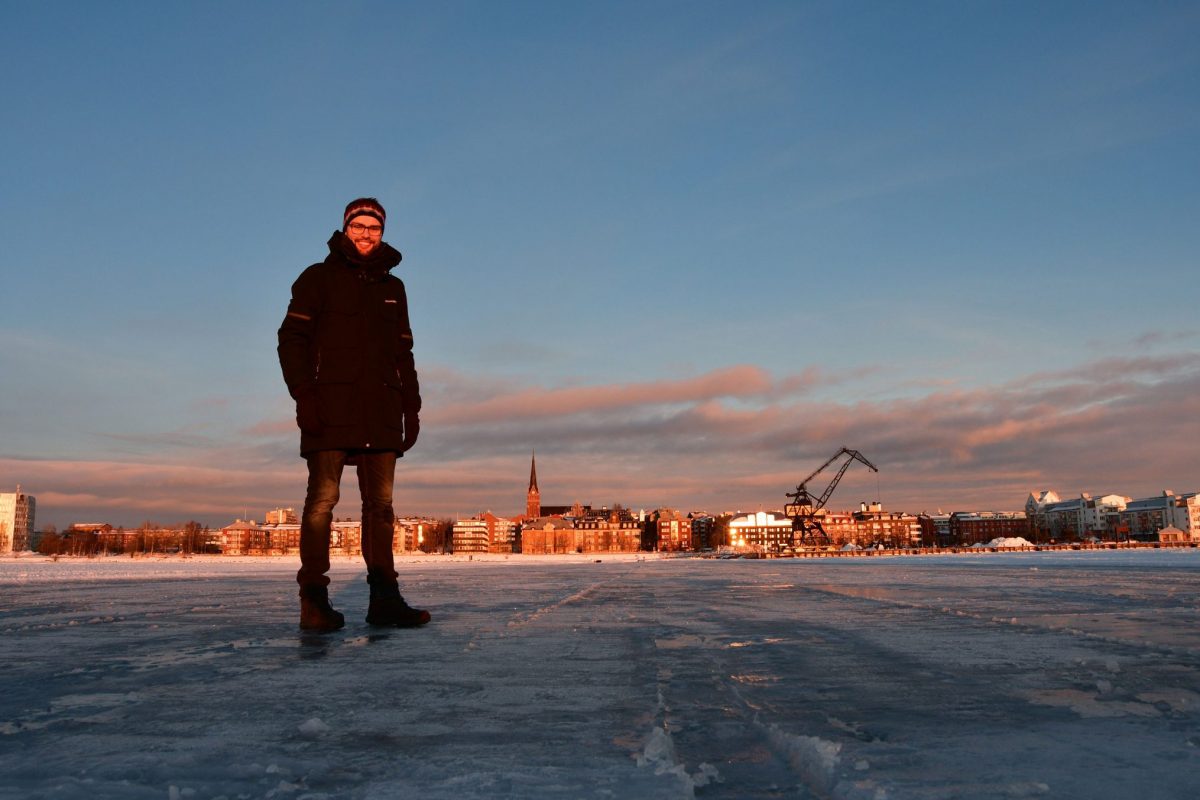 The frozen Baltic Sea near Luleå is also a good place to go for a walk. I watched the short sunrise here at the beginning of January. Luleå's landmarks are the church and the crane. Photo: Jan Brinkmann/TU Braunschweig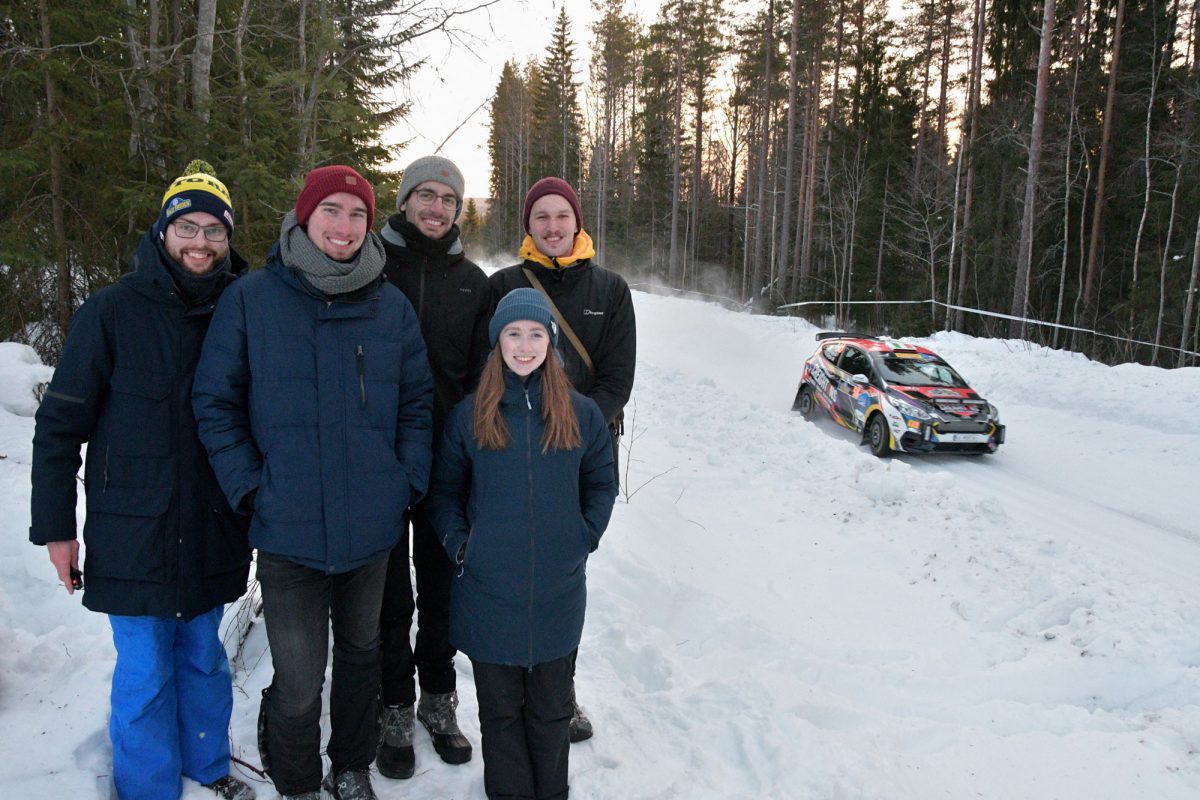 Group photo from our visit to the Rally Sweden. The later winner of the junior classification races past us here. Photo: Jan Brinkmann/TU Braunschweig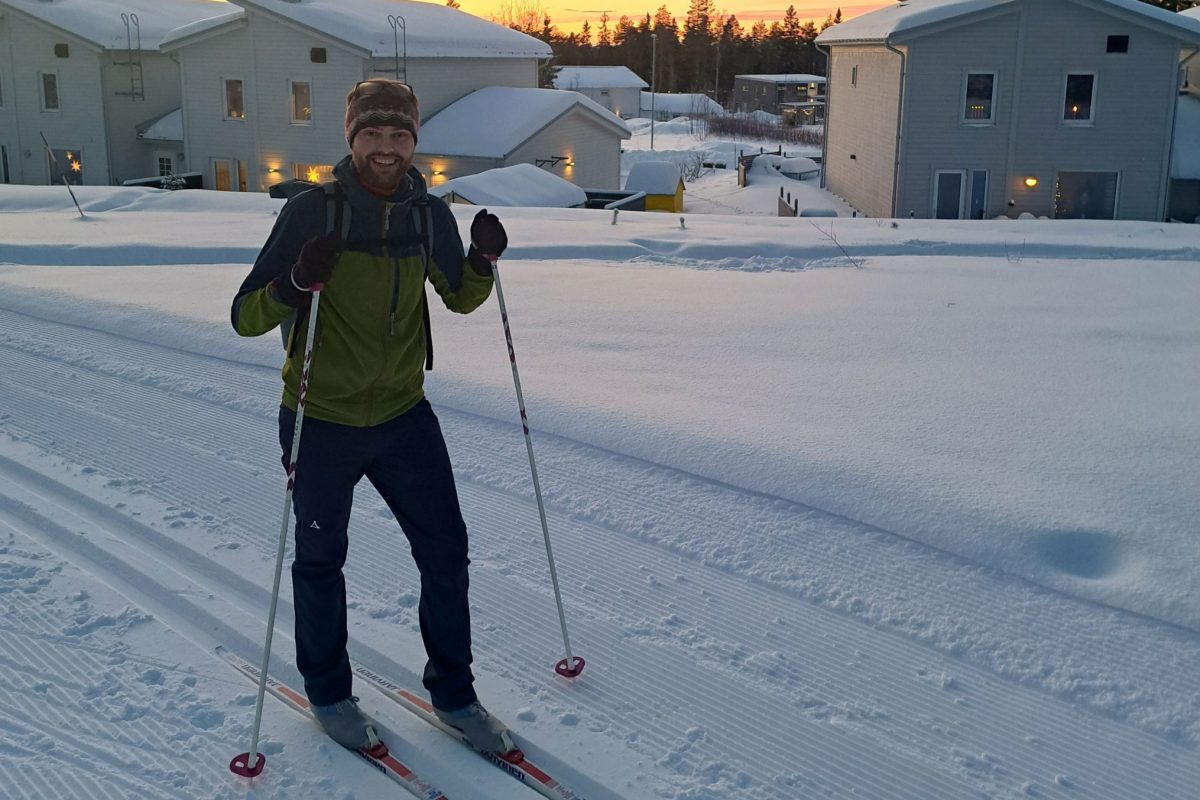 Luleå has several very nice cross-country skiing trails. Once you get the hang of it, it's great fun to ski through the forests. Photo: Jan Brinkmann/TU Braunschweig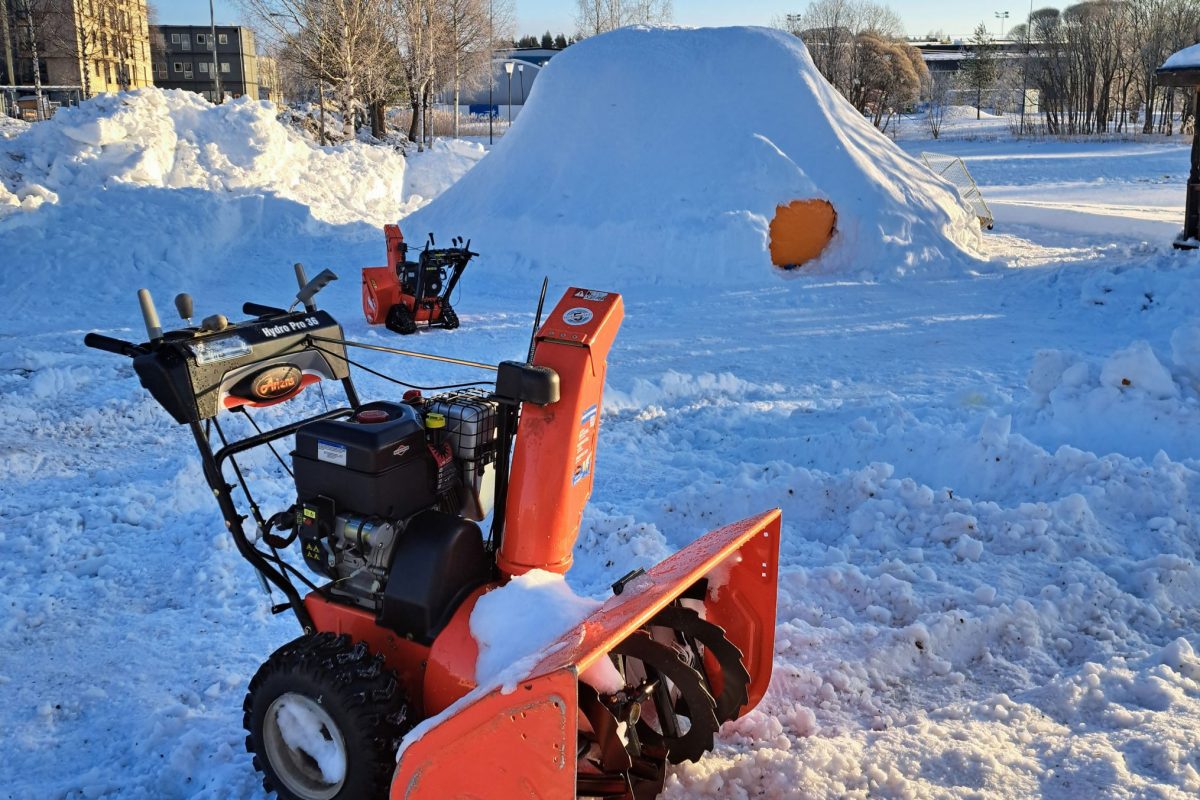 The construction phase of our igloo took some time. Here you can see our most industrious helper - the snow blower in front of what will later become the igloo. Photo: Jan Brinkmann/TU Braunschweig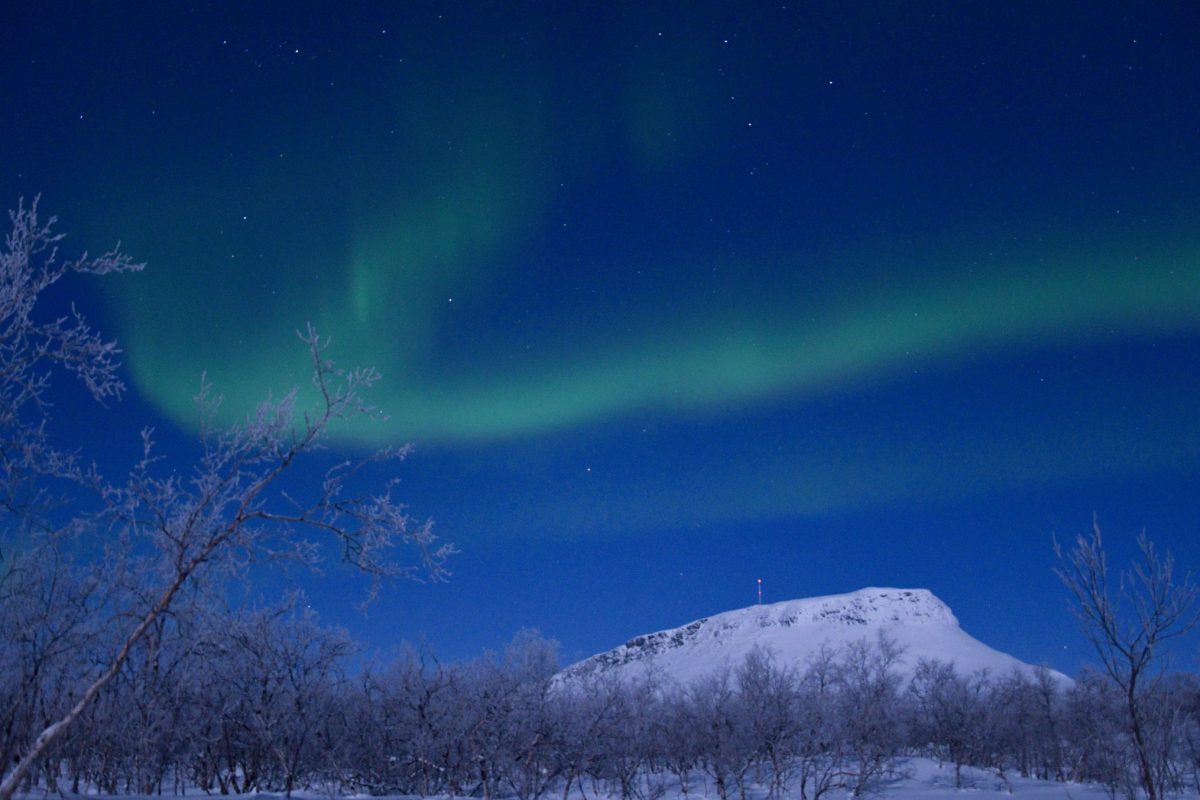 Northern Lights in Finnish Lapland. The photo was taken near the village of Kilpisjärvi and shows Finland's second largest mountain "Saana Fel". Photo: Jan Brinkmann/TU Braunschweig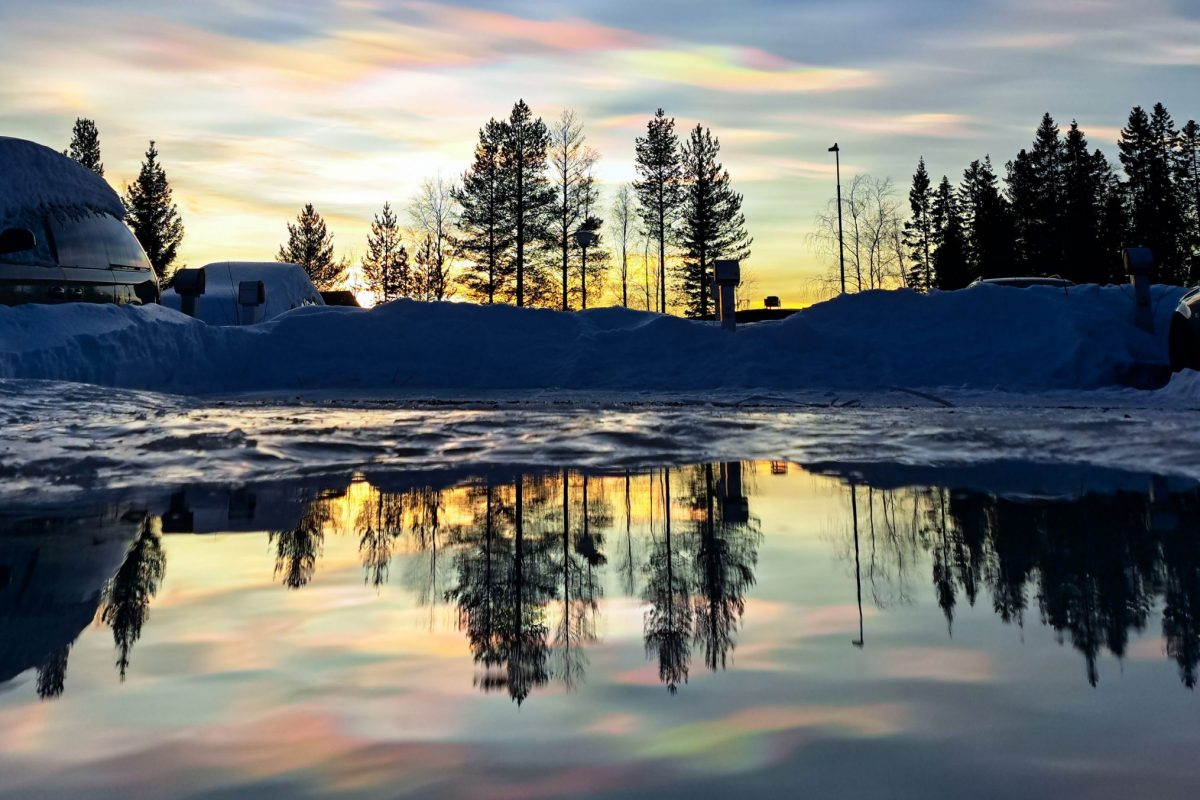 Polar stratospheric clouds are another rare natural spectacle, which I have already had the pleasure of observing up here. Photo: Jan Brinkmann/TU Braunschweig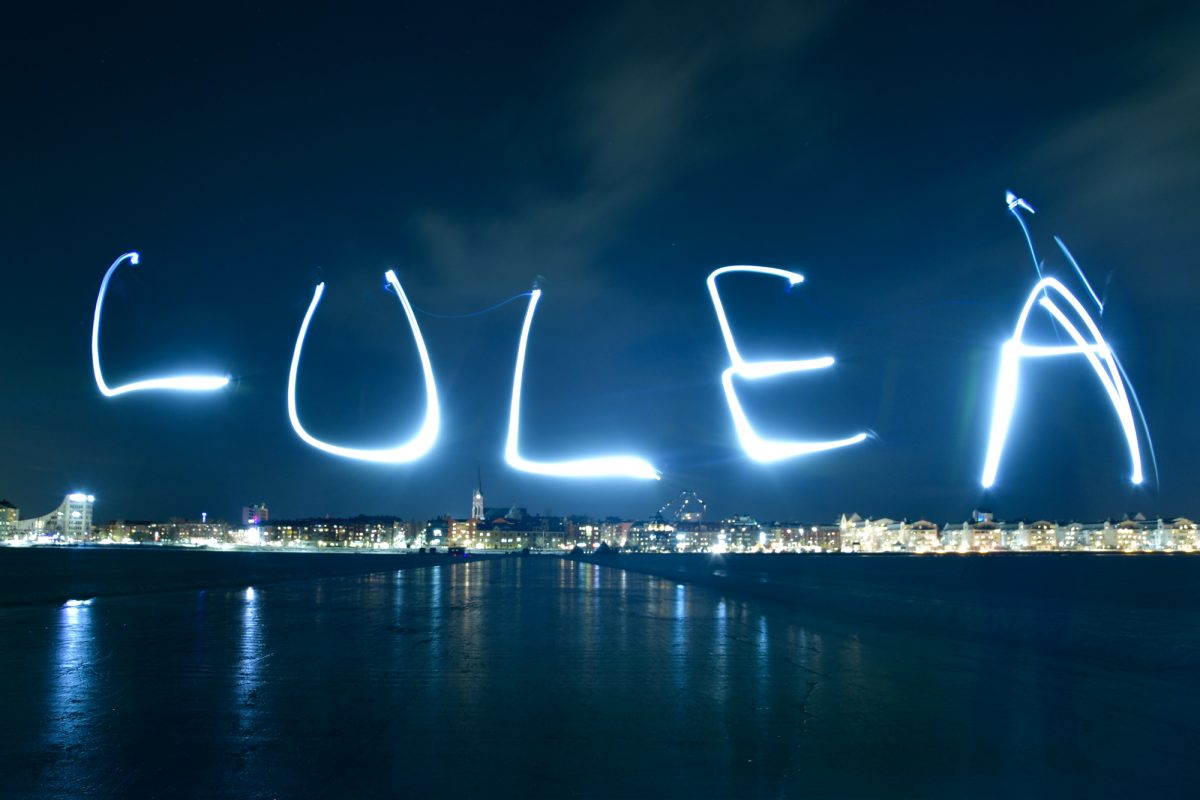 Night shot of Luleå: While waiting for the aurora borealis, I wrote the name of the city in the sky with my headlamp. I took the photo from the frozen Baltic Sea. Photo: Jan Brinkmann/TU Braunschweig
Local life
This is how we live in Sweden:
Jan: I live in a one room flat with a small kitchen and bathroom. It is situated in a student housing estate near the university. The single-storey wooden houses are red and white, typical for Sweden and close to a small woodland area. Due to the snow, which, here on the edge of the Arctic Circle, remains all winter, the walk to university is always an adventure. Us students spend most of the time together, so that you quickly feel very familiar in other rooms and flat shares.
Lars: I live in student housing of University Stockholm in Lappkärrsberget, or Lappis for short. That is a large complex made up of multiple buildings, in which hundreds of international students live. You have your own room with a bathroom and share only the kitchen with the rest of the hallway (about twelve people). The university campus Frescati can be reached by foot in eight minutes, but I do not have any lectures there. My campus is situated further towards the centre and I can reach it by bus in ten minutes. The best way to get from Lappis to the centre is the Metro, which takes about twenty minutes. I find that very comfortable!
What makes studying in Sweden different from studying in Germany?
Jan: The studies seem more school-like to me than my studies at TU Braunschweig. There are many smaller submissions due during the week, and at the end of a quarter there are bigger solo or group works to be submitted and presented. I really enjoy the high percentage of practical work. Aside from many different laboratories or display items, the students are often actively involved in lectures, too, via group work or shorter tasks.
Lars: I perceive studying at University Stockholm as overall more relaxed than in Germany. The earliest lecture begins at 10:15, and after 45 minutes there is a quarter-hour break. Although I study full-time here, I only have one lecture per day on average. Moreover, the semester is generally structured differently here: it is split into two halves (quarters), which each have their own exam phase. Per half, one attends only two lectures. That way, you have at most two lectures at the same time, and not four to five as is common in Germany, which I find very nice.
Particularly typical for Sweden is:
Jan: It would be wrong not to begin with the Swedish Fika here, but since Lars tells you about that, I would rather talk about the winter. The cold temperatures, ice, snow, and various winter sports activities are just as much a part of everyday life as the yellow Volvo excavators and lorries which transport snow out of the city day after day. As the Baltic Sea is frozen off Luleå, we can go ice skating and play hockey on it. For a bonfire and some barbecue, we hiked to the offshore islands and were able to not only enjoy the nice weather during the day, but also marvel at the Northern Lights in the dark. Since you can borrow winter sports equipment for free in Sweden, we are out and about on the ice and the cross-country ski tracks in and around Luleå multiple times a week.
Lars: As Jan already said, the Swedish coffee break, called Fika, is a fixed part of the day in Sweden, and one can tell in everyday uni life as well. Every day at 15:00, all staff and students of the institute come together, drink coffee and eat the baked goods provided. In fact, it's all free of charge!
That's what we learned here in the first three days:
Jan: I get to talking with people much faster than I would have thought. In doing so, my rusty everyday English gets going again very quickly, too. Besides, most Swedes speak very good English, which makes a lot of things easier. The city is also well-adapted to the dark season, everything is brightly illuminated, and on some cloudy days it is brighter during the night than during the day.
Lars: I can confirm that pretty much everyone here can speak very good English, so that one can communicate very well. Furthermore, you can encounter great willingness to help everywhere, whether at university, in the metro, when you cannot find your way, or in general in public life. If I ask someone something in English, I usually receive very kind help.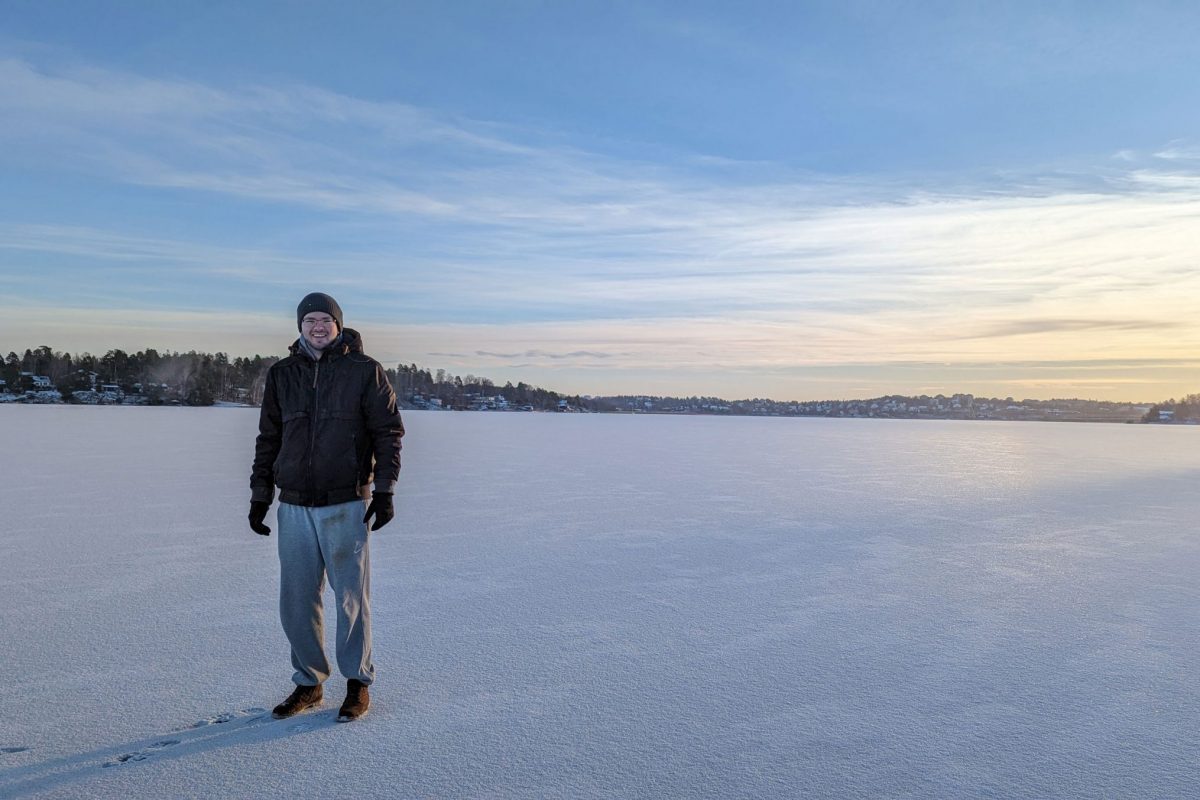 That's me, Lars, on a frozen lake in the Swedish winter landscape. Photo: Lars Klingenstein/TU Braunschweig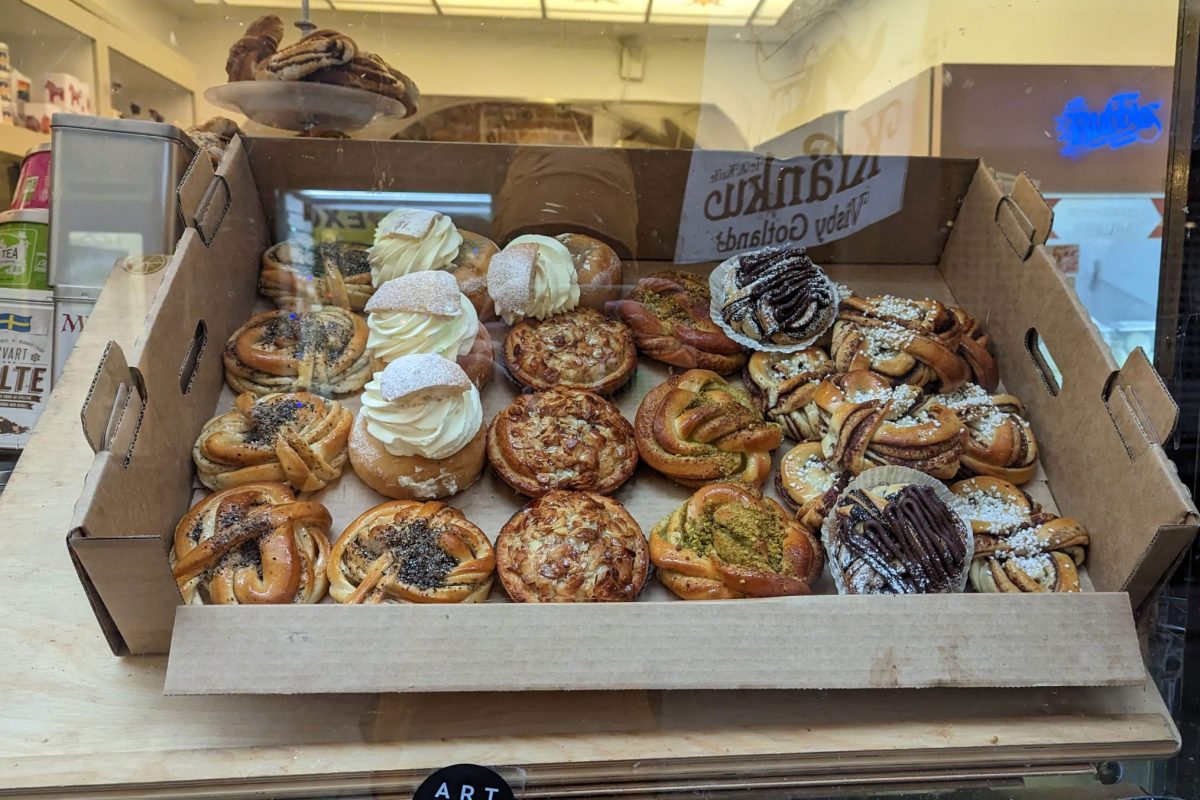 Here you can see a typical selection for the fika (coffee break): Cinnamon buns and semla (sweet rolls with cream) are available in every café. Photo: Lars Klingenstein/TU Braunschweig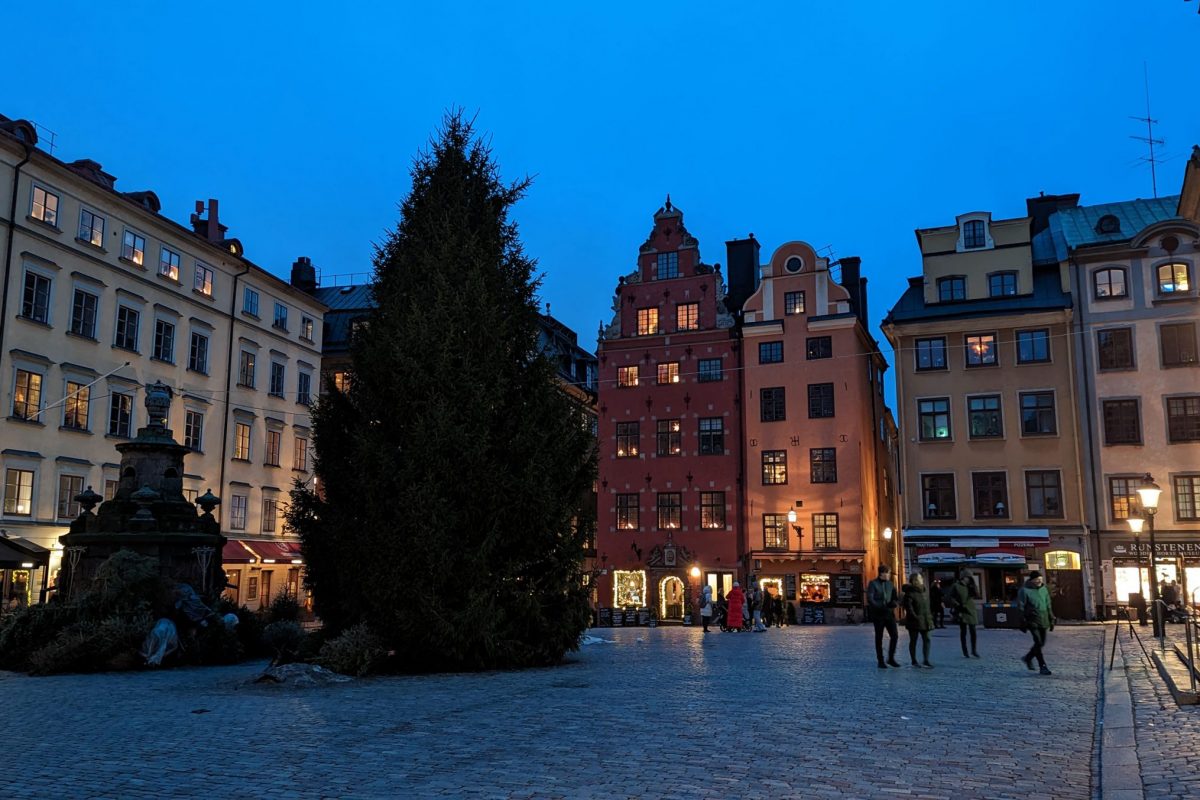 The central square in Gamla Stan, the old town of Stockholm. The Christmas decorations are still beautiful to look at in early spring! Photo: Lars Klingenstein/TU Braunschweig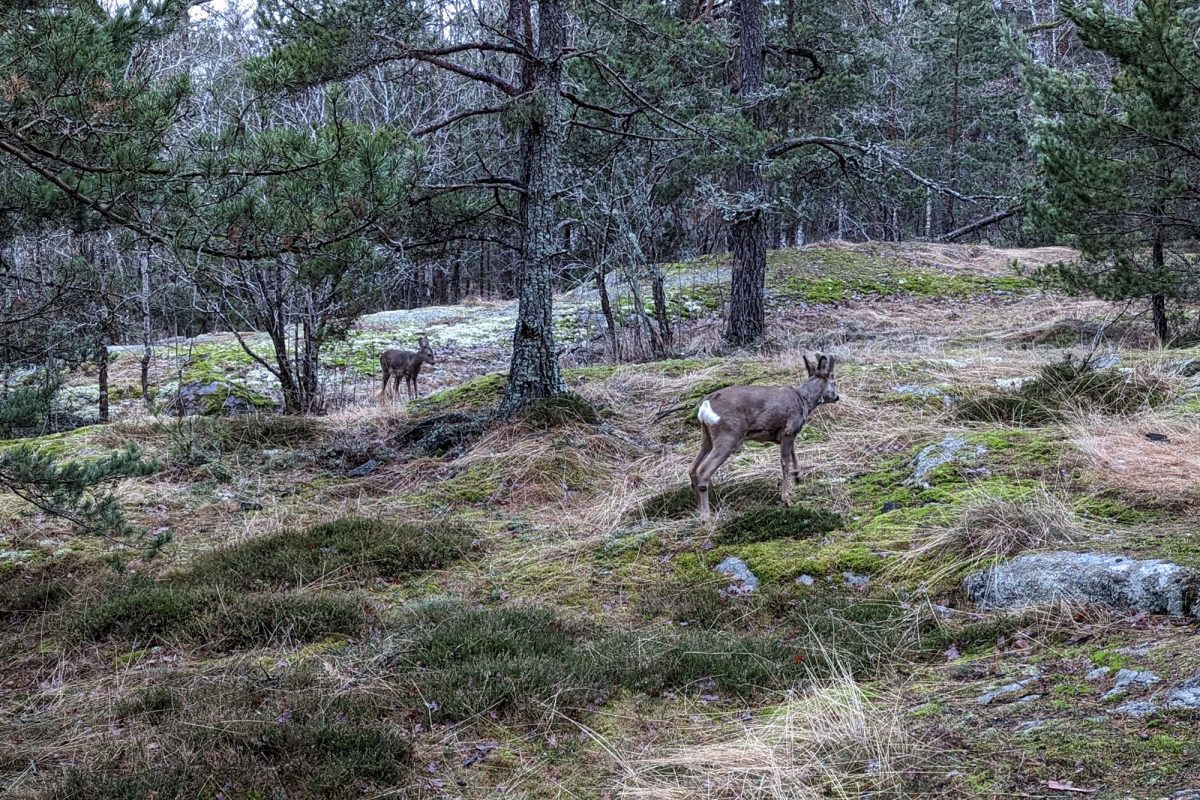 The Swedish wilderness begins directly in the forest behind my dormitory. Photo: Lars Klingenstein/TU Braunschweig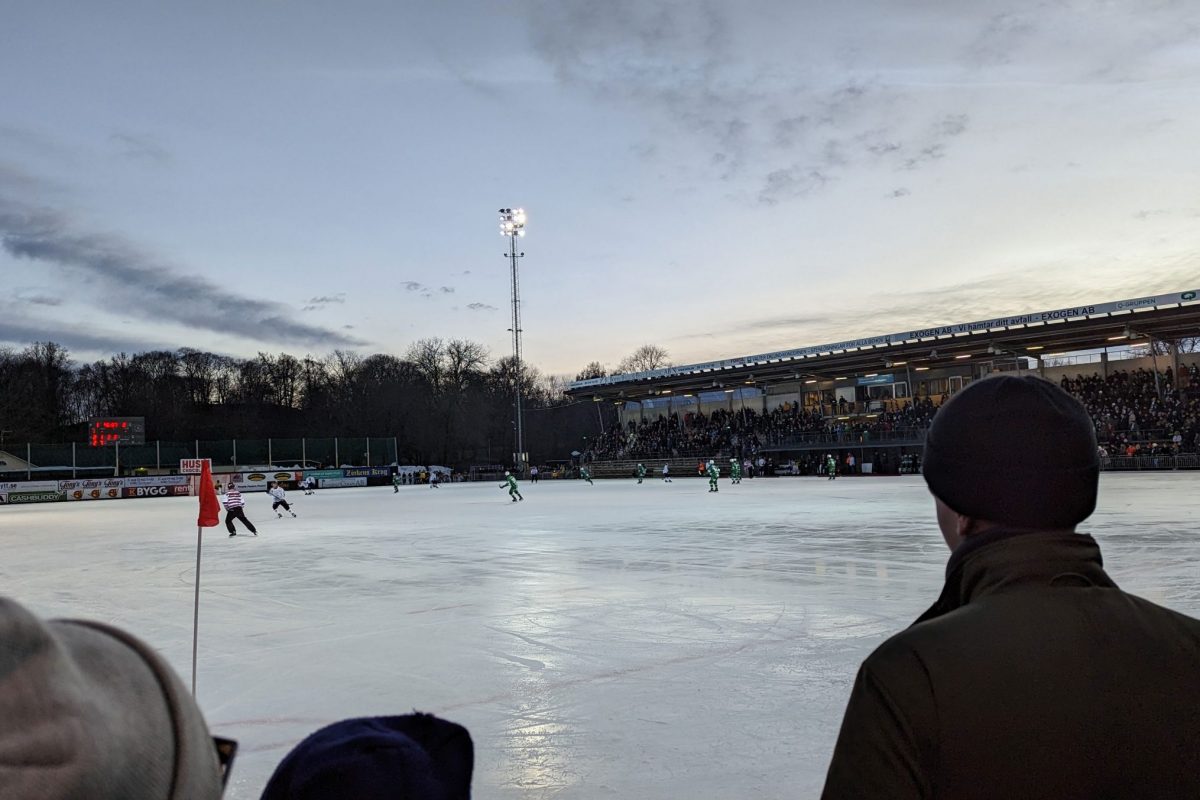 Ice hockey is very popular in Sweden. Here, however, bandy is played. I can recommend a visit! Photo: Lars Klingenstein/TU Braunschweig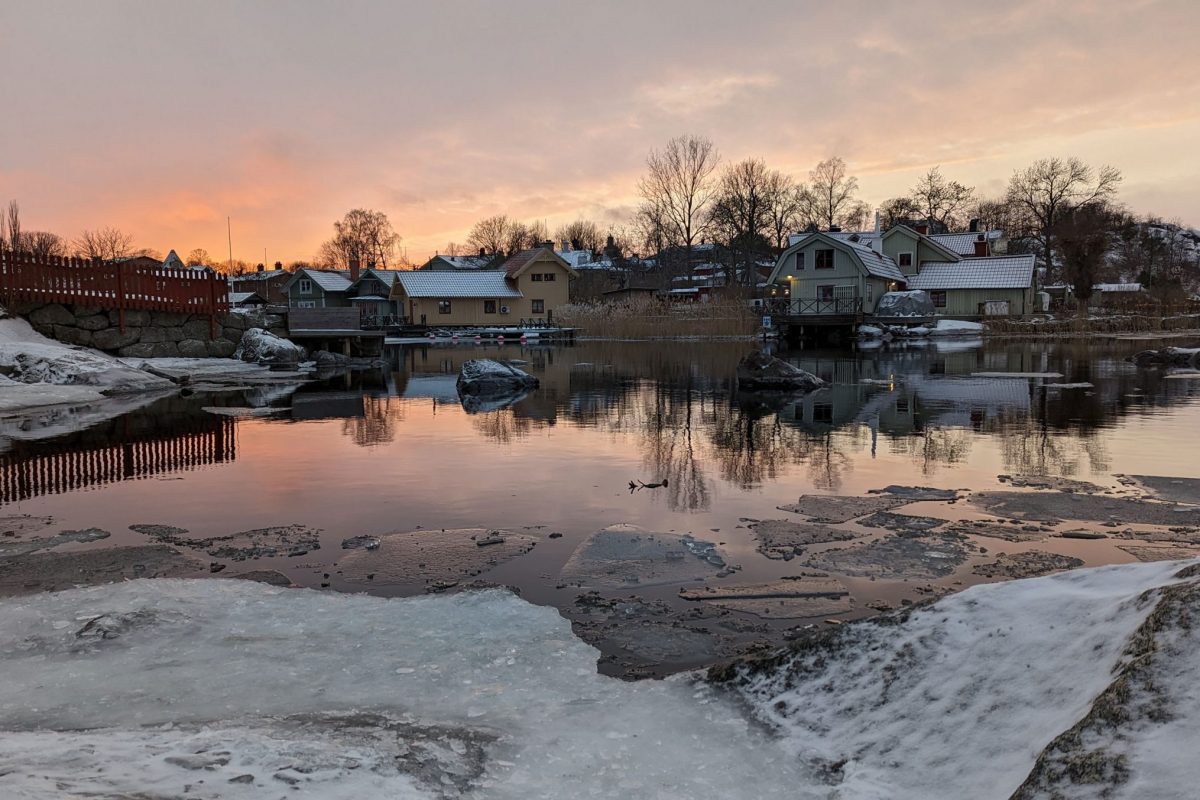 Sunset on the island of Vaxholm, a typical Swedish small town in the archipelago. Photo: Lars Klingenstein/TU Braunschweig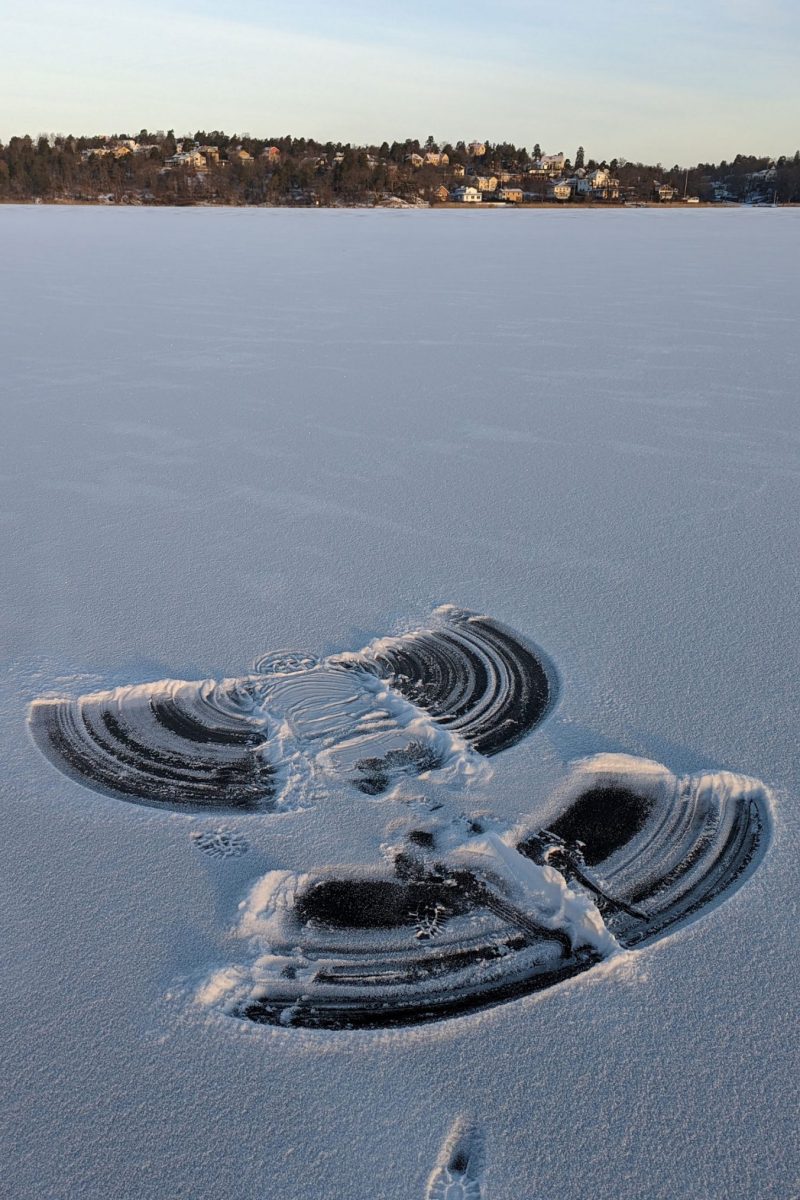 You can make great snow angels on the frozen lakes here. Photo: Lars Klingenstein/TU Braunschweig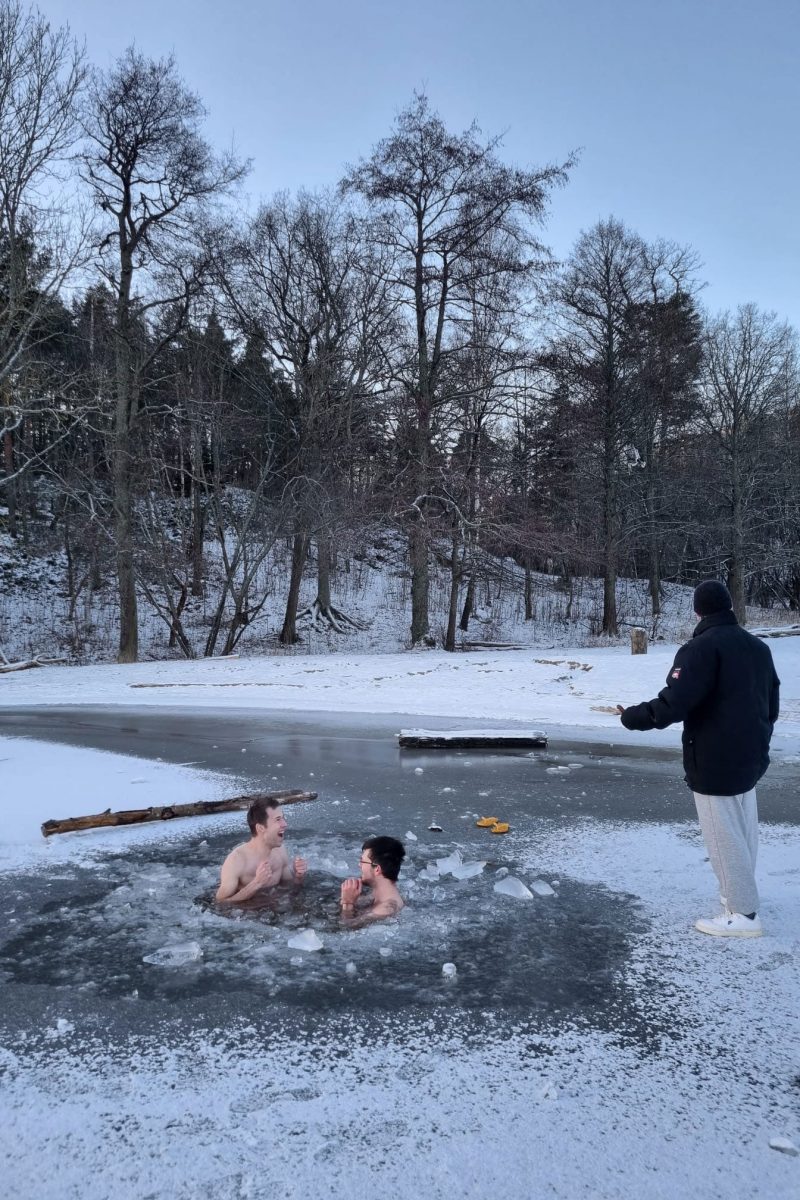 Ice bathing is of course also part of the real Swedish experience! Here we first had to chop a hole in the very thick ice. Photo: Lars Klingenstein/TU Braunschweig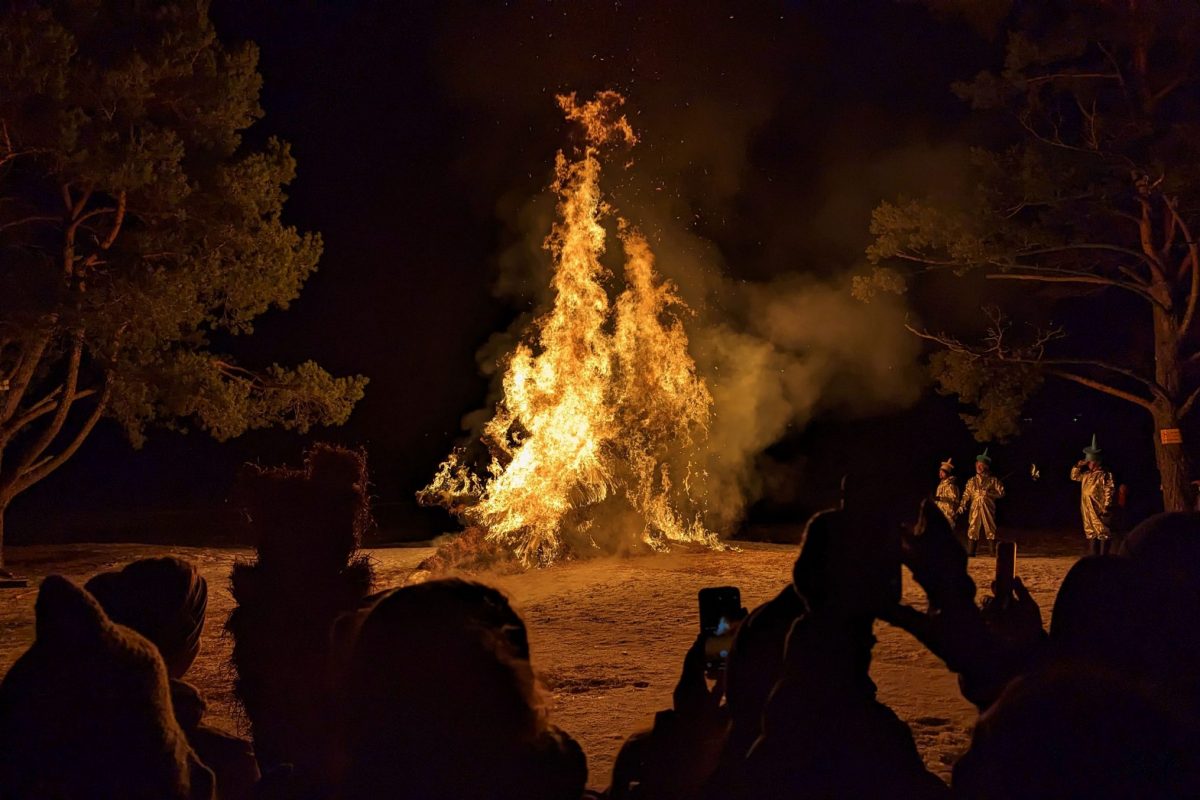 At the Eldfesten (fire festival), a figure made of straw is ceremoniously burnt to welcome the spring. Photo: Lars Klingenstein/TU Braunschweig
The biggest challenge during our stay so far has been …
Jan: During one of our trips to the backcountry, a friend took a wrong turn with his car and got stuck in the deepest fresh snow. Despite countless start-up attempts and uncovering the car over and over, it kept bottoming out. It could ultimately be freed from the snow with the help of a wheel loader. It was sent out after we had asked for help at the next closest house, which was two kilometres away. The planned barbecue at our destination tasted all the better afterwards.
Lars: The university itself was a challenge for me. At the beginning, the entire organisation was drawn-out, and it took a while until I could find my way around. Even if the lectures seem more relaxed, the content is not easier. You have to be even more proactive than in Germany and have to continue studying the material at home after university.
What we will take home with us from here:
Jan: Aside from two bobble hats (LTU + Rallye Sweden) and countless photos, most of all I take home a lot of memories. Memories of a beautiful, snowy winter including building an igloo, cross-country skiing, curling, and hockey. I have also gotten to know really wonderful people and made new friends. The visit of the night leg of WRC Rallye Sweden will also stay in my memory. For me as a fan of motorsports, this was a great experience. Aside from that, I am eager to see what still awaits me, since my time here has not yet come to an end.
Lars: I will try to keep some of the Swedish way of life in Germany. A somewhat more relaxed everyday life will surely do me good in Germany, too!
Good to know
This is a local dish you definitely have to try:
Jan: Most people will probably already know Kanelbullar (cinnamon buns) from their Ikea visits or a visit to Sweden. Good semla are much harder to find! That is a type of soft bun which is cut into two pieces and filled with an almond cream and whipped cream. It is not only delicious, but also fills you up.
Lars: Personally, I find the classic Kanelbullar to be the best. Typical foods at Fika also include the Semla (sweet baked good with whipped cream and almond cream) and the Prinsesstårta (princess cake). Those who prefer savoury dishes should try Swedish home cooking, which includes e.g. Köttbullar, pickled hering, or reindeer.
Which blunder should you avoid in Sweden?
Jan: Generally, you do not need cash in Sweden, everything works via card. Sometimes (e.g. at the uni cinema or the souvenir shop of the rallye), it can happen that you can only pay via Swish, a payment app for which you need a Swedish personal identity number. Since one usually does not have this as an international, it can be an advantage to always carry a bit of cash for emergencies.
Lars: I can only agree with these experiences. Cash is not usually used here. If you try to pay something in cash, it can happen that you get some weird looks. In many shops, cash payments are not possible at all. Nevertheless, it does not hurt to have some cash on you. When I was at the hairdresser's the other day, they only took cash.
This is a tip we give to other students who want to go abroad:
Jan: The organisation of the Erasmus mobility and the Learning Agreements are not easy to understand at first glance, and at second glance there were some ambiguities in my case. However, it was definitely worth it to take on all the mails and phone calls so that I could spend a nice time in the north of Sweden.
Lars: If you want to go to Sweden, I definitely recommend the spring semester for your stay. This way, you get to see the end of winter, which I personally find very nice. With time, the days will then get longer and it will get warmer. On 24 June, Midsommar happens and it does not really get dark anymore. I am especially looking forward to that time and the Midsommar festivities!