Mail from … Seoul
Florian Köbbe is studying computer science in his fifth master's semester and talks about his stay abroad in South Korea.
General Information
This is where I live at the moment:
In South Korea / Seoul.
This is what I do in Seoul:
I am studying Computer Science here at Soongsil University in the Master's programme. Unfortunately, many modules are only offered in Korean. That's why I'm all the happier that I can listen to the lecture "Deep Learning" given by a professor from Zimbabwe who only speaks English with his students. When I return to Germany, all that's left is my Master's thesis. So I started the semester abroad quite late in my studies.
My stay lasts a total of:
My stay will last a total of six months, and I will be here until February. Soongsil University is a partner university of TU Braunschweig. The regular semester ends with the exam period before Christmas, after which I will spend a few weeks on holiday here.
This is why I decided to go abroad:
I wanted to have a strong contrast to what I already knew. That's why European countries or the USA were out of question for me. In addition, there was the far advanced digitalisation of the infrastructure here in South Korea, which I am very excited about as a computer scientist.
Local life
This is how I live in Seoul:
Most of my fellow students live in the hall of residence. However, I already knew before my stay that they had very strict rules, such as night-time curfews. I was very lucky to be able to find a small flat close to campus.
What makes studying in South Korea different from studying in Germany?
Midterms are very common here. The semester here is six months long, but all exams are written directly at the end of the lecture period. There is also a lot of emphasis on compulsory attendance in lectures.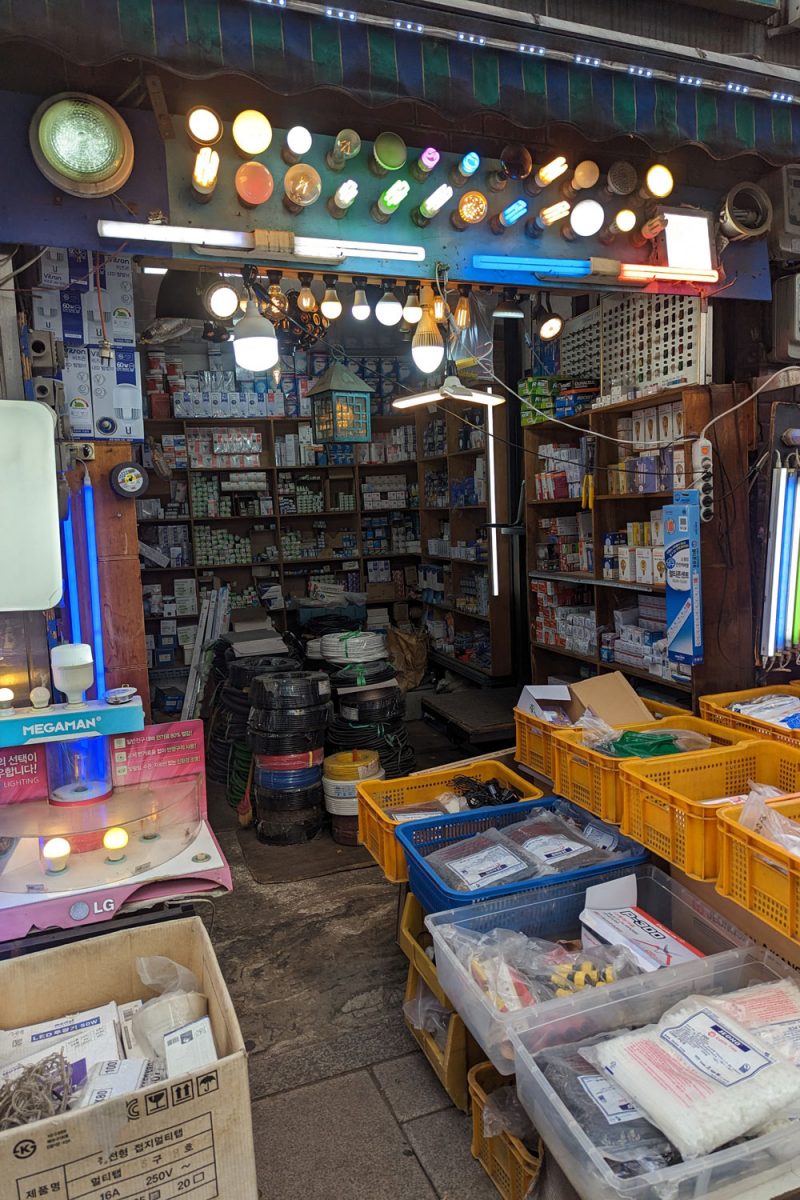 These small, highly specialised shops are seen here much more often than the large stores we know from Germany. Photo: Florian Köbbe/TU Braunschweig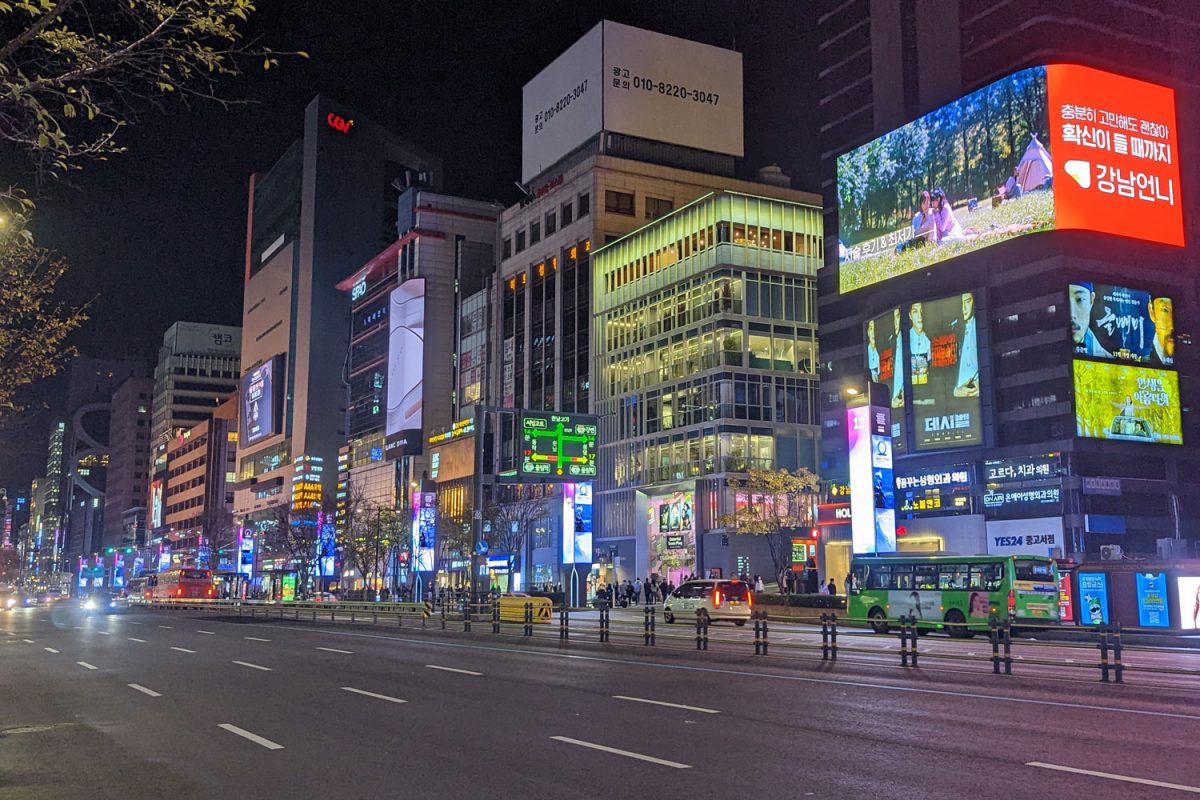 At night, Seoul shows itself in many places in neon colours, which can be observed particularly well in the Gangnam district. Photo: Florian Köbbe/TU Braunschweig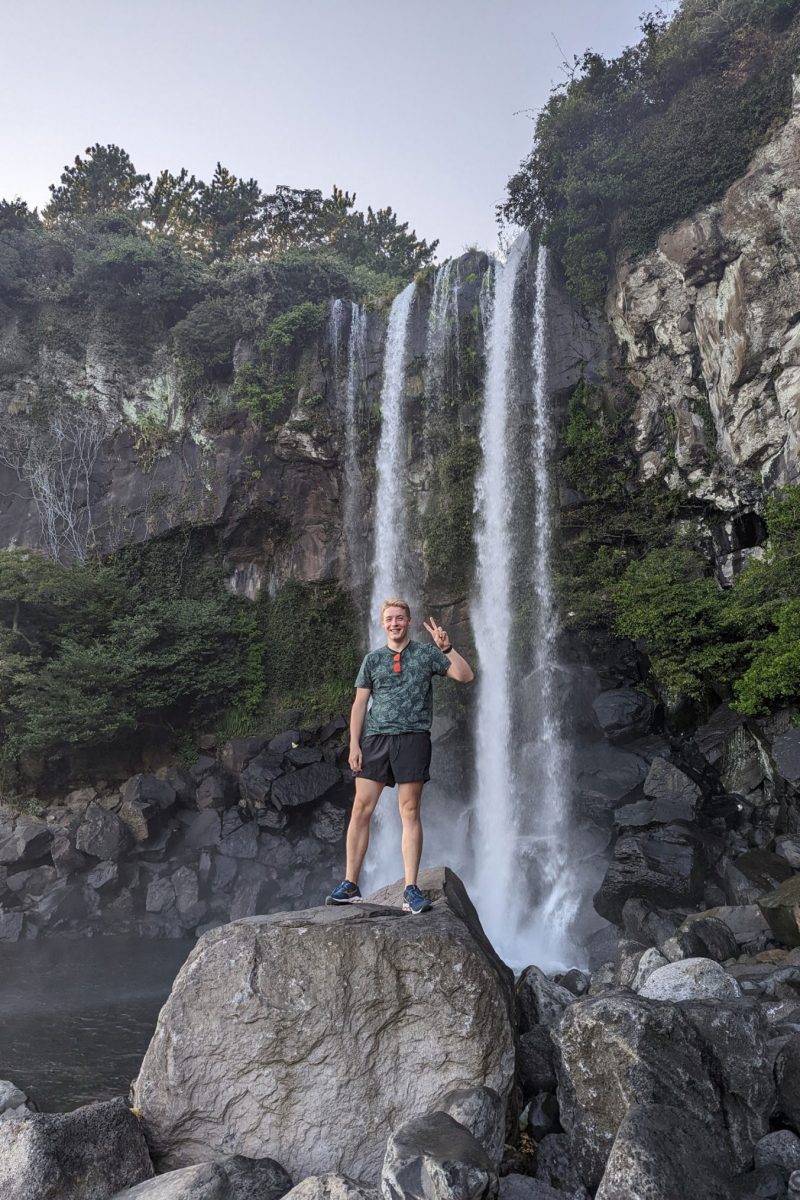 This is me in front of a waterfall on Jeju Island. The island is a good getaway when you need a break from the hustle and bustle of city life. Photo: Florian Köbbe/TU Braunschweig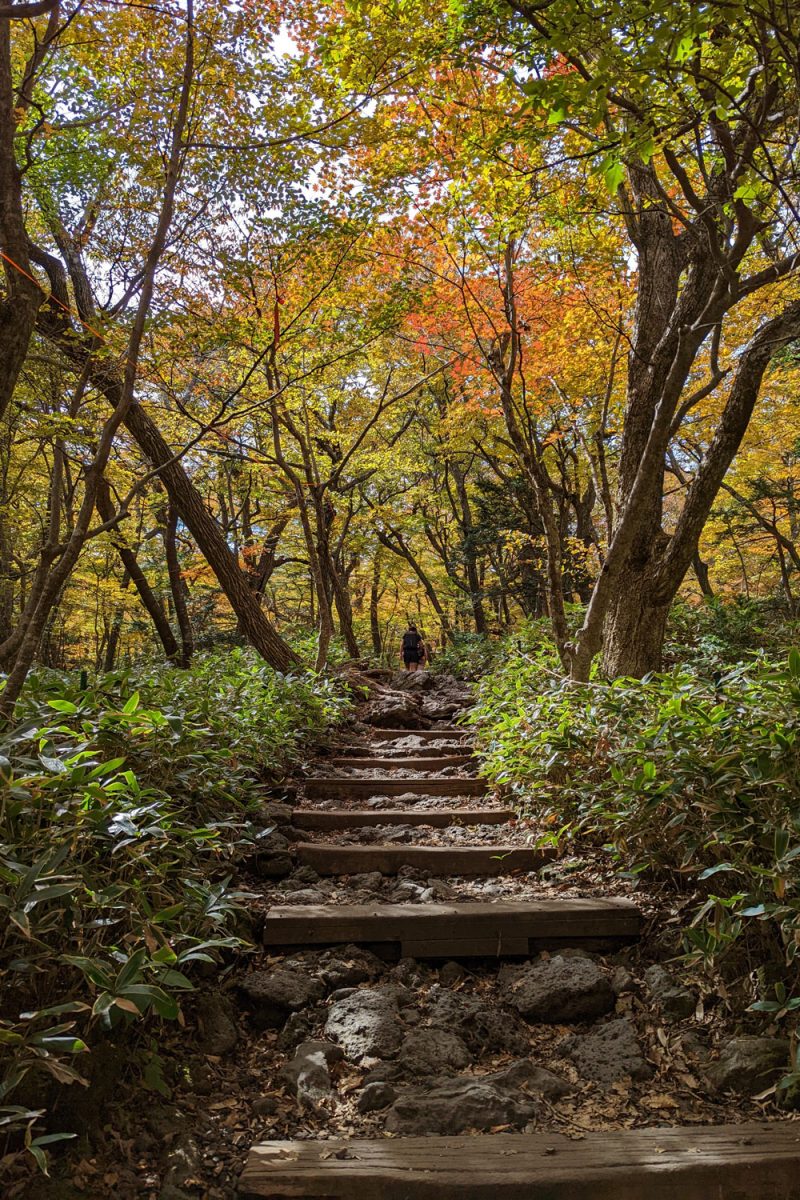 Also on Jeju Island is "Hallasan", the highest mountain in the country. South Korea is really an infrastructure paradise and all hiking trails are therefore well paved. Photo: Florian Köbbe/TU Braunschweig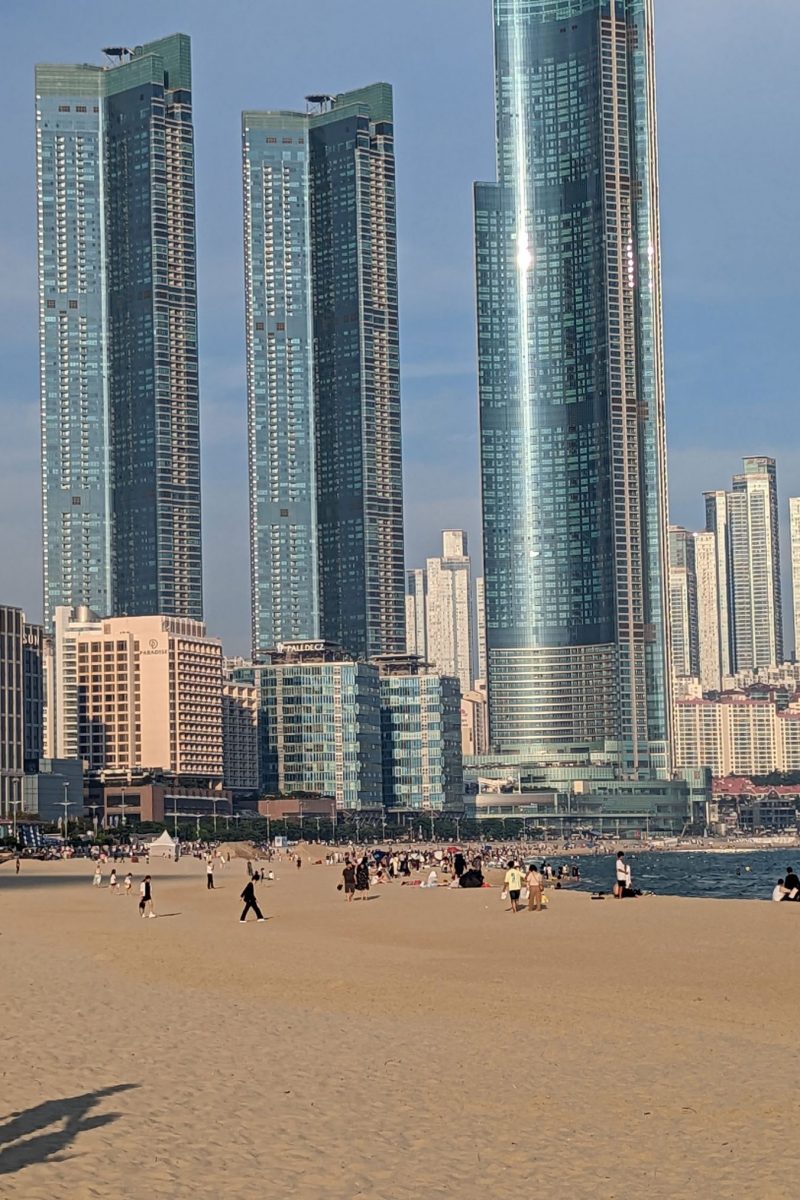 This combination of beach scenery and skyscrapers is a must for Busan, a coastal city in the southeast of the country. Photo: Florian Köbbe/TU Braunschweig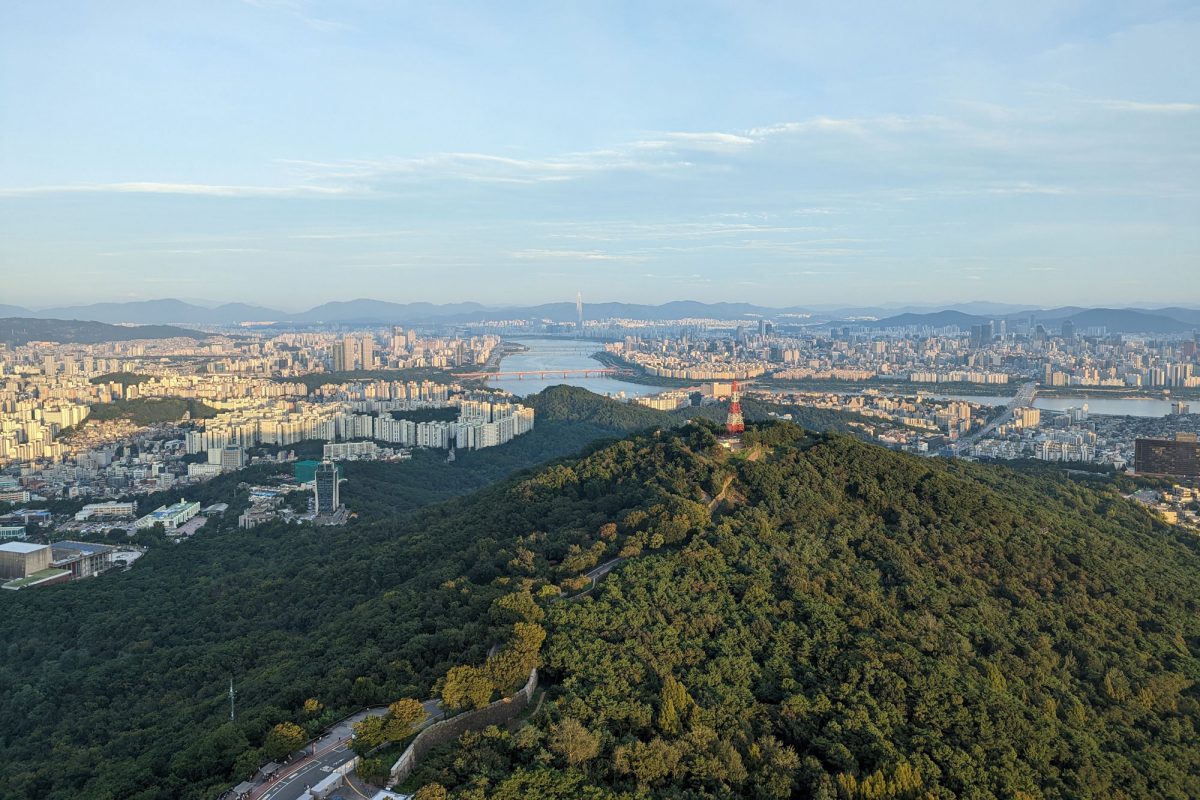 For this view, you have to climb the "N Seoul Tower", which offers a panoramic view of the city. Highly recommended both by day and by night. Photo: Florian Köbbe/TU Braunschweig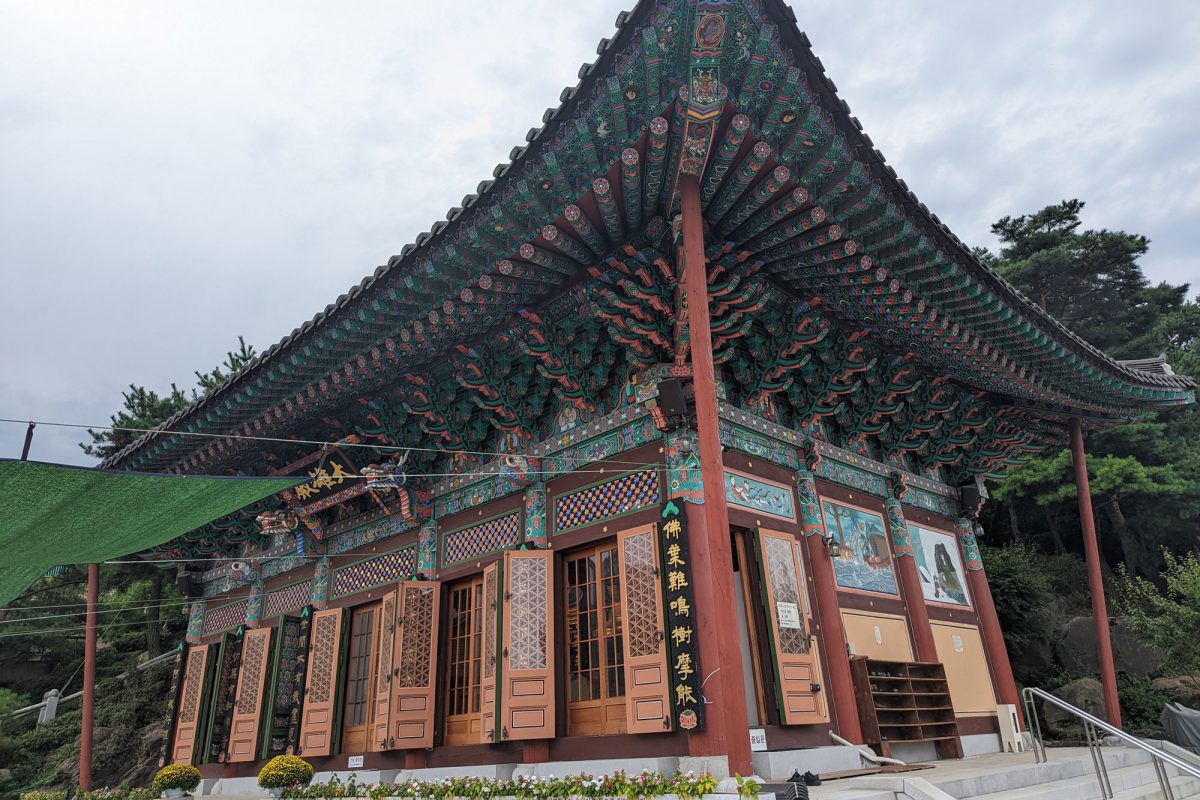 Beautiful temples like this one can be found very often and sometimes in places where you would not expect to find them. Photo: Florian Köbbe/TU Braunschweig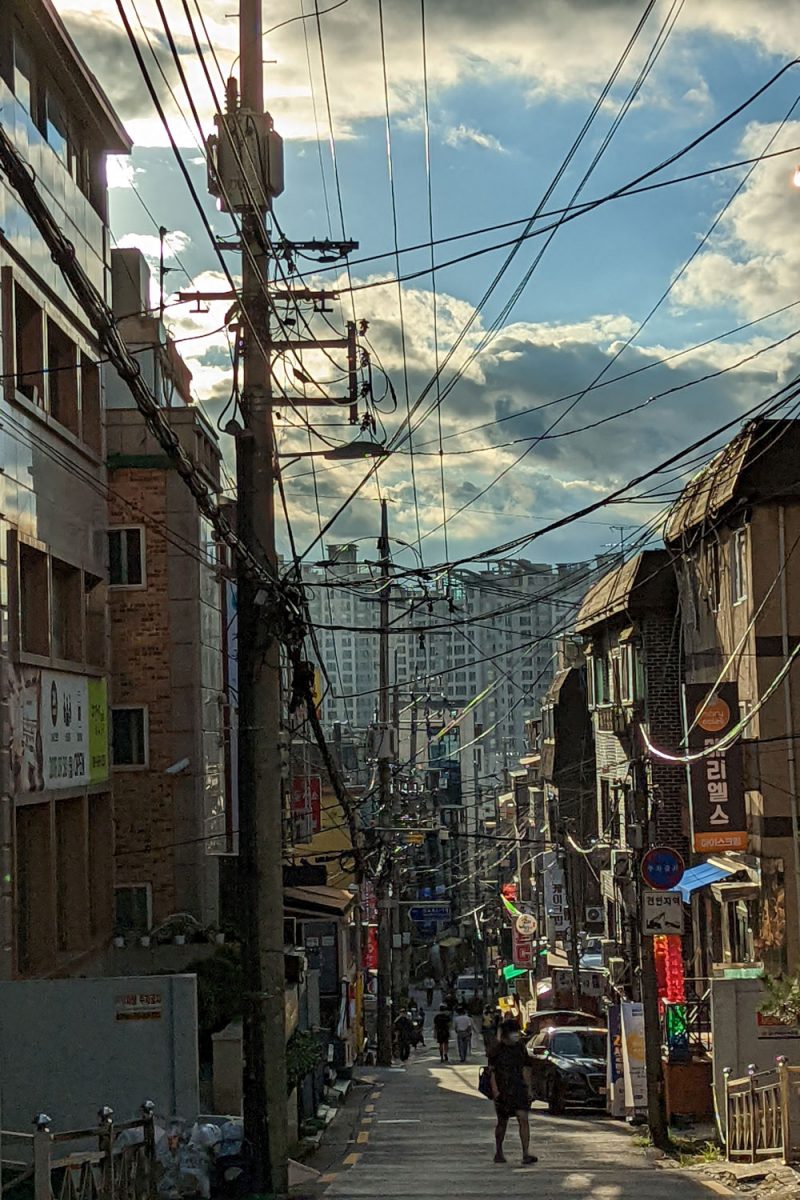 This street in Seoul is very close to my university and has many cheap restaurants, you can see well here how mountainous Seoul is. Photo: Florian Köbbe/TU Braunschweig
Particularly typical for the country of my stay abroad is:
The food is very good here. Going to a restaurant is cheaper than in Germany, while supermarkets are a bit more expensive. It is also common to order large portions and share with several people. Side dishes (such as kimchi) and water are always free and it is not usual to tip.
That's what I learned here in the first three days:
Since there are surveillance cameras everywhere and people have a lot of trust in each other, they handle their valuables differently. Leaving your laptop, mobile phone or wallet open in a café while briefly leaving the place is common. I also regularly see empty cars with the engine running because someone has only gone to the convenience store for a moment. You get used to it very quickly and behave the same way. I definitely have to retrain my sense of caution once I'm back in Germany.
The biggest challenge during my stay so far has been …
The language. I had learned a little Korean before, but you often have to rely on translation apps like Papago. Older Koreans in particular sometimes don't speak any English at all.
In addition, Google Maps doesn't work as usual here. In Korea, people usually use Naver Maps. In general, there is a Korean equivalent for many apps, such as KakaoTalk instead of WhatsApp. The exception is Instagram, which is very popular here.
What I will take home with me from here:
I'm not really the type for souvenirs, but on Jeju Island I bought a coffee cup. Some furnishings from my flat, such as my chopsticks, are also coming back to Germany. But above all, a lot of great memories and photos. I think this semester has been very beneficial for my personal development.
Good to know
This is a local dish you definitely have to try:
Tteokbokki! This is a simple rice-chilli dish that is available as street food on every corner. It's cheap, fills you up and is not too spicy. It's also very easy to cook yourself, I've done it myself.
Which blunder should you avoid in South Korea?
It is very quiet on buses and trains; loud conversations or phone calls should be avoided. In general, people here are rather reserved in everyday life and do not interfere in the affairs of others.
This is a tip I give to other students who want to go abroad:
Take care of everything early enough, there is a lot of organisational work that goes into a semester abroad. Nevertheless, it's 100 per cent worth it in the end!
This is how the Corona virus is affecting my stay:
The obligation to wear masks indoors still exists; only recently has there been discussion about abolishing it. Until spring 2022, the mask requirement even applied outdoors. Also, since the beginning of the pandemic, many more people order their food home. Especially during the rush hours at noon or in the evening, you have to be careful not to get knocked over by delivery drivers on their scooters. They like to drive past red lights or on the pavement.