How movement promotes language
Sports scientists test concept for learning German through play
Gym instead of classroom, gym shoes instead of pen and paper, playful learning instead of frontal teaching – this is what the project " Bewegung und Sprachförderung (BuS)" ("Movement and Language Support") of the Institute of Sport Science and Movement Pedagogy at Technische Universität Braunschweig focuses on. The aim is to support primary school pupils in learning the German language. Our volunteer Lisa Ryll had the opportunity to see for herself for an hour how the concept works.
"Today's topic is 'prepositions'," Lena Hiete, a second-semester Master's student teacher at TU Braunschweig, explains to me at the beginning. Together with Nils Schwencke, a fourth-semester Master's student teacher, she is in charge of today's BuS lesson at the Diesterwegstraße primary school in Braunschweig. Then it starts. A loud whistle! All the children gather in a circle together with Lena and Nils. Today there are eight pupils. All of them have a migration background and speak German as a foreign language. Together with Alicia Ahrens and Jasmina Steege, two other student assistants of the project, I join them.
Fire, water, prepositions
First, Lena explains in simple words and with many gestures what is coming up today. The beginning is a kind of "fire, water, lightning" in the German lesson version. "Everyone run through the hall. Then I call out tasks to you," she says. Some children nod, for others she reaches for a piece of paper that illustrates the exercise. "For example, I say 'Jump on something'. Then you jump on a mat or bench." No sooner said than done. A bit confused at first, but after a few rounds and a few quick glances at the illustrated cheat sheet, it works really well. Only with "jump over something" do some children have problems – but these are also difficult words.
Then another whistle signal and everyone returns to the circle. "Now we want to review the exercise again to consolidate everything a bit better," Nils explains to me quietly. The pupils should not only listen, but speak themselves and tell in their own words what they have just done. "I jumped on the mat!" reports seven-year-old Klea, a native of Albania. "And I jumped over the bench!" adds Diarta. She is also seven years old and comes from Kosovo. The two are among the children who find it easiest to speak German. Other children are quieter and still have difficulty formulating sentences in German.
Over, up, down
Now we continue with the station work. More exercises are set up in four places in the gymnasium and everyone pitches in. Building blocks are stacked to form an obstacle course, diving boards are set up and the wall bars are extended. First, Lena and Nils explain again what the children are supposed to do on the different pieces of equipment. If someone doesn't understand something, either another visual cheat sheet helps or a classmate jumps in. I notice clearly that the principle of the project "Movement and Language Development" is simple, but extremely effective: the adults don't just tell the children what to do, but encourage and stimulate them. The boys and girls are supposed to do the rest themselves. In the meantime, they practice speaking automatically and almost incidentally.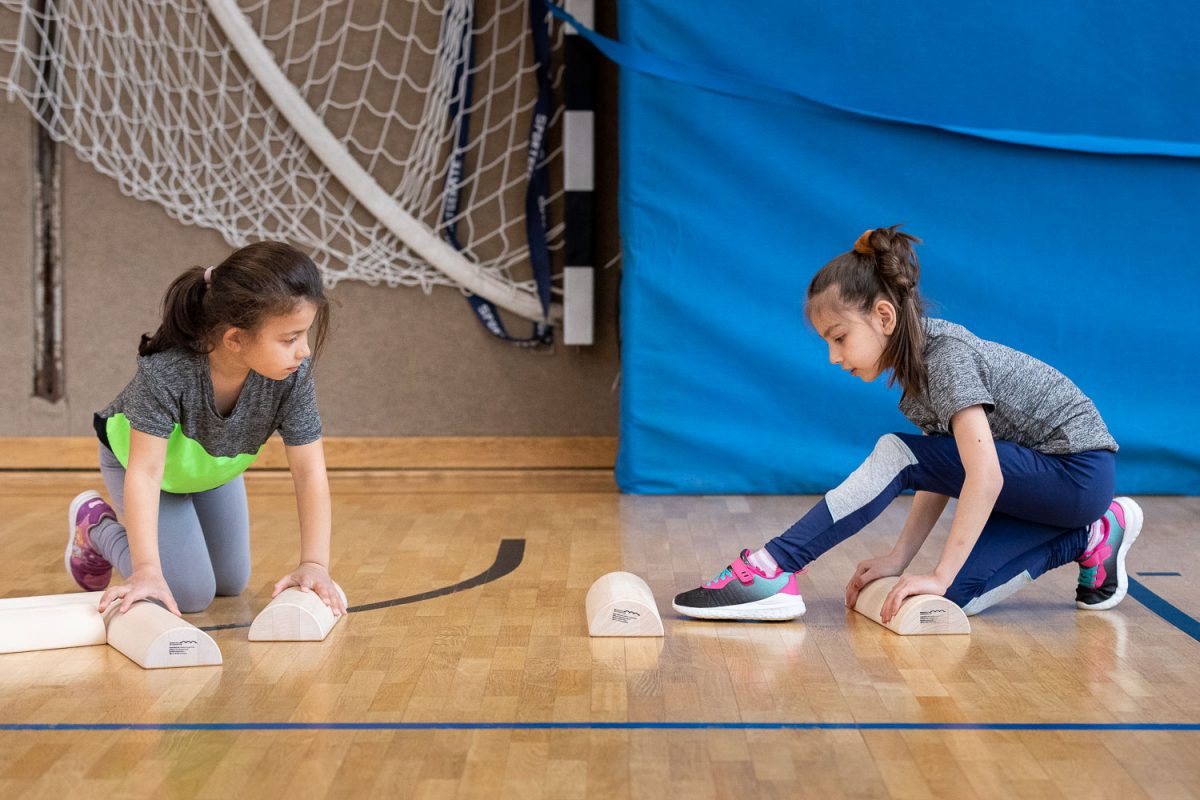 Primary school pupils Klea and Diarta have fun building an obstacle course. Photo credit: Markus Hörster/TU Braunschweig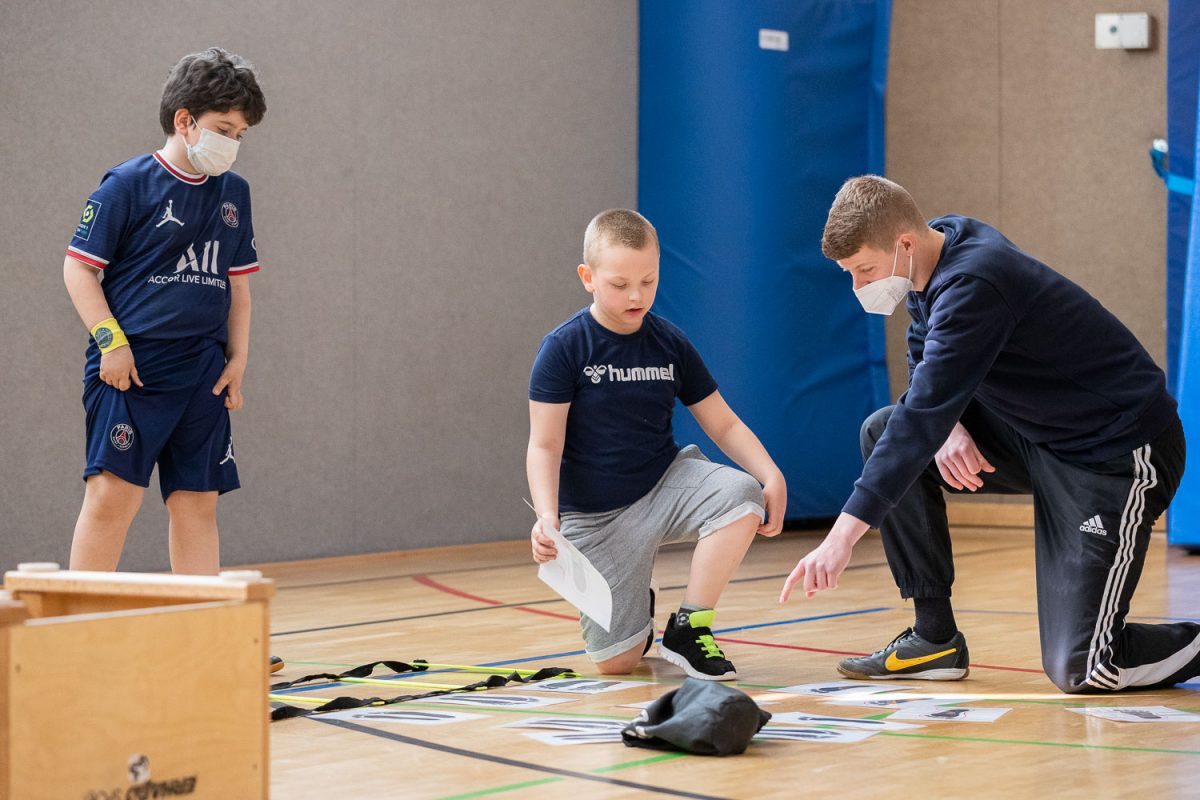 Nils Schwencke explains the movement station "footsteps" to Michael and Avasyu (from right). Photo credit: Markus Hörster/TU Braunschweig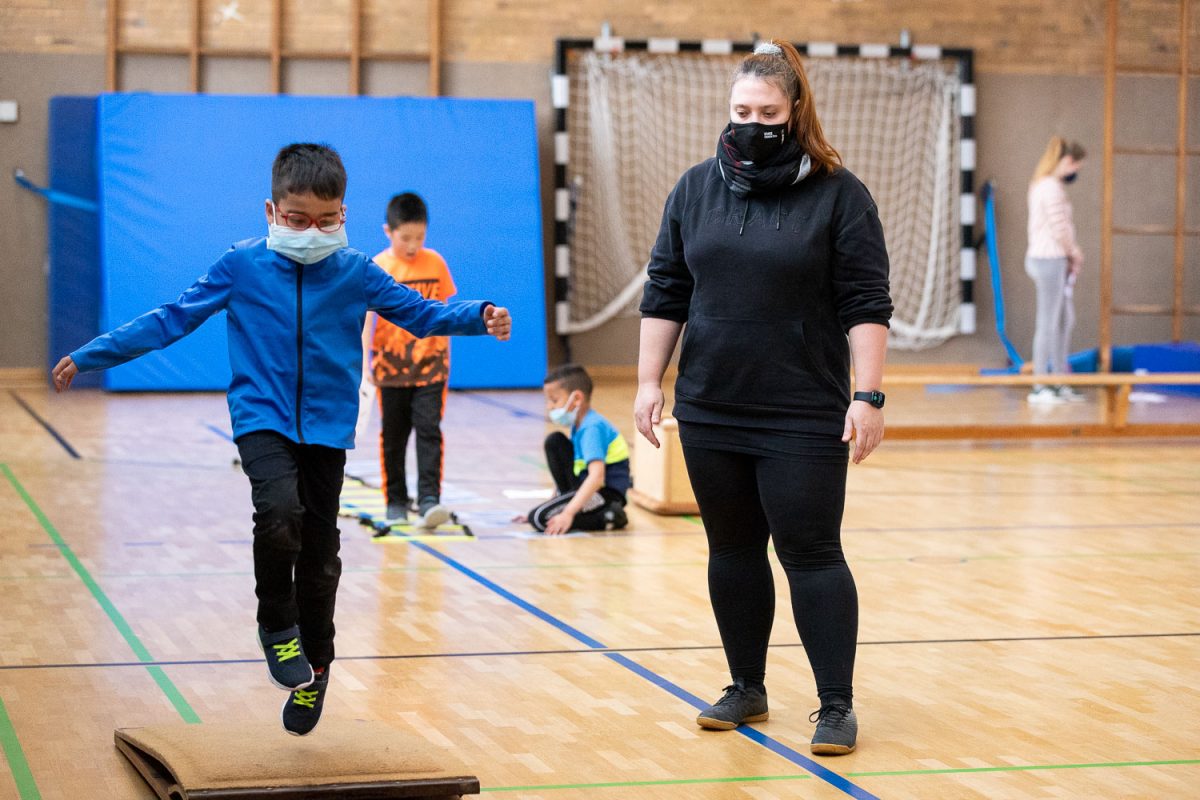 Avasyu (l.) shows student teacher in the sixth bachelor's semester, Jasmina Steege, what he can do and how he jumps onto the mat. Photo credit: Markus Hörster/TU Braunschweig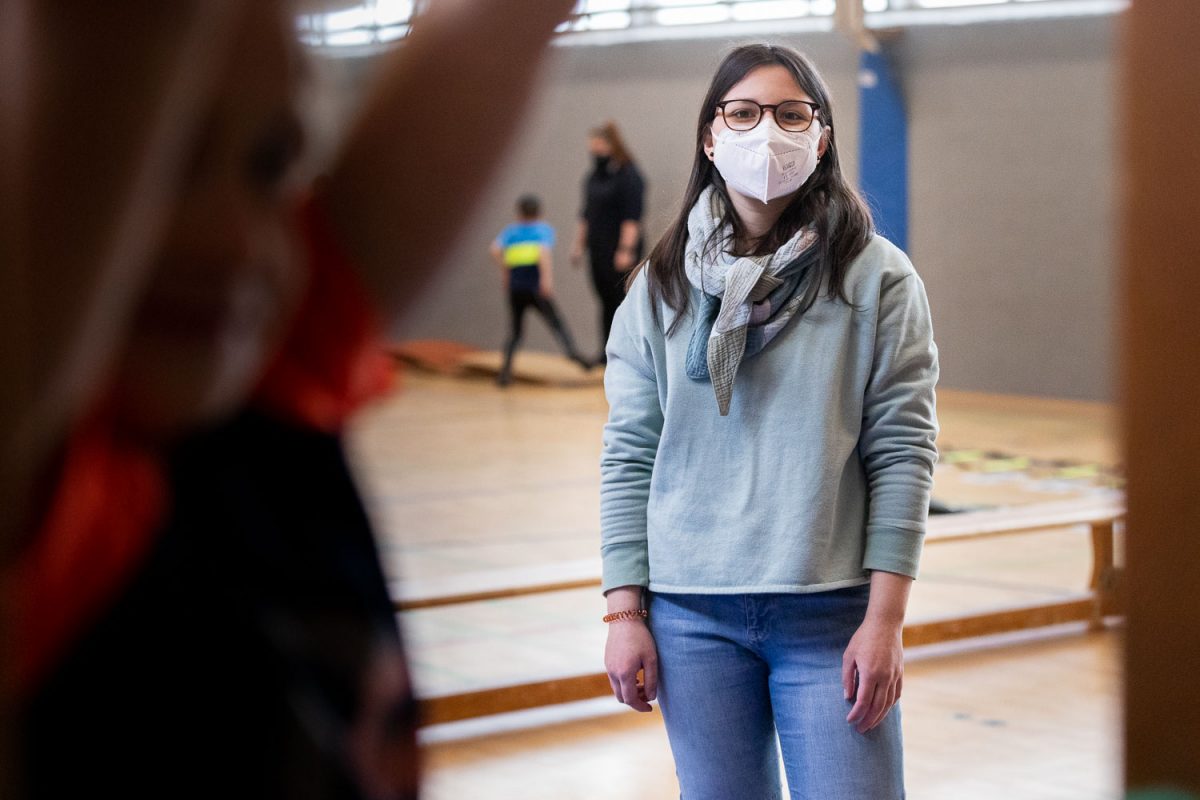 Alicia Ahrens, student teacher in her second Master's semester and student assistant at the BuS project. Photo credit: Markus Hörster/TU Braunschweig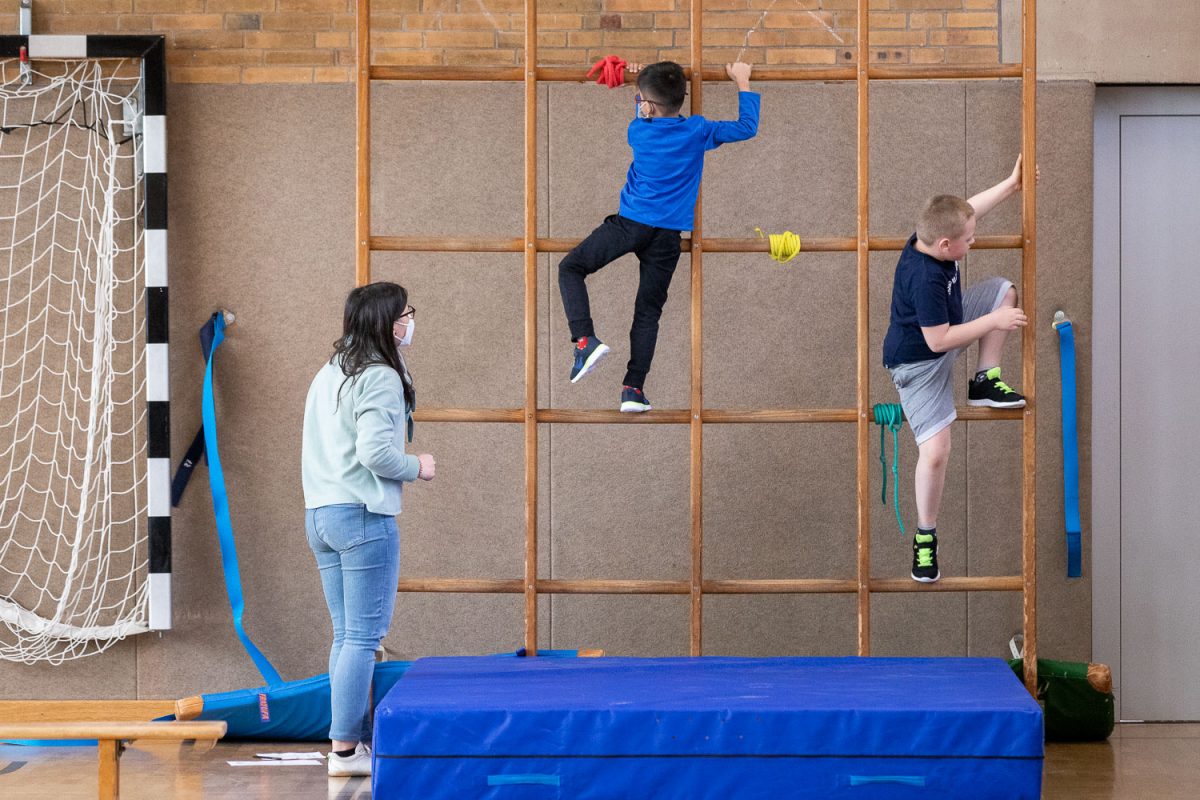 Alicia Ahrens supports Michael and Avasyu on the wall bars. The two jump off something. Photo credit: Markus Hörster/TU Braunschweig
At the building blocks station I meet Klea and Diarta again. They are busy building an obstacle course and eagerly discussing the task. When I ask, Diarta tells me: "Building something is always the most fun for me! You can try out a lot. And anything that has to do with jumping is great!" While the girls continue, Lena tells me: "The progress of the two is remarkable. Klea and Diarta talk totally fluently and understand almost everything."
Not only the children learn
After the lesson, the four student teachers take some time to tell me about their experiences and impressions. They are all united by their enthusiasm for the children's thirst for knowledge. "It's nice to observe their creativity in solving the tasks. To see how they deal with it in German and how proud they are to present their results," says Alicia. "You become fond of all of them very quickly. For me, there is no better, practical student assistant job to gain initial teaching experience alongside the internships. You can't get that kind of experience in the lecture hall. By working on the exercises ourselves, we can practically apply the theory we learn at university." I can see the enthusiasm in her eyes.
I learn that the success of the project is not only evident in the regular discussions between the students and the children's teachers, with whom Lena, Nils, Alicia and Jasmina regularly exchange ideas. Since April of this year, "Movement and Language Development" has been taking place at another location. With the secondary school Hoffman von Fallersleben, there are now four schools that offer BuS lessons.
Thank you for the past sixty minutes and the fascinating insights into a very different way of learning.
---
About the project
The idea for the project came from Dr. Andrea Probst, a teacher for special tasks at the Institute of Sport Science and Movement Pedagogy. Since 2016, children from different countries of origin have been offered movement-oriented language support. Thanks to a cooperation with the Diesterwegstraße primary school and financial support from the Rotary Club Braunschweig and the Advisory Council on Child Poverty of the City of Braunschweig, among others, the team was able to expand and now offers "BuS" at a total of four locations: at the Diesterwegstraße primary school, the Bebelhof primary school, the Altmühlstraße primary school and, most recently, also at the Hoffman von Fallersleben secondary school. Anyone who would like to support the project team themselves can contact Dr. Andrea Probst.