Spotlight: Quo vadis "Future City"?
Topics and highlights of the President's schedule
What more suitable place to talk about the Future City than in a high-rise with views over Braunschweig? And so, on 10 December, I found myself elevated to the 12th floor of the Architower in the Mühlenpfordtstraße at our main Campus. Located here is the ISU Space Lab of the Institute for Sustainable Urbanism (ISU) that will in future be a Competence Centre for multidisciplinary urban research and thus the perfect place to take a closer look at research and visions of the Core Research Area "Future City".
"Future City" is a very diverse and extremely interdisciplinary Core Research Area, as soon was made apparent to me during my visit there in the rooms with their bright yellow flooring – a pleasant contrast with the gloomy conditions outdoors during the winter season: from research on tsunamis and climate change adaptation in coastal areas, data-driven approaches to sustainable urban construction, urban production, public participation, urban development and the climate emergency and even fictional dystopian cities – to cite just a few of the topics under consideration. A remarkable 40 different institutes are active here. As spokesperson Professor Vanessa Carlow explained, the research focus originated in 2015 in the form of a grassroots movement initiated by Faculty 3 and has since become firmly established at TU Braunschweig. Its vision: liveable cities for everyone! These cities will be digital, sustainable, safe, healthy and facilitate mobility; this is a goal that I am happy to put my full support behind.
I was also very impressed by their concept of investing seed money as a way of funding urban-related research projects. I believe this idea has major potential when it comes to interdisciplinary research, and particularly with regard to involving the humanities and social sciences into joint projects. When I visited Faculty 6 back in late summer, I was delighted to discover that humanities and social sciences academics were already working together with researchers of Faculty 3 on two impressive projects – one dealing with the chronotopography of waste and the other with social inequality in urban settings.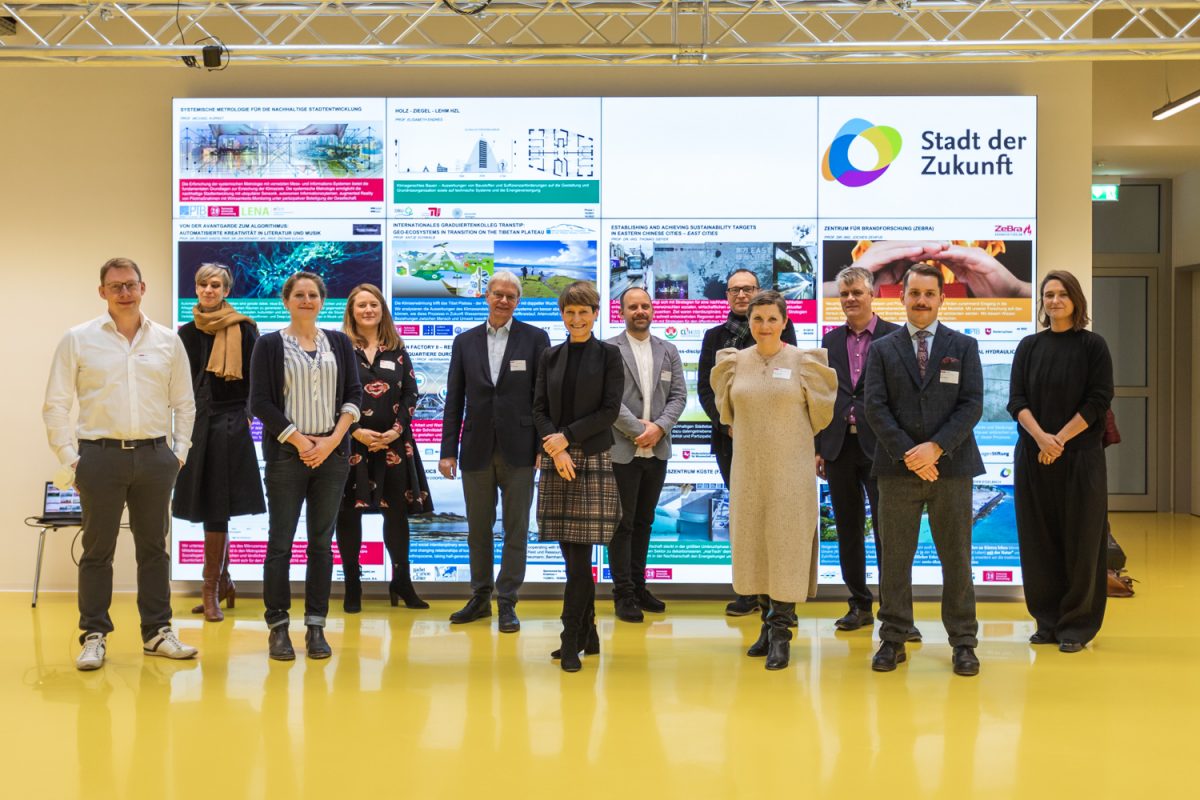 Everyone at a glance after the joint workshop (from left): Prof. Nils Goseberg (Leichtweiß Institute for Hydraulic Engineering and Water Resources), Prof. Tatjana Schneider (Institute for the History and Theory of Architecture and the City), Anna Lux (Managing Director "Future City"), Prof. Elisabeth Endres (Institute for Building Climatology and Energy of Architecture), Prof. Thomas B. Siefer ( Technische Universität Braunschweig Organisation Faculties Architecture, Civil Engineering and Environmental Sciences Institutes Institute of railway systems engineering and traffic safety Logo Institut für Eisenbahnwesen und Verkehrssicherung der TU Braunschweig Institute of Railway Systems Engineering and Traffic Safety), TU President Prof. Angela Ittel, Dr.- Ing. Gabriel David (Junior Research Group "Future Urban Coastlines"), Prof. Eckart Voigts (Institute for English and American Studies), Prof. Vanessa Carlow (Institute for Sustainable Urbanism), Prof. Jochen Zehfuß (Institute of Building Materials, Concrete Construction and Fire Safety), Dr.-Ing. Kolja Meyer (Junior Research Group "Urban Flows and Production") and Katharina Beckmann (Personal Aide to the President). Picture credits: Max Fuhrmann/TU Braunschweig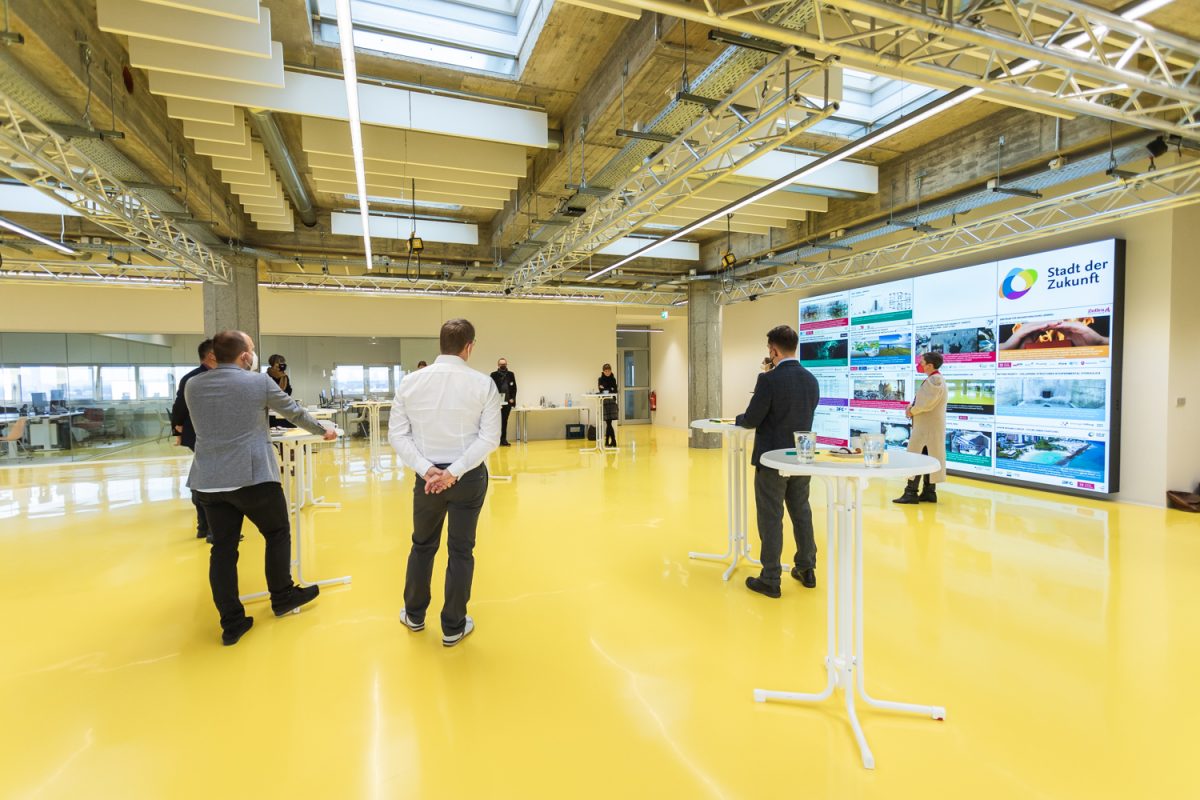 To talk about the Future City I found myself elevated to the 12th 12th floor of the Architower. Picture credits: Max Fuhrmann/TU Braunschweig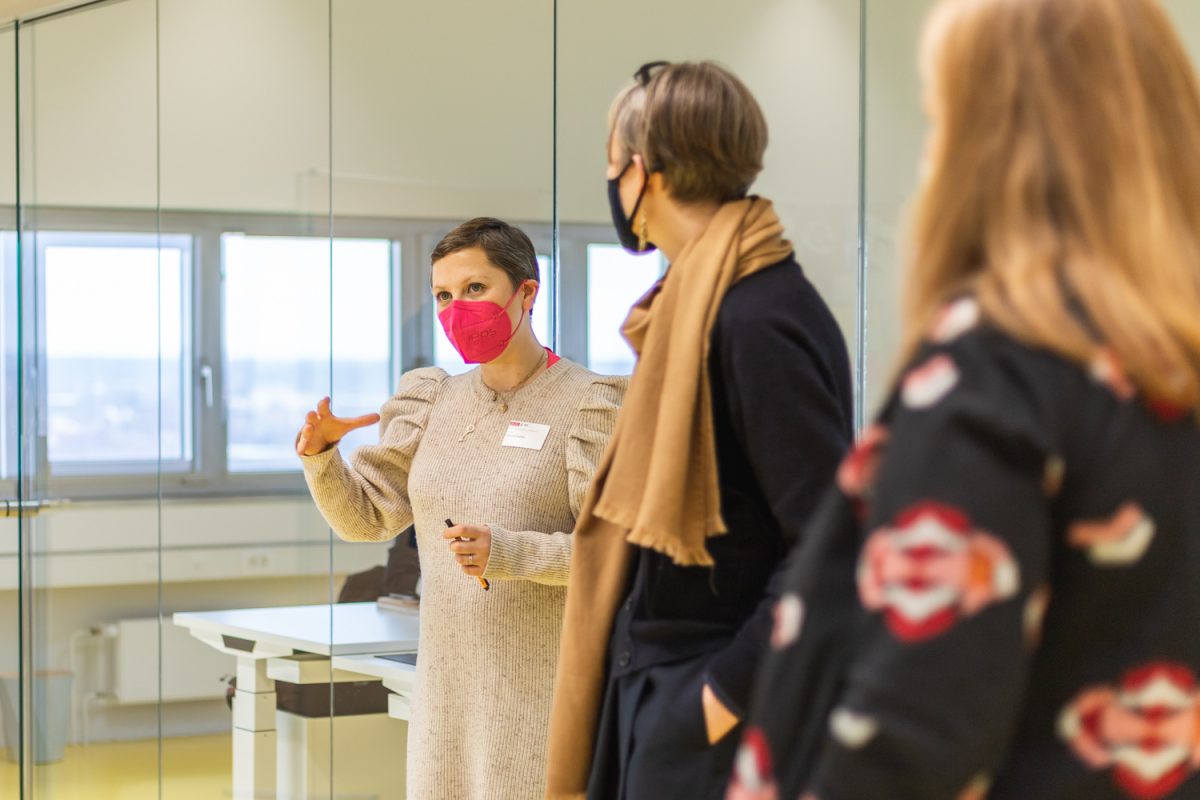 Discussion with Professor Vanessa Carlow, Professor Tatjana Schneider and Professor Elisabeth Endres (from left). Picture credits: Max Fuhrmann/TU Braunschweig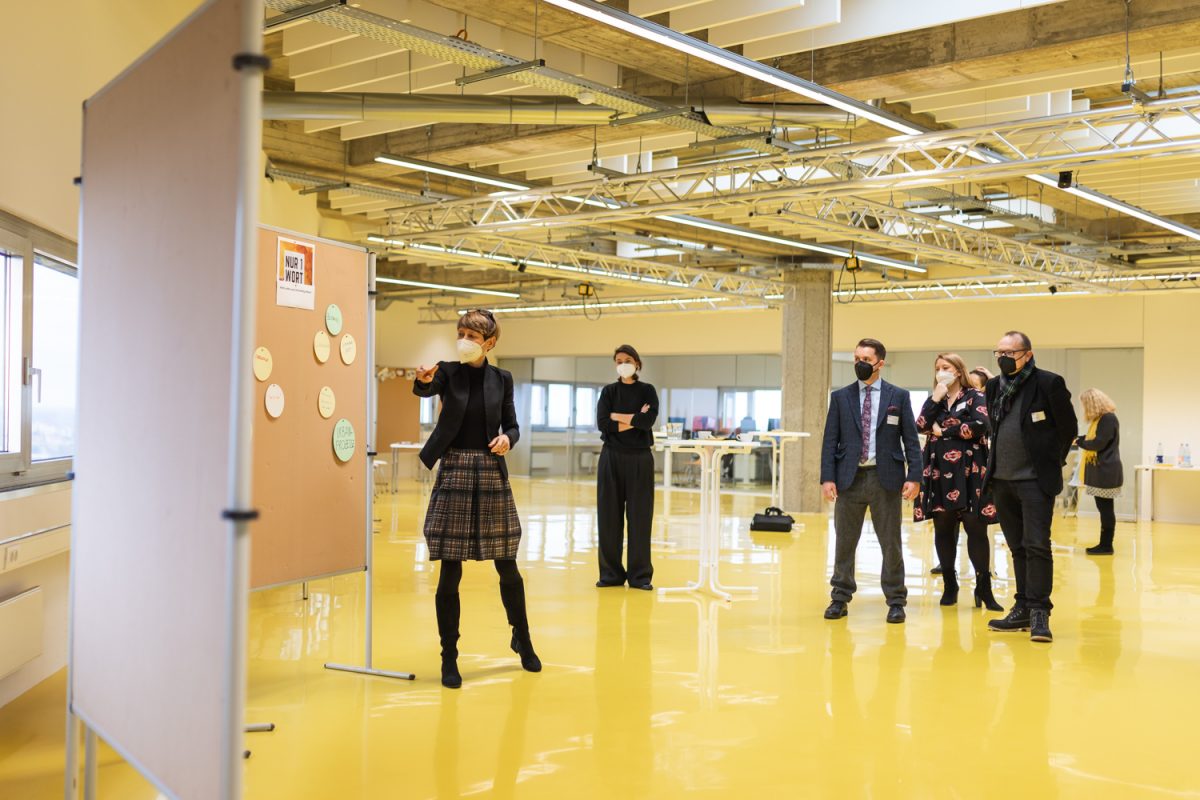 In interactive sessions, we discussed challenges and opportunities of the Core Research Area. Photo creditPicture credits: Max Fuhrmann/TU Braunschweig
Focus versus diversity
The great challenge in view of the sheer heterogeneity of topics in this Core Research Area is to find an appropriate focus, as Professor Nils Goseberg pointed out. This is important not only to further strengthen its visibility but also to make it into the central liaison point for all aspects relating to the "Future City" and improve its chances of acquiring funding for large joint projects. "Integrated diversity" is the keyword under which the Core Research Area could operate in the future.
Who do we need for the next steps? Who should be our partners? We also discussed these future oriented questions during our meeting. Of course, on the one hand these will be the cities and local authorities that are already on board, commercial organisations, representatives from the political sphere, researchers working in other fields and at other universities, stakeholders in education and also museums, such as the Herzog Anton Ulrich Museum and the Museum of Photography. It would also be helpful to make use of the network of the TU9 Alliance of leading Universities of Technology in Germany and take advantage of the German Academic Exchange Service and its funding programs. I could well imagine that we could also together submit joint tenders in cooperation with our strategic partners, such as Tampere University and the University of Rhode Island. My vision for the Core Research Area – perhaps not quite as early as 2025 – is a funded collaborative research centre with international partners. 
Working and researching in a real lab
Before leaving, I took a peek at what was to become the real lab of the Institute for Building Climatology and Energy of Architecture (IBEA). Professor Elisabeth Endres has commissioned a makeover of the institute's rooms on the 10th floor of the Mühlenpfordtstraße high-rise in which natural, recyclable and carbon neutral building materials are to be used. I was pleased to learn that the new rooms fitted with various clay climate systems and greenhouses will serve not only as workrooms but also as research facilities and demonstration areas for employees and students.
I'd like to thank the spokespersons Professor Vanessa Carlow, Professor Eckart Voigts, managing director Anna Lux and everyone else present for the warm welcome they gave me and the fascinating discussions we shared. While there, I became aware of the high level of commitment and the can-do attitude exhibited by all members of the Core Research Area. I look forward to our further exchange and am certain that working together we will be able to enhance the profile of the Core Research Area and, as a consequence, that of our university as a whole.
Note: The meeting took place under the so-called 2G-Plus regulation.