Mail from … Mexiko City
Physics student Johannes Hoppenbrock talks about his stay in the capital of Mexico
General Information
This is where I live at the moment:
Since the end of October, I have been living in Mexico City in the Coyoacan district. The Universidad Nacional Autónoma de México (UNAM), one of the largest universities in the Americas, is also located there.
This is what I do in Mexico City:
In cooperation with UNAM and GEOTEM Ingenería, an engineering company for geophysics, I am working here on my master's thesis in the field of geophysics. The thesis is about the detection of sediment layers in karst lakes in southern Mexico. Sediment layers help in climate and environmental reconstruction. It also gives me the chance to get to know new geophysical methods and their evaluation routines.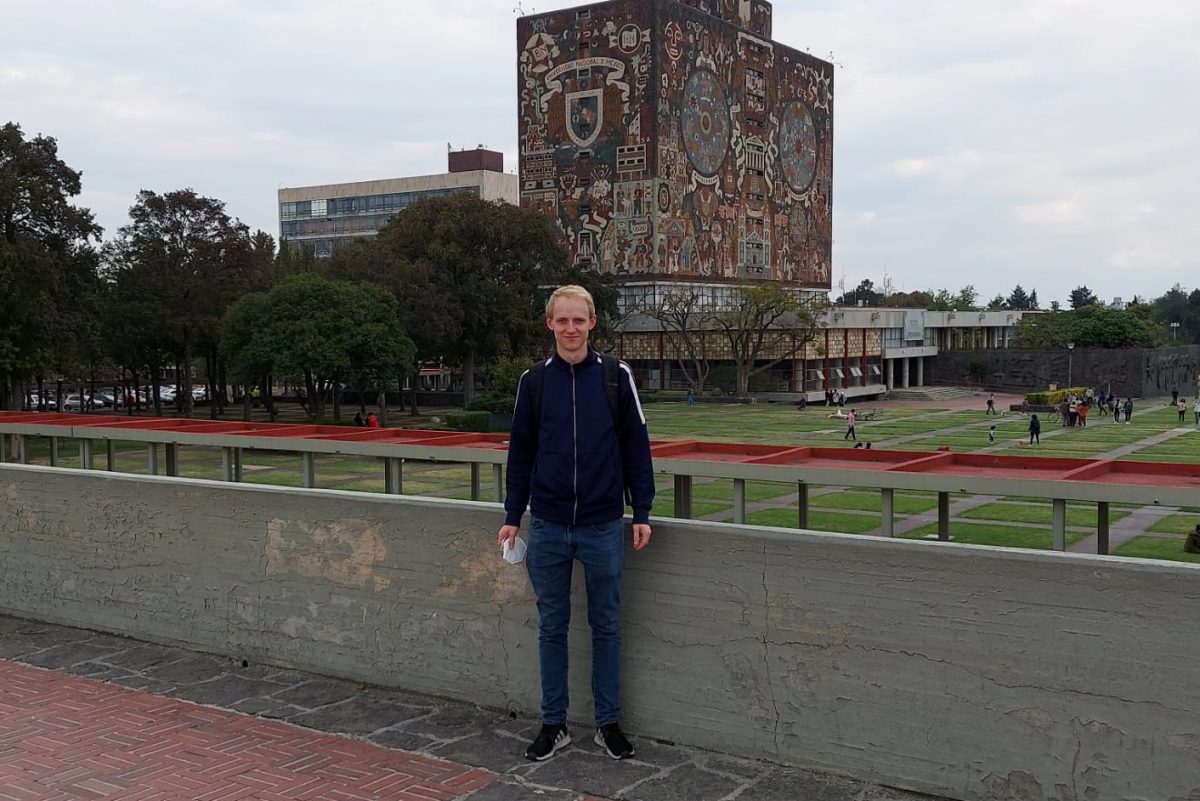 I am standing here in front of the UNAM Central Library. A huge mural by Juan O'Gorman decorates the library. Not least because of this, the entire campus, which was completed in 1954, was declared a UNESCO World Heritage Site in 2007. Photo credit: Johannes Hoppenbrock/TU Braunschweig
A little insight into UNAM's university town. It has its own transport infrastructure with a bus system run by the university that can be used by anyone at no cost, its own police force and its own fire brigade. Photo credit: Johannes Hoppenbrock/TU Braunschweig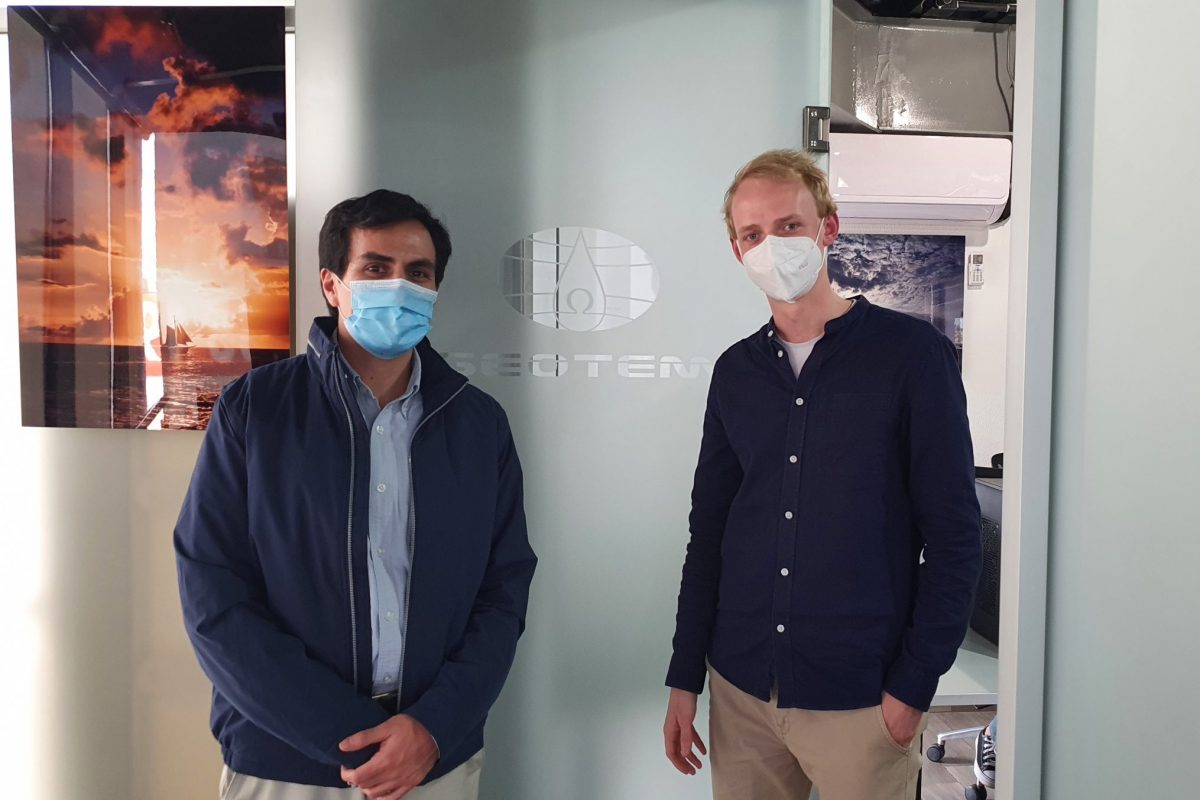 Here you see me with Alfredo Sanchez in the company GEOTEM Ingenería. Photo credit: Johannes Hoppenbrock/TU Braunschweig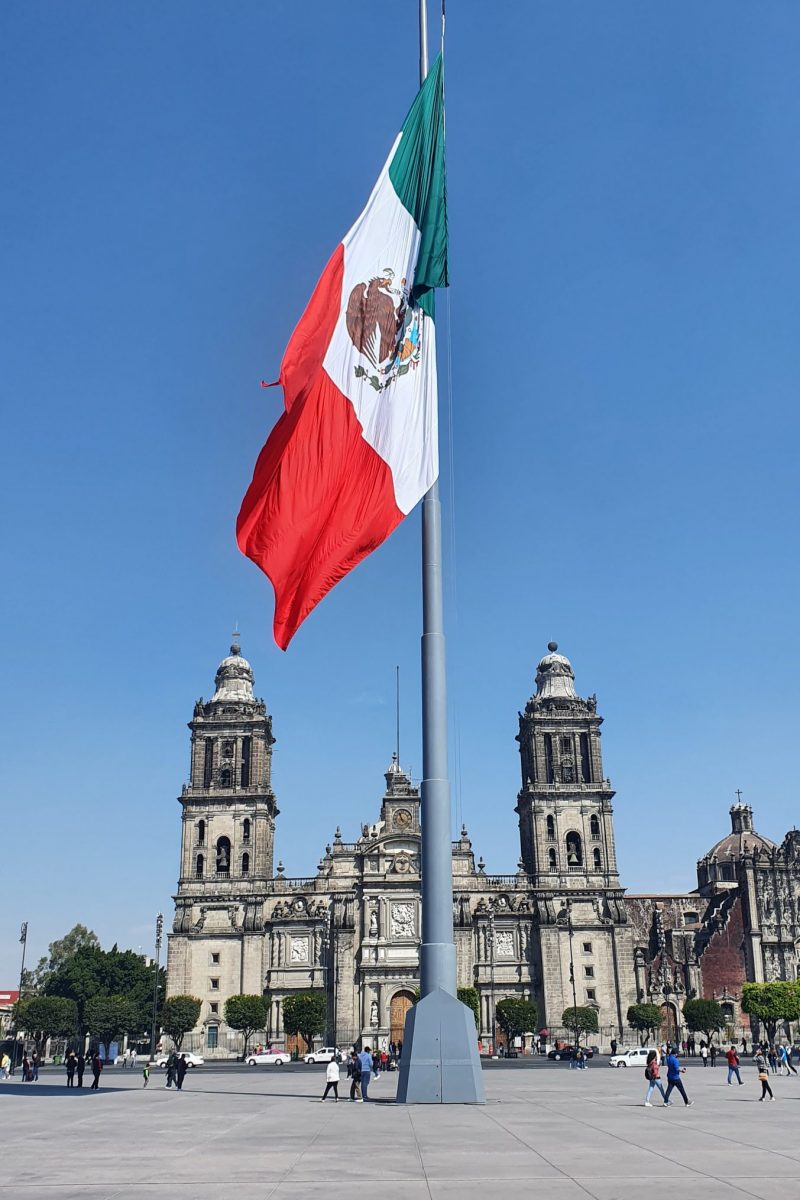 This is the Zócalo, the central square in Mexico City. Many important events take place here, such as speeches by the president. Photo credit: Johannes Hoppenbrock/TU Braunschweig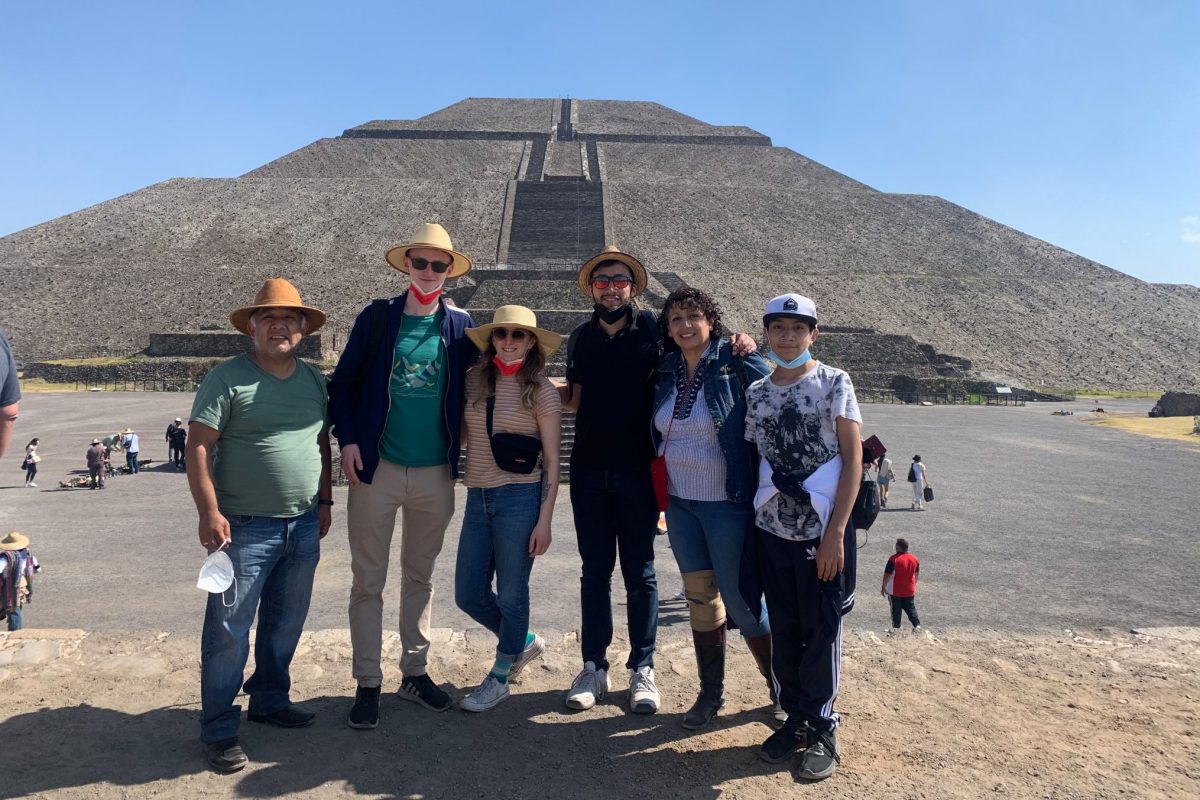 Here you can see me on a trip to the pyramids of Teotihuacán with the family of Rodrigo Martinez Abarca, who is currently doing his PhD at TU Braunschweig. The Pyramid of the Sun can be seen in the background. Photo credit: Johannes Hoppenbrock/TU Braunschweig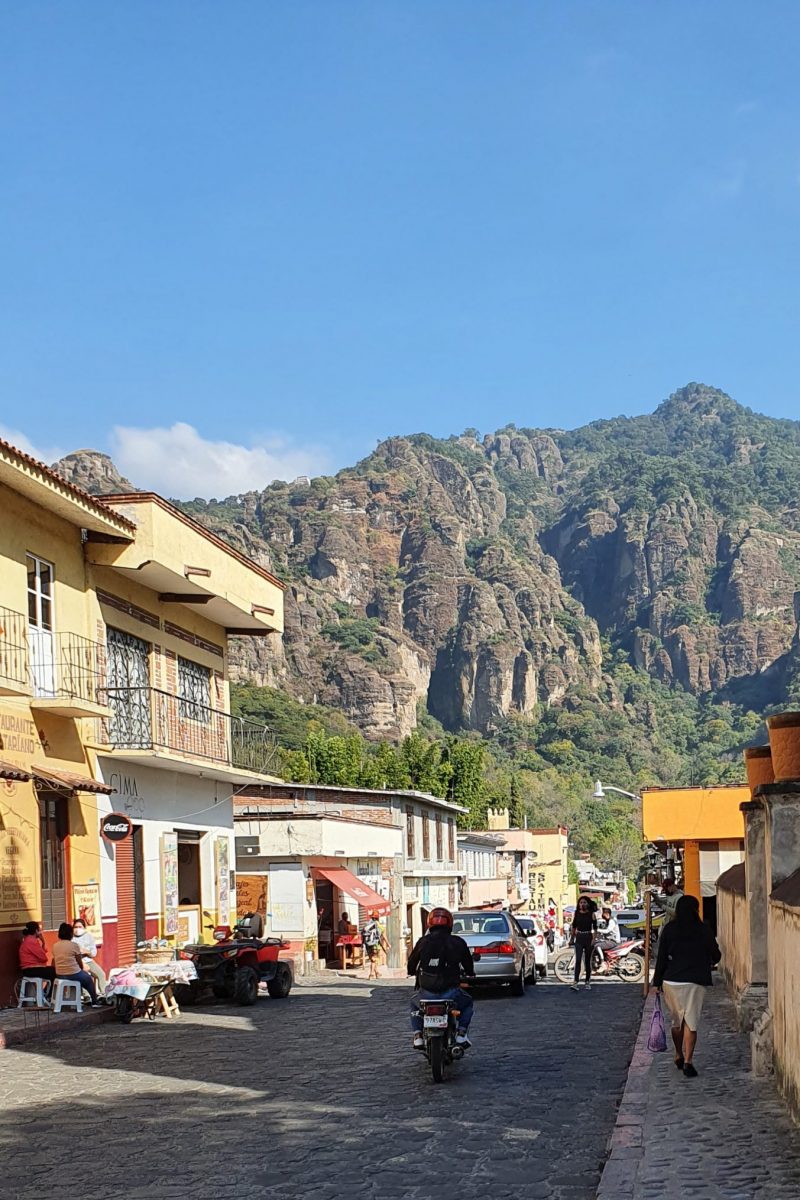 Here you can see the small, beautiful town of Tepoztlán. Tepoztlán is located south of Mexico City and is a good place to go if you want to enjoy a bit of nature in the mountains outside the city. Photo credit: Johannes Hoppenbrock/TU Braunschweig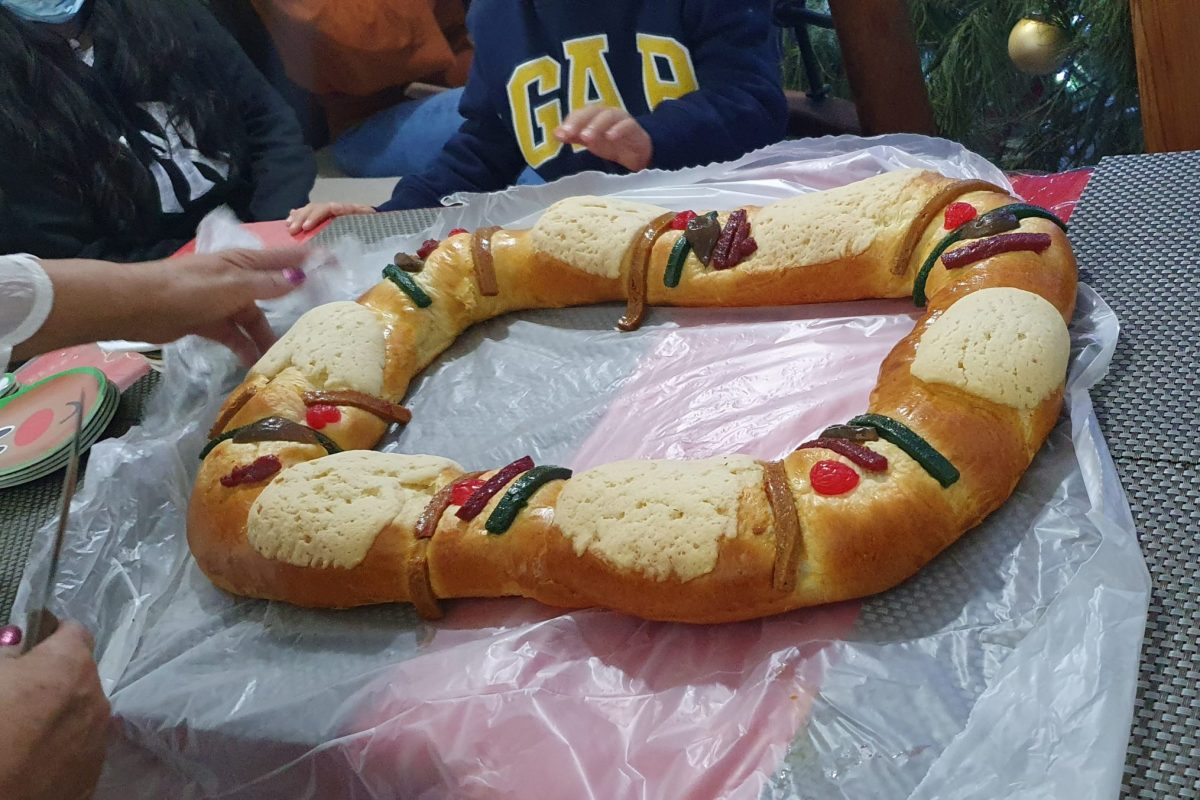 This is the so-called king's wreath ("Rosca de Reyes"). It is baked on the occasion of Epiphany on 6 January. Inside it are small ceramic Christ Child figurines. Whoever bites on one of these figures has to prepare tamales (another delicious Mexican dish) on 2 February. Photo credit: Johannes Hoppenbrock/TU Braunschweig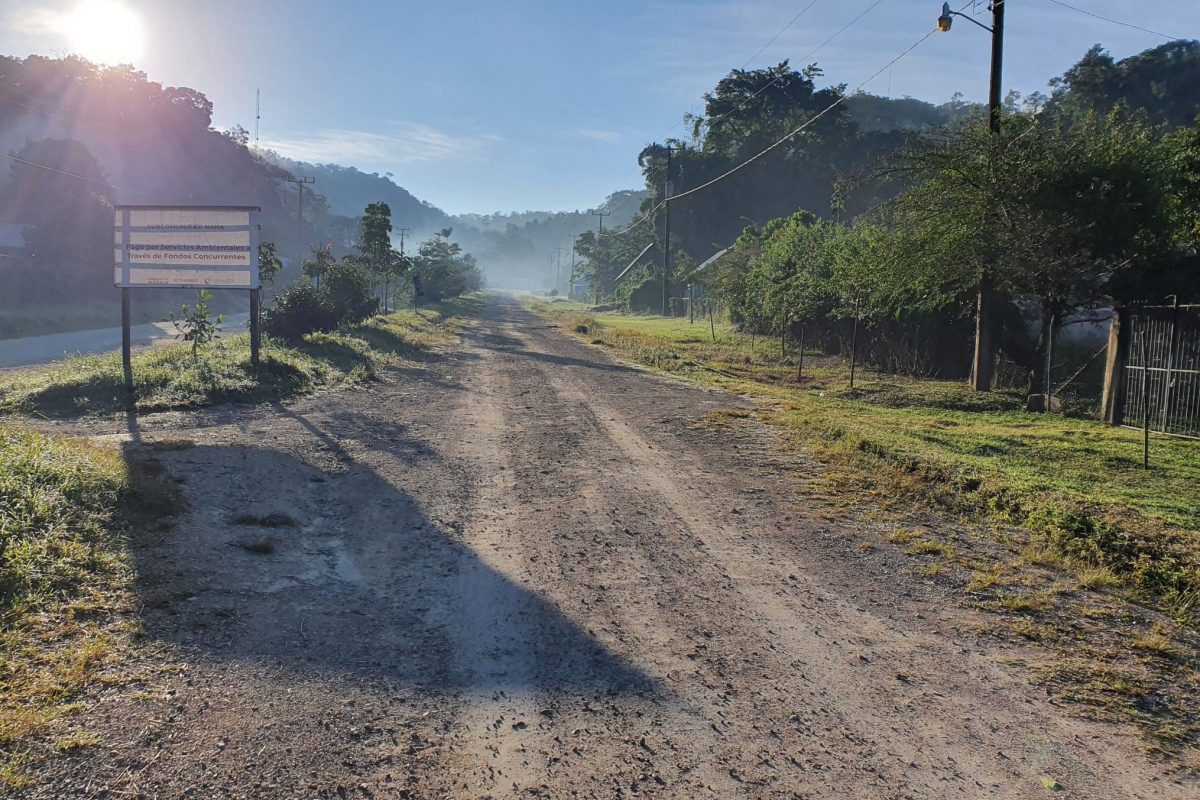 Here you can see a road in the village of Nahá in the Selva Lacandona, a jungle area in southern Mexico. We were there for a week of fieldwork. Photo credit: Johannes Hoppenbrock/TU Braunschweig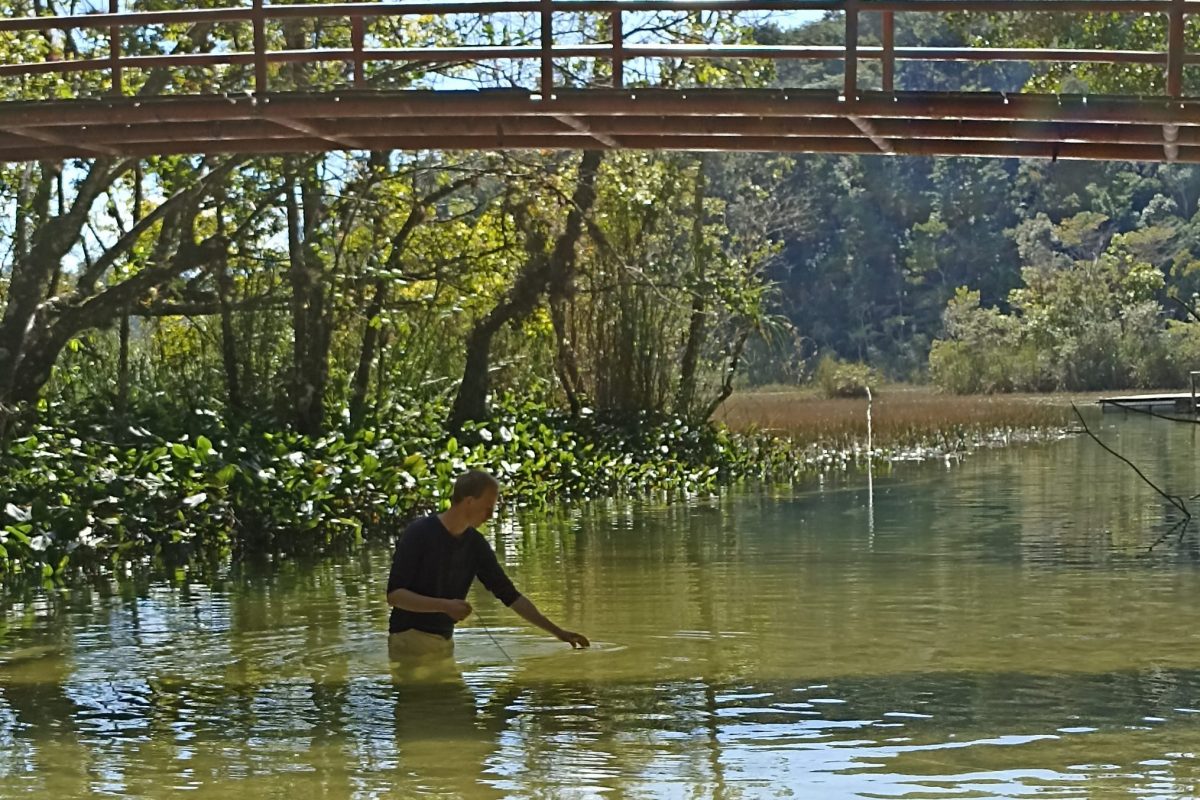 Here I am taking measurements in the Nahá River. My master's thesis is about geoelectric measurements at Lake Nahá, which you can see in the background. Photo credit: Johannes Hoppenbrock
The duration of my stay is:
My stay lasts a total of three months and is funded by a PROMOS study and research scholarship from the German Academic Exchange Service.
This is why I decided to go abroad:
I am interested in other cultures, especially other approaches to problems. This applies to my faculty as well as to everyday life. In my Bachelor's degree, I already had the opportunity to participate in fieldwork in southern Mexico. We travelled via Mexico City at the time and I the city immediately fascinated me. Only, the time was far too short during this first visit and that's why I had to come back! Through the motivation and support from my supervisor Matthias Bücker from the Institute of Geophysics and Extraterrestrial Physics and Liseth Pérez from the Institute of Geosystems and Bioindication, who themselves lived in Mexico City for a long period of time, I was finally able to realise this in 2021.
Local Life
This is how I live in Mexico City:
It was important to me to have accommodation before I arrived. Fortunately, I was able to get a room relatively easily through a Mexican doctoral student I met in Braunschweig. Generally, finding accommodation in Mexico works more via connections or social networks. I live in a typical student room in a shared apartment with three nice housemates and the landlady. It's unusual to me that the building is located in a residential complex guarded around the clock by security personnel. But you get used to it relatively quickly and have a certain feeling of security. The complex also has its own small supermarket, playgrounds and sports equipment.
What is the difference between studying in Mexico and in Germany?
The most striking difference for me is that here, many things happen relatively spontaneously and surprisingly. Plans are quickly overturned and not taken too seriously. Whereas in Germany you would expect a disaster if plans changed at short notice, here everything still goes well in the end. Unlike the German working day, the daily structure is very flexible. Sometimes we have a three-hour lunch break one day and then not at all on another day. In general, however, the working days are very long, with an average of nine to ten hours in the office.
Particularly typical for the country of my study abroad is:
Hospitality and cordiality! Everywhere I went as a visitor, I was abundantly provided with food and drink. It is also particularly typical that everyday life has many surprises in store. The everyday madness includes, for example, (large) holes in the streets, completely overcrowded means of transport and street vendors on every corner.
This is what I learned here during the first three days:
On the first morning after my arrival, I stood quite perplexed at a large intersection near my apartment and saw no way to ever cross it. No pedestrian lights, lots of confusing lanes and faded zebra crossings that drivers just ignore. But I quickly learned that there is no point in waiting and you just have to go.
The biggest challenge so far during my stay:
Right in the first week, I got sick, probably due to the jet lag, the altitude difference (Mexico City is 2240 metres above sea level) and the unfamiliar street food. Without local knowledge and contacts, I found the simplest things like shopping for food or medicine very difficult. Fortunately, I was able to turn to a German-speaking emergency contact during this phase, whose information I got from my supervisor. That was a great help.
This is what I will take home with me from here:
I'm afraid I won't be able to take enough souvenirs with me. I'll simply have to come back. Firmly planned, however, are mezcal, a Mexican spirit, alebrijes, colourful animal-like wooden figures and three sombreros.
Good to Know
This is a local dish you definitely have to try:
Tacos, tacos and more tacos. In every possible variation. My favourite are the 'Tacos al Pastor', that are famous in Mexico City. These contain specially cooked pork with onions, pineapple and coriander in a corn tortilla.
Which blunder should you avoid in Mexico?
It often happened to me that someone has given me something or invited me. In my experience, you should not refuse out of modesty; it can quickly be taken as an insult.
This is a tip I give to other students who want to go abroad:
Never get discouraged and go for it! Neither the bureaucratic hassle beforehand nor a week or two of frustration at the beginning should dissuade you. Take advantage of the opportunities you have as a student. It's worth it!
Pandemic
I took these special precautions in advance because of the Corona virus:
I took out good international health insurance, brought a few tests and a lot of masks. In retrospect, I should have brought more tests, as they are not freely available here and test appointments are very expensive and rare.
This is how the Corona virus is affecting my stay:
Due to the Corona virus, there are far fewer events at UNAM at the moment and some of the professors are working from home. It is therefore not so easy to establish contacts. Similar to Germany, many events take place online.
In everyday life in Mexico, there are few restrictions due to the Corona virus. Markets, restaurants and even cultural institutions like museums are open without restrictions. In public spaces, however, masks are always worn everywhere. Even in the fresh air.
This was my favourite way to pass the time despite the pandemic:
The pleasant temperatures, even in winter, allowed me to do a lot outside in the fresh air. I walked through the most diverse markets or sat down with friends in one of the many outdoor bars. Not a day went by that I didn't experience or see new crazy things.