Mail from … Israel
Doctoral student Sonja Rigterink reports on her stay in Israel
Sonja Rigterink is a research associate at the Institute of Geosystems and Bioindication. As part of her PhD project, she is now spending three months at the University of Haifa. In "Mail from …" she reports on her experiences in Israel.
This is where I live at the moment:
I currently live in Haifa, a coastal city in the north of Israel, about 100 kilometres from Tel Aviv. Haifa is the third largest city in Israel, after Jerusalem and Tel Aviv, with a population of about 290,000. Locals like to say that people pray in Jerusalem, party in Tel Aviv and work in Haifa – and that's how it is.
There are many start-ups and international companies here, many cultures live together and there is always a hustle and bustle. Haifa was built on the northern slope of the Carmel Mountains, the different parts of the city are terraced on a total of 400 metres in altitude. In the lower part of the city by the sea is the so-called "German Colony", a German colony of the Temple Society, which was founded in Haifa around 1850. From the highest point of the city, the Uni, you have a great view of the city and the neighbouring regions. On a clear day, you can even see the Lebanese border.
This is what I do in Haifa:
I am at the University of Haifa for three months and am working there in the so-called "PetroLab", the laboratory of Dr. Nicolas Waldmann, on a project within my PhD. I am analysing lake sediments from Yemen for fossils of sugar midge larvae. The larvae lived in this lake within the last thousand years and left their remains in the form of their chitinous head capsules.  Based on the quantity and type of these head capsules, we can draw conclusions about past climate and environmental changes, among other things.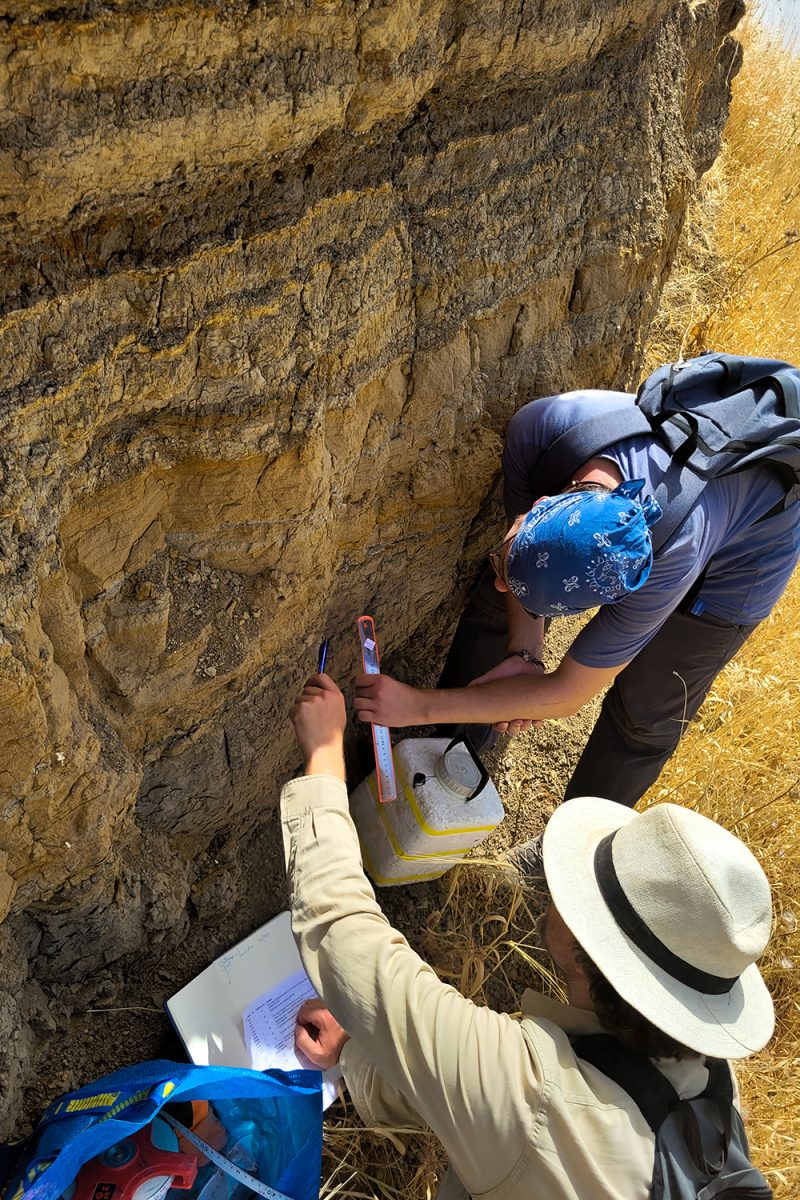 PetroLab postdocs addressing an outcrop of the Erk el Ahmar formation in the south of the Sea of Galilee. Photo: Sonja Rigterink/TU Braunschweig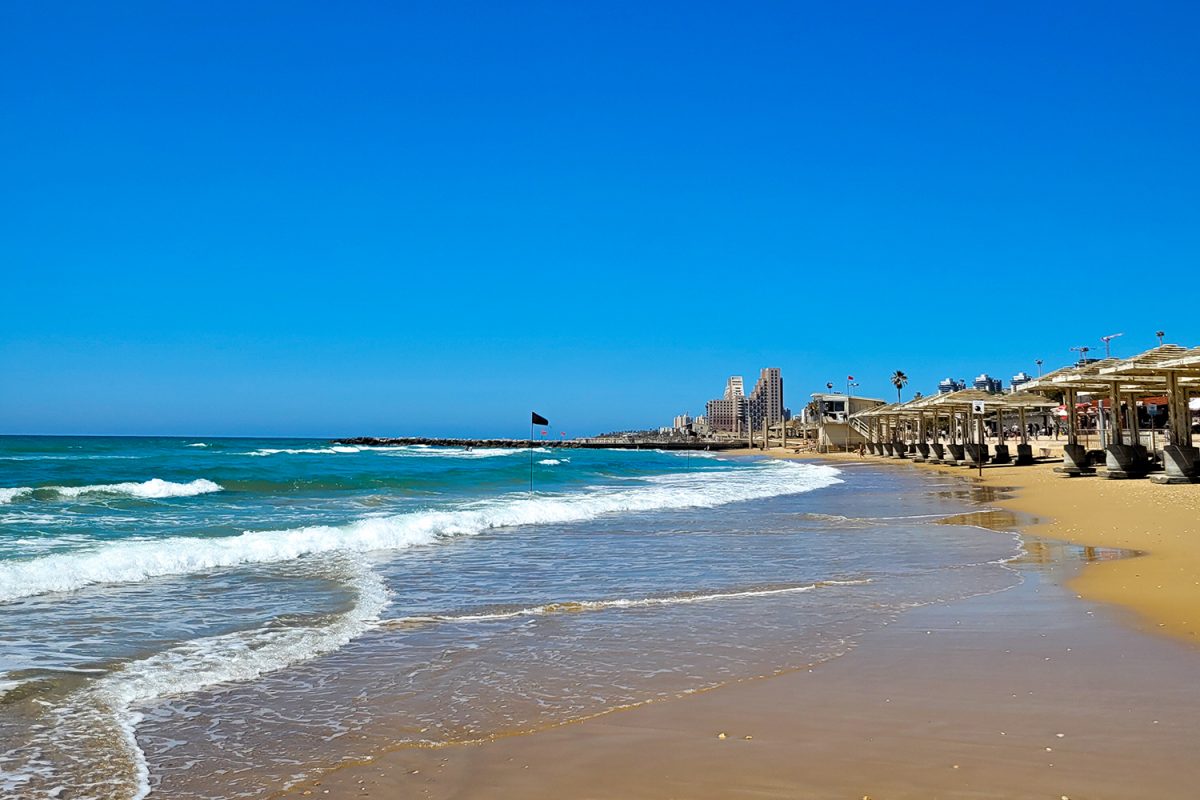 The beaches in western Haifa are busy at the weekend, but during the week it's easy to get through the hot days here. Photo: Sonja Rigterink/TU Braunschweig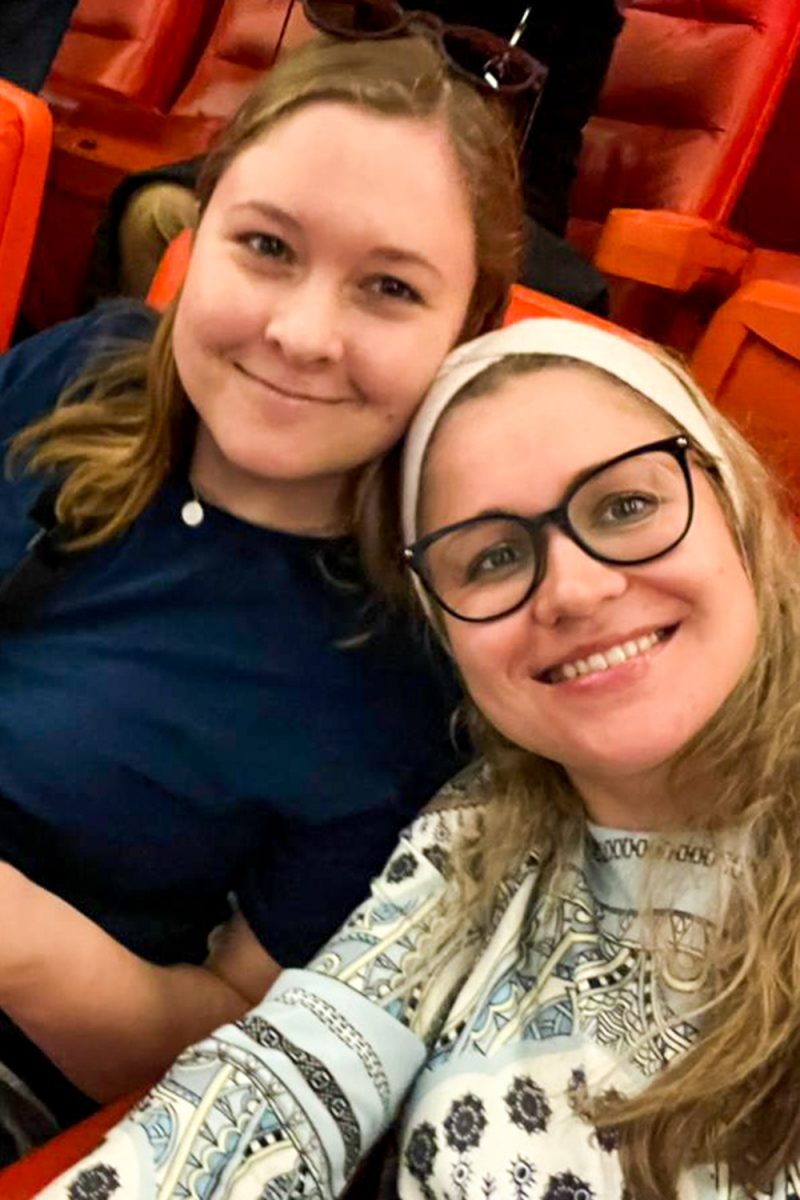 My Ukrainian flatmate and I at the cinema. Photo: Sonja Rigterink/TU Braunschweig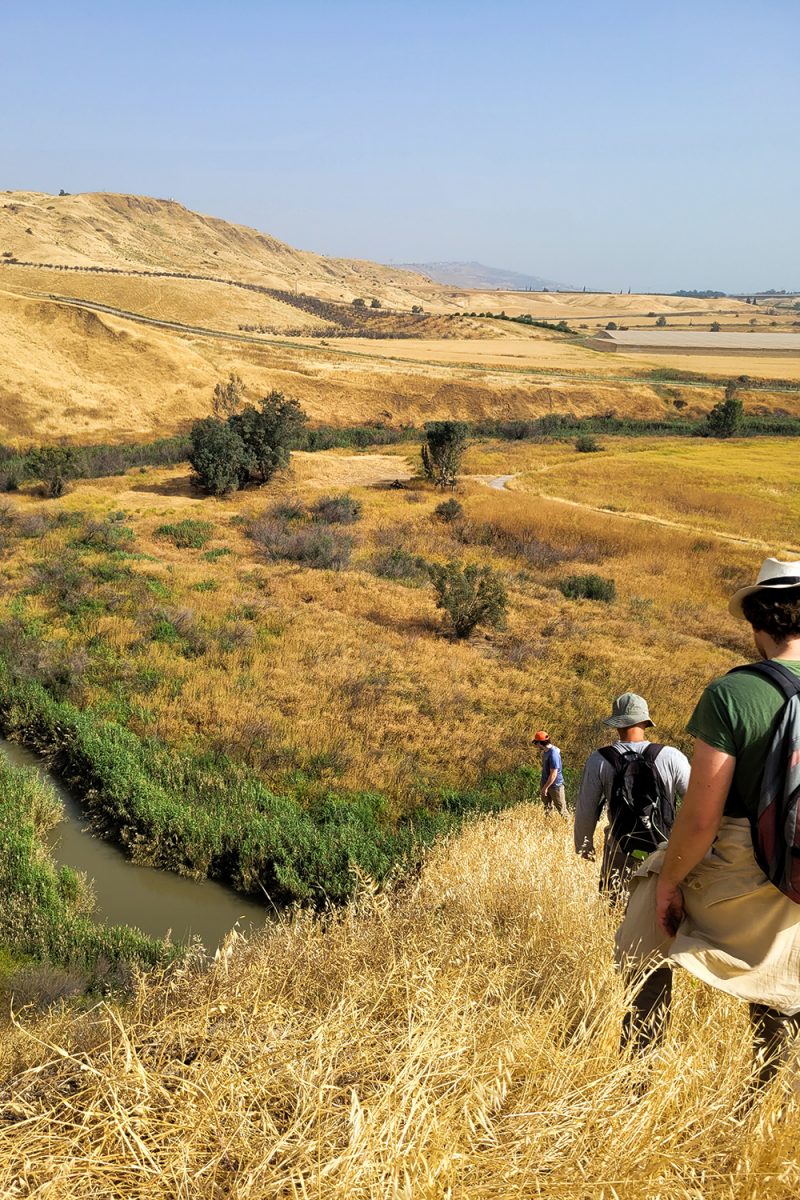 Field work on the Jordanian border. The Jordan River is the natural border between Israel and Jordan. Photo: Sonja Rigterink/TU Braunschweig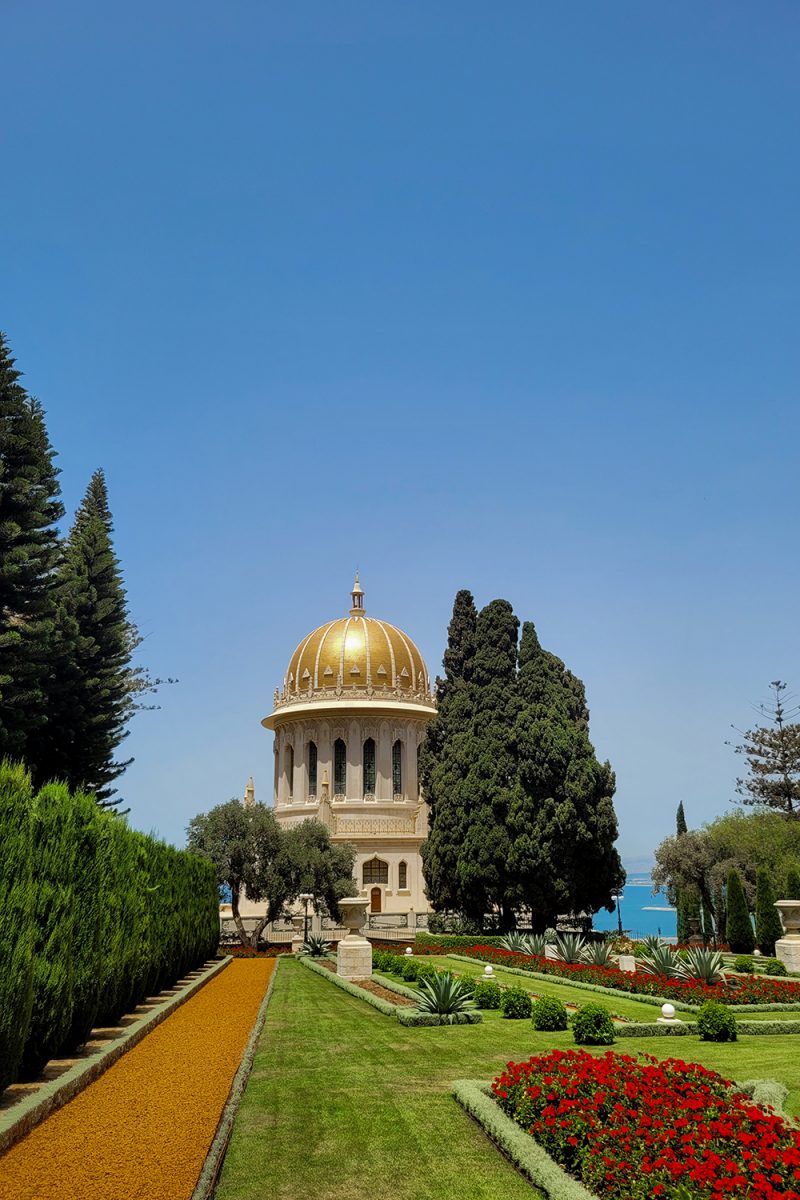 The Shrine of the Bab is one of the most visited sights in Haifa. The tomb belongs to the Bahai religion, which originated in Iran. Photo: Sonja Rigterink/TU Braunschweig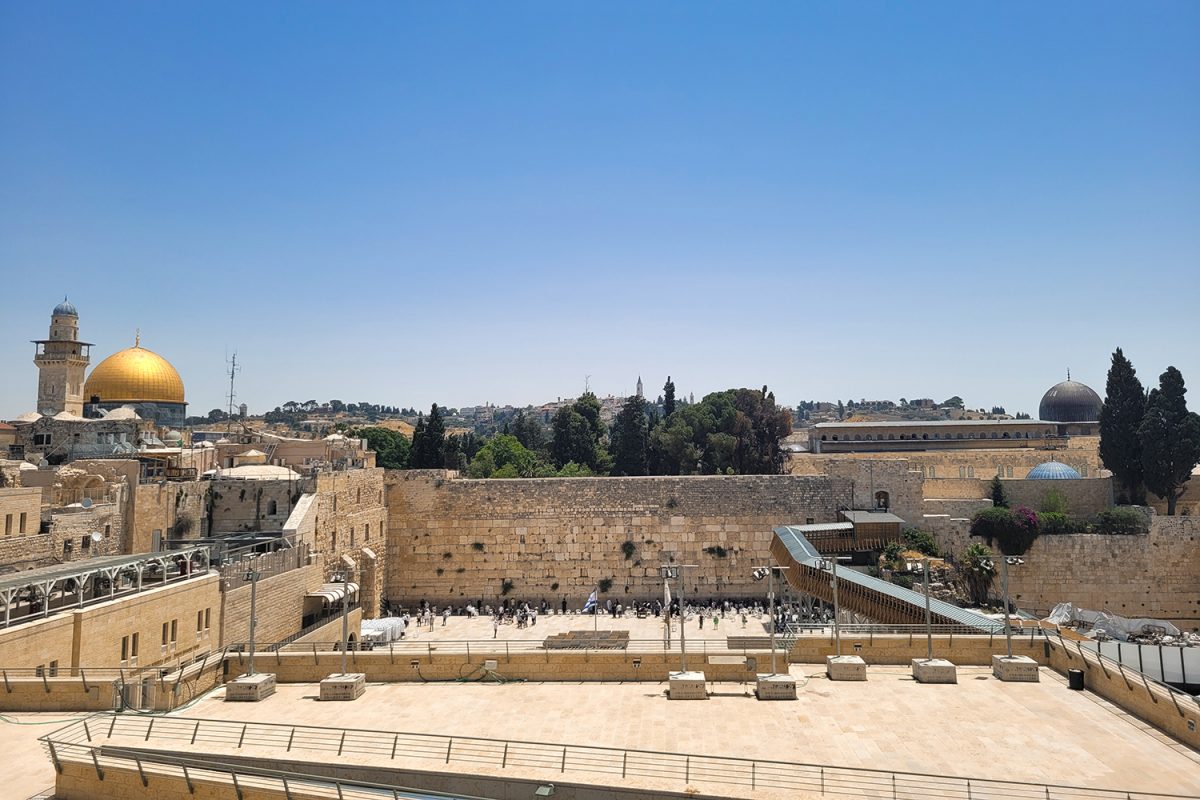 The Wailing Wall (in the middle) in Jerusalem is the last remnant of the Jerusalem Temple, destroyed by the Romans in 70 AD, and the most important place of faith for Jews. Behind it is the Temple Mount with the Dome of the Rock (golden dome) and the al-Aqsa Mosque (grey dome), two of the most important Muslim sites. Photo: Sonja Rigterink/TU Braunschweig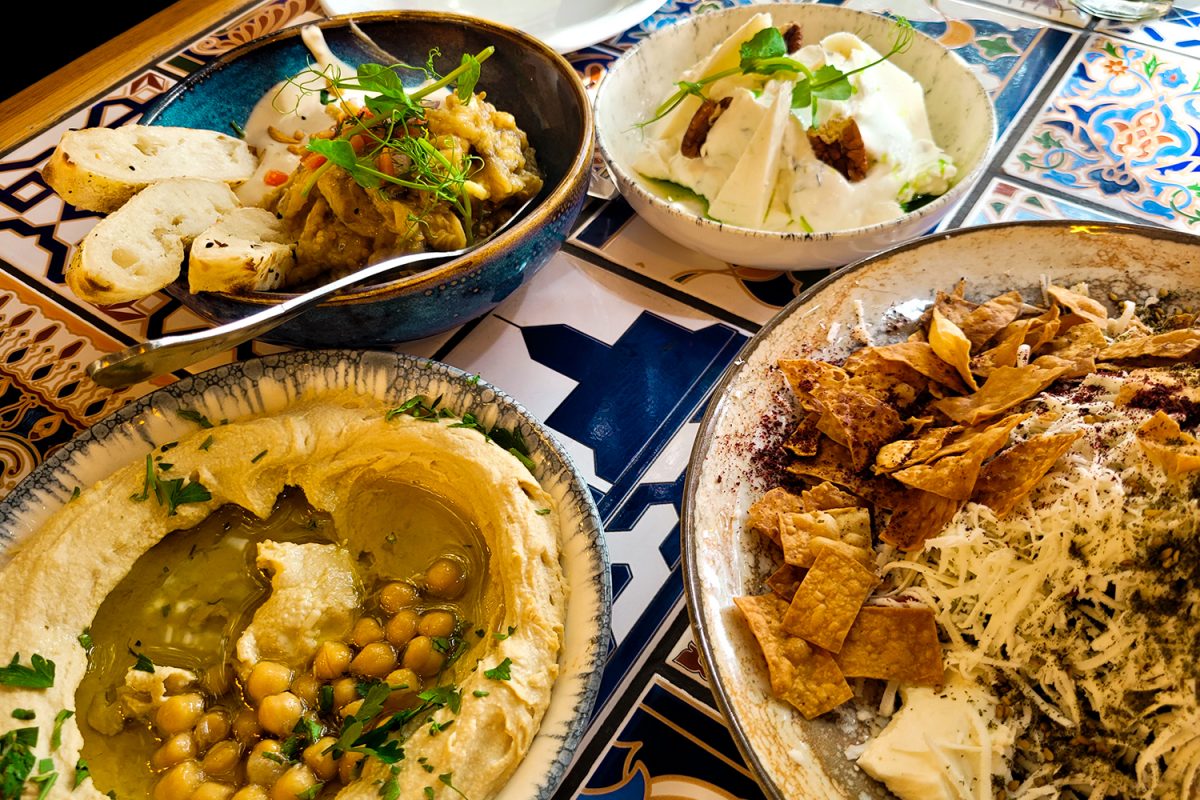 Typical Israeli food: Hummus (bottom left), baked aubergine (top left), and labane (top right). Photo: Sonja Rigterink/TU Braunschweig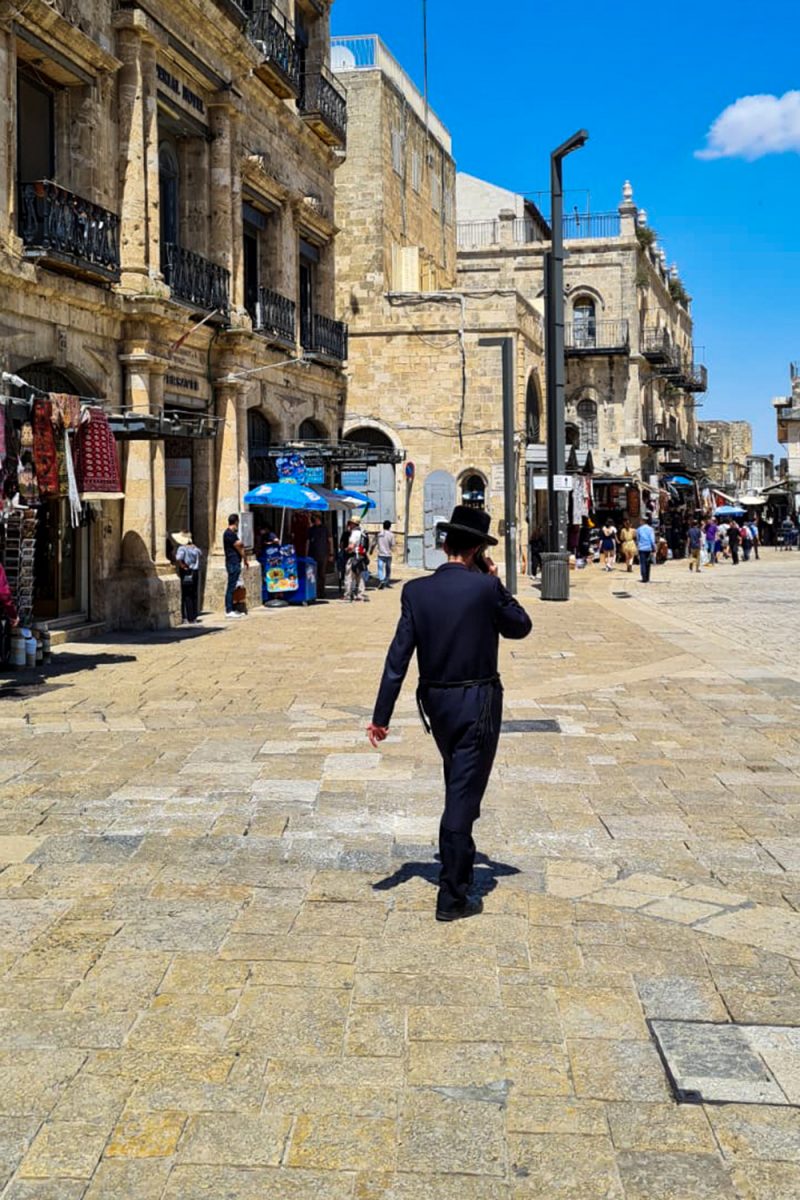 Many different cultures and Jewish religious groups live together in Israel. Ultra-Orthodox Jews mainly wear black and a black hat. Photo: Rigterink/TU Braunschweig
This is how my stay is being funded:
My stay in Israel is funded by a scholarship from the University of Haifa. The so-called "Sandwich" programme is aimed at foreign doctoral students who want to conduct research in Israel and aims to promote international research cooperation.
This is why I decided to go abroad:
Israeli history has always fascinated me and I wanted to get a closer look at the Jewish way of life. In addition, I got the chance to get to know new methods and new colleagues by (co-)working in the new working group.
Local Life
This is how I live in Haifa:
I live in a hall of residence at the University of Haifa. My two roommates are from Israel and Ukraine, we are all the same age and get along very well. Because we live with a Jewish woman, we learn a lot about Jewish eating habits, holidays and customs. There is always a lot going on in the residence hall, where mainly international students and visiting scholars live. The individual flats are built into the hillside, so it is pleasantly cool even in high summer. During the week, the residence offers a number of courses and activities, barbecues and hikes. You can also get everything you need at the on-site supermarket.
Particularly typical for the country of my study abroad is:
The weather can change from one day to the next. On the coast it is often overcast, windy and cool. Then, when you drive an hour inland, it is suddenly 38 °C and the sun shines mercilessly. The country is incredibly small, within a few hours you can travel by train from the north to the south, which makes Israel a perfect place for a round trip.
Security is very important in Israel. Short security checks are mandatory to enter train stations, malls or other public buildings. Security forces are part of the street scene – as is the military. Israel is the only country that has introduced compulsory military service for women. Military service for men usually lasts three years, for women two. But I quickly got used to the presence of armed soldiers at the university.
This is what I learned here during the first three days:
Israelis are very direct. Shyness is frowned upon. But they are also very hospitable. They have an excellent sense of humour and are very open and communicative!
This was my favourite way to pass the time:
There are wonderful hikes in the Carmel Mountains. Since Haifa is on the Mediterranean Sea, there are many beaches with promenades, surf schools and great bars. It can get quite crowded on the weekends, but during the week, the beach is the best place to endure the heat. I often went to the cinema with my Ukrainian roommate. International films are not dubbed in Israel, which is another reason why Israelis speak very good English. Because of the relatively short travel routes in Israel, great landmarks can be reached quickly and easily. Right near Haifa is Akko, an old Crusader city, or Caesarea, an ancient Roman port city.
The biggest challenge during my stay so far:
All the bureaucratic matters were a bit difficult – including opening a bank account. However, the university provides very good advice and helps if there are any problems.
This is what I will take home with me from here:
I bought a silver pendant in a jewellery shop in Tel Aviv: a chamsa. This hand-shaped symbol is a kind of Arabic/Jewish amulet and is supposed to protect the wearer from the "evil eye".
Good to know
This is a local dish you definitely have to try:
Hummus, falafel, shakshuka and labane. Israel is known for its diverse vegetarian and vegan cuisine. The best way to try everything is in the form of a mezze – a kind of Israeli tapas. I especially remember the market stall of the Druze women from Usufija, a mountain village in the Carmel Mountains. Every Saturday, traditional Druze flatbreads are baked and sold there.
Which blunder should you avoid in Israel?
From Friday evening to Saturday evening, buses and trains hardly run because of Shabbat. Excursions should be well planned on these days, otherwise you can easily get stuck.
This is a tip I give to other students who want to go abroad:
When I planned my stay, it was quickly clear to me that I didn't want to live alone, but together with others. The halls of residence at the university were the perfect solution. I quickly made friends and made a lot of acquaintances, especially international ones. That's important, because homesickness hits everyone at some point and then it's good to have someone to talk to and distract yourself.
I have these tips particularly for Israel: Get an Israeli SIM card as soon as you arrive at Ben Gurion airport. Mobile internet is super cheap in Israel and you need it! I also recommend buying the Rav Kav card there. You use it like a prepaid card and can also use it to pay in all public transport.
Pandemic
I took these special precautions in advance because of the Corona virus:
Upon arrival in Israel, a PCR test at the airport is mandatory. I also had to go into quarantine until I received the negative test result.