Mail from … Irvine
PhD student Tim Wittmann reports on his research stay in California, USA
This is where I live at the moment:
I currently live in Irvine, in the greater Los Angeles area. Irvine is a planned city founded by a company in the 1960s. The whole city looks like an advertising brochure. Everything is clean, well-kept and safe. But it also makes Irvine look quite artificial and sterile. The Pacific Ocean is only a few kilometres away. There are kilometres of beaches, promenades and a lot of Californian lifestyle.
This is what I do in Irvine:
I am a visiting PhD student at the National Fuel Cell Research Center at the University of California, Irvine. Here I am working on a system design for oxygen supply to fuel cells at high altitudes. As an aerospace engineer, it is enormously exciting for me to immerse myself in the world of electrochemistry and to deal intensively with fuel cells. At the end of my stay, I will contribute a small piece to the decarbonisation of aviation with a publication.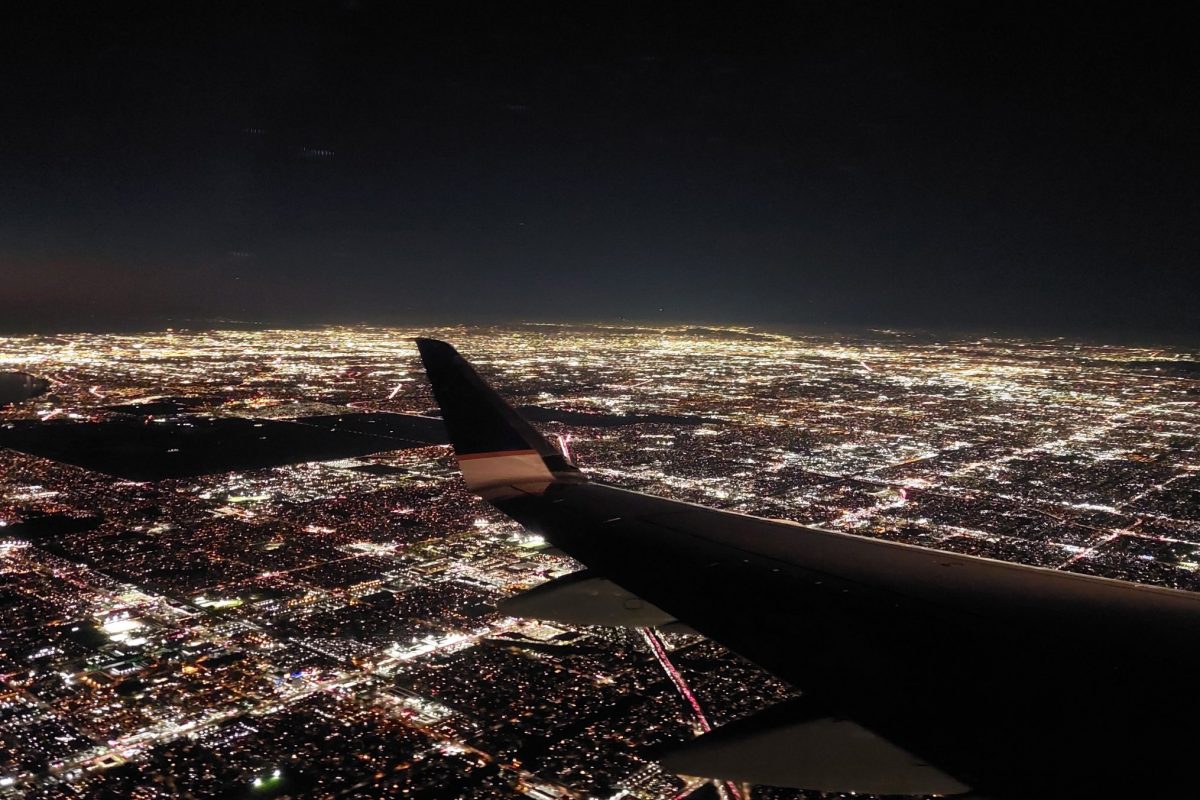 My arrival in Irvine was itself a unique experience. The approach to the vast sea of lights of Los Angeles is impressive. Photo credit: Tim Wittmann/TU Braunschweig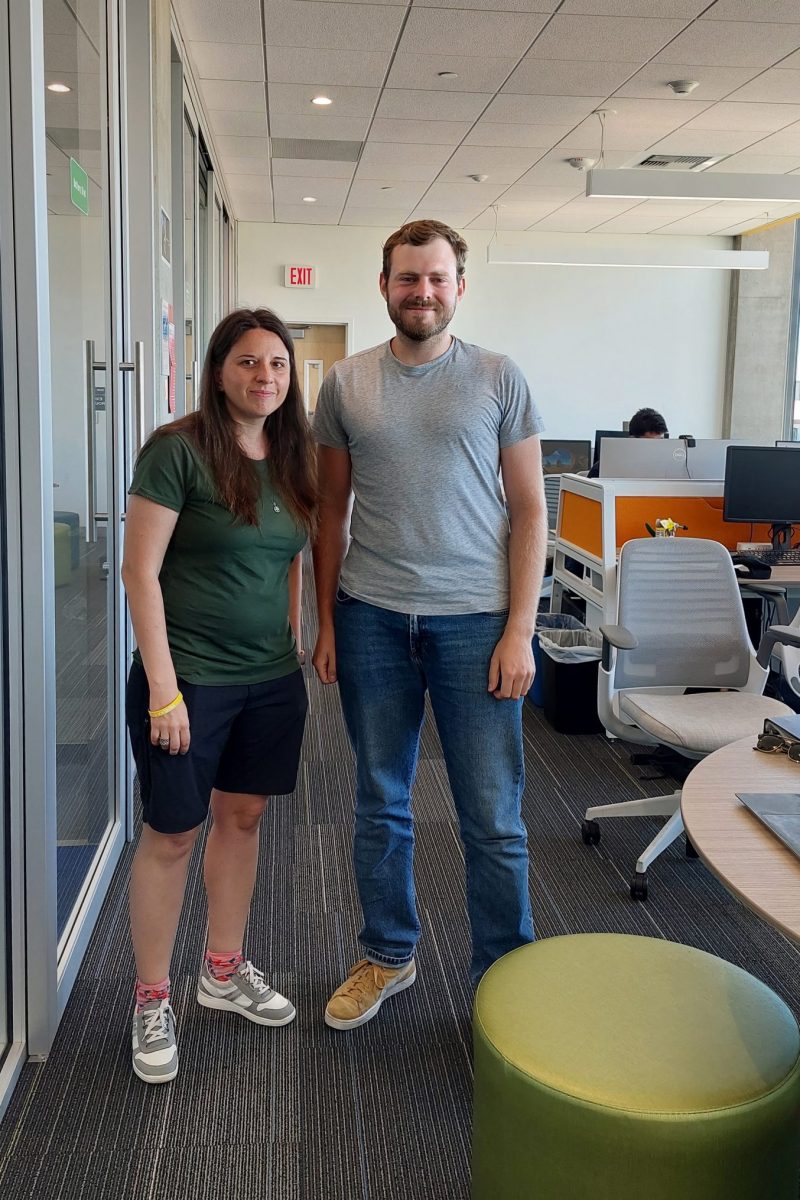 I was supervised by Prof. Iryna Zenyuk. She is the deputy director of the National Fuel Cell Research Center and is pushing fuel cell development forward with great dedication. Photo credit: Tim Wittmann/TU Braunschweig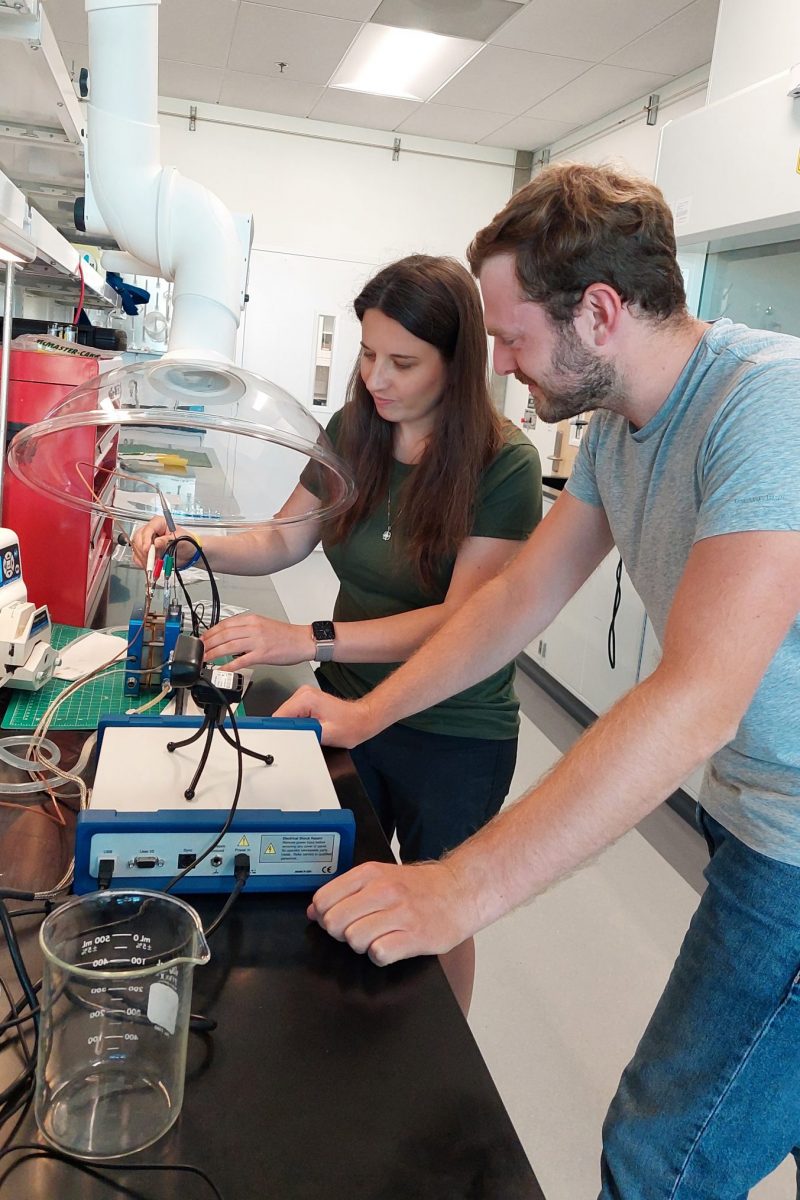 For me as an aerospace engineer, the insight into an electrochemical laboratory was an enormously exciting change from my usual working environment. Photo credit: Tim Wittmann/TU Braunschweig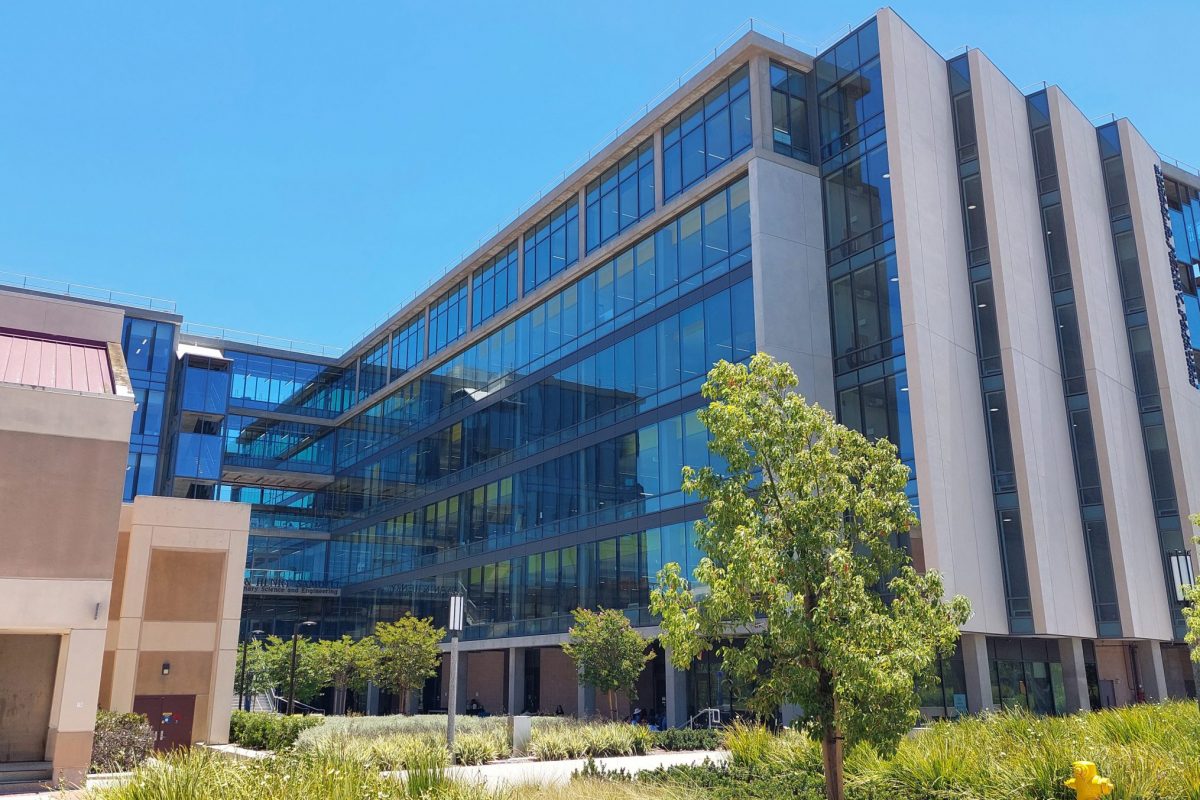 Prof. Zenyuk's team had moved into a laboratory in this new research building a few weeks before my arrival. Photo credit: Tim Wittmann/TU Braunschweig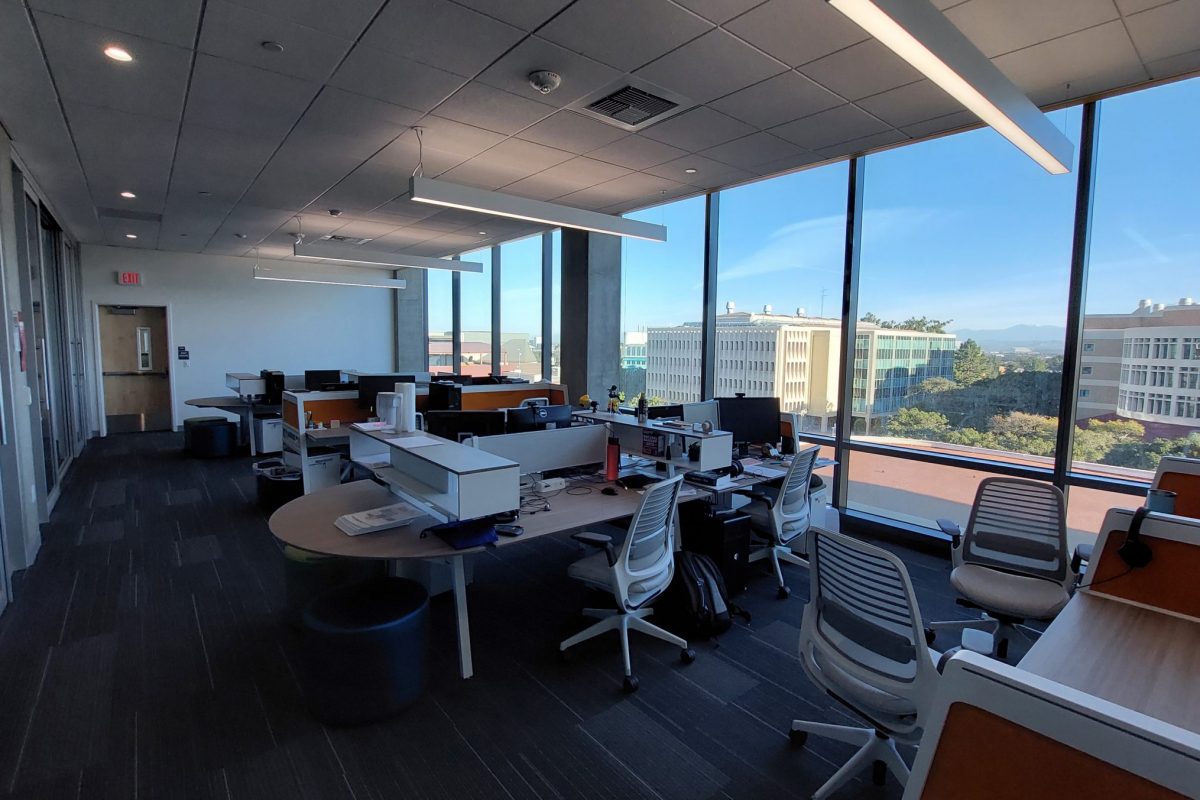 My modern workplace has a fantastic view of the campus and mountains up to 3,000 metres high. Opposite the window front are the laboratories. Photo credit: Tim Wittmann/TU Braunschweig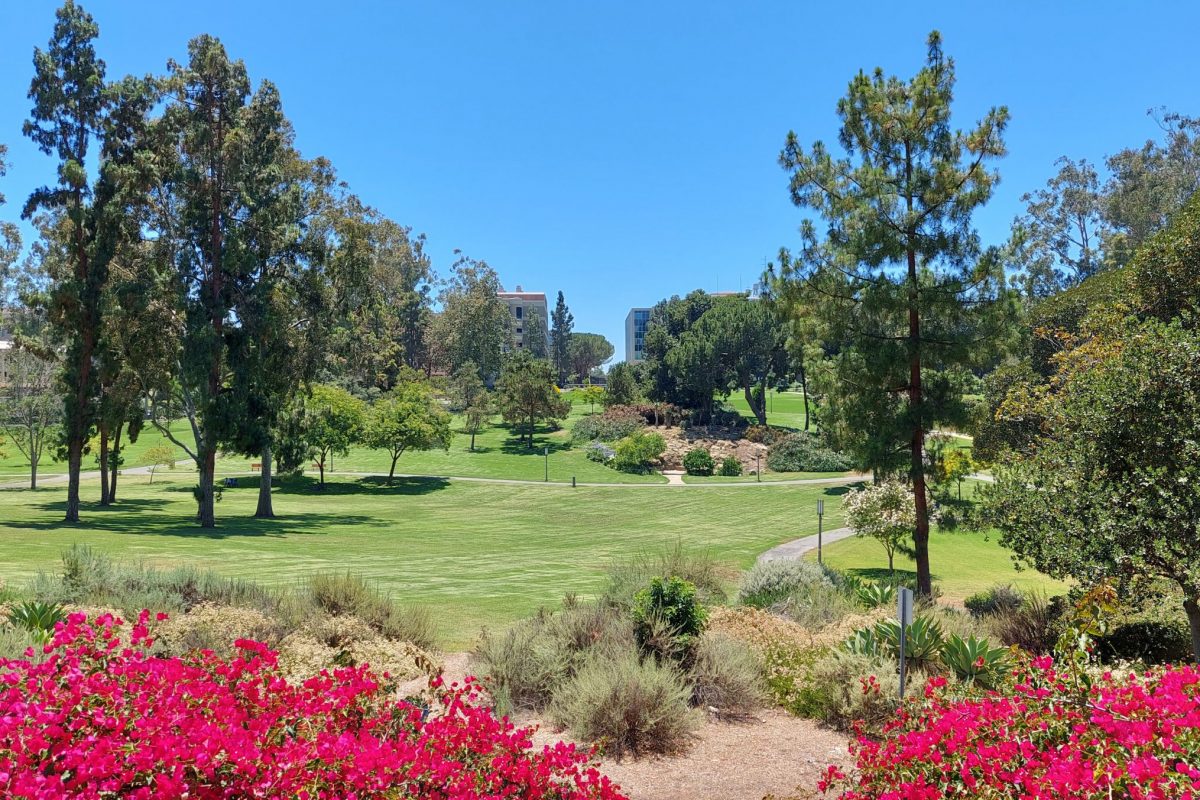 In the centre of the campus is a large circular park. All the university buildings are arranged around this park. Photo credit: Tim Wittmann/TU Braunschweig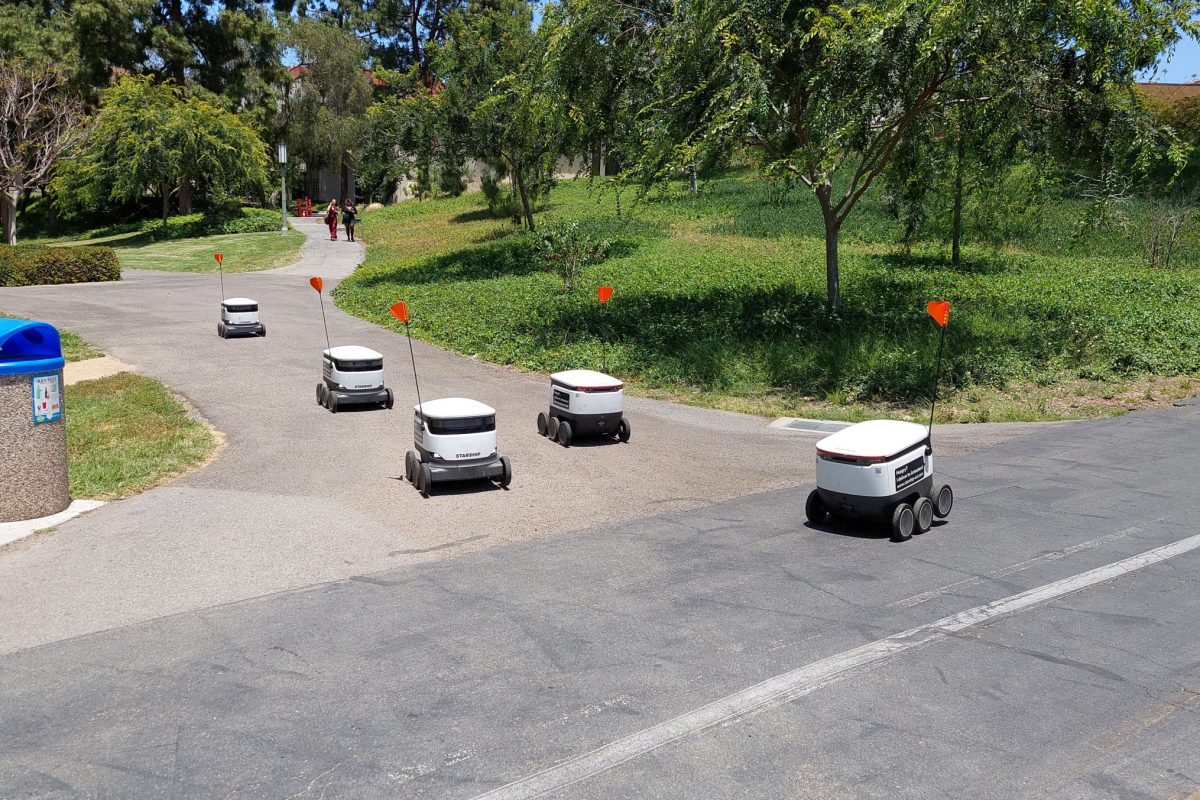 The campus is populated not only by humans, but also by self-driving robots. These deliver food all over the campus for a small fee. Photo credit: Tim Wittmann/TU Braunschweig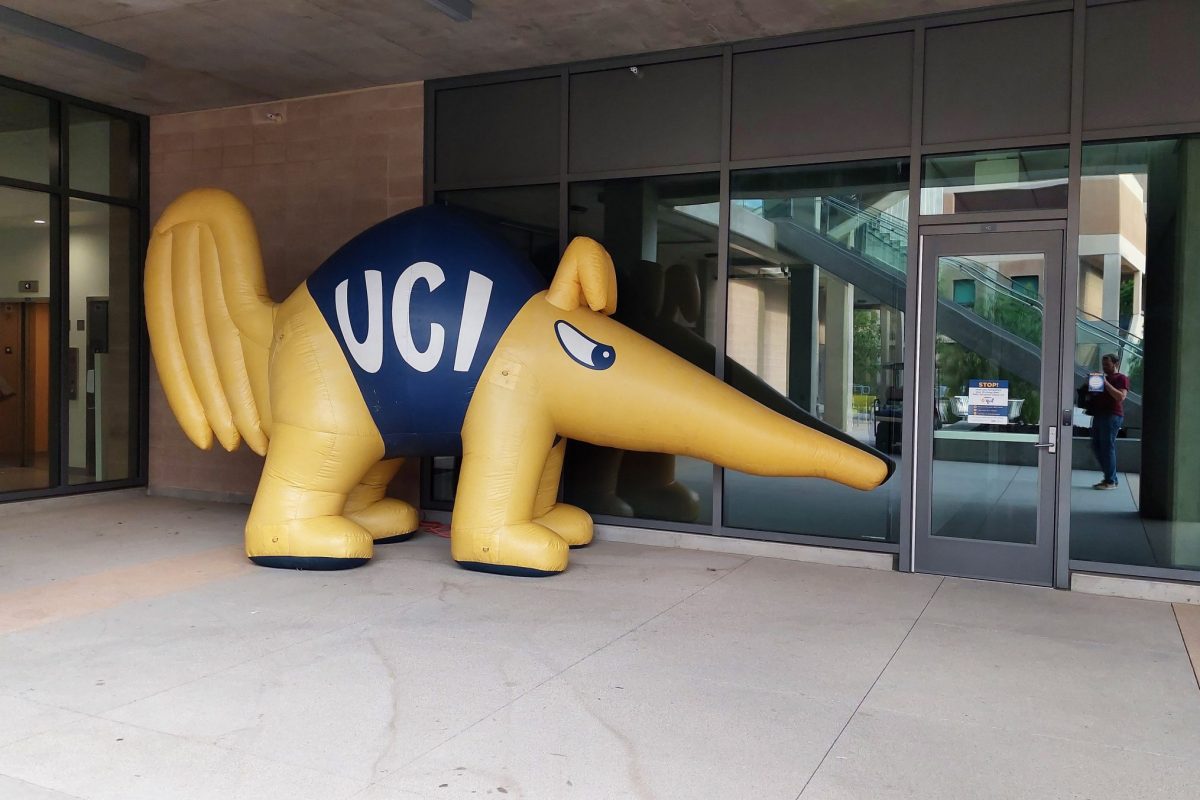 UC Irvine has chosen the anteater as its mascot animal. Photo credit: Tim Wittmann/TU Braunschweig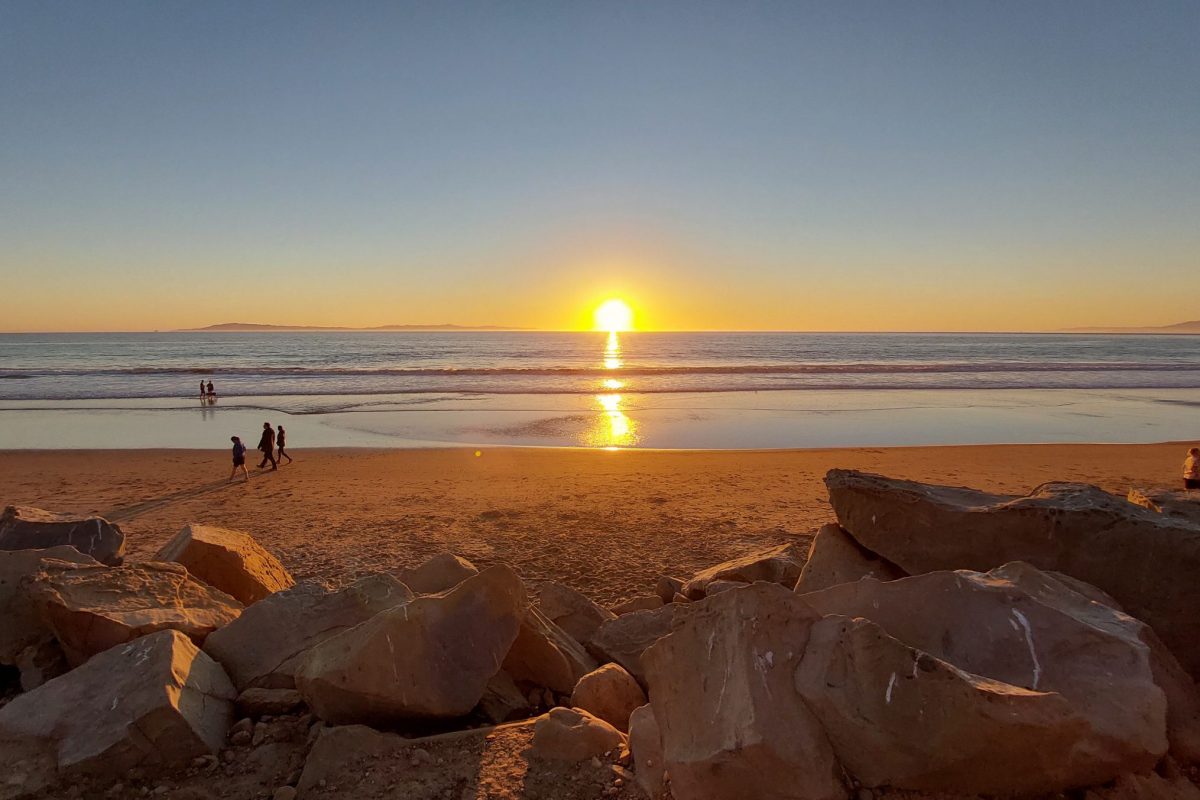 The beach with great sunsets is only a few kilometres away from the university. Photo credit: Tim Wittmann/TU Braunschweig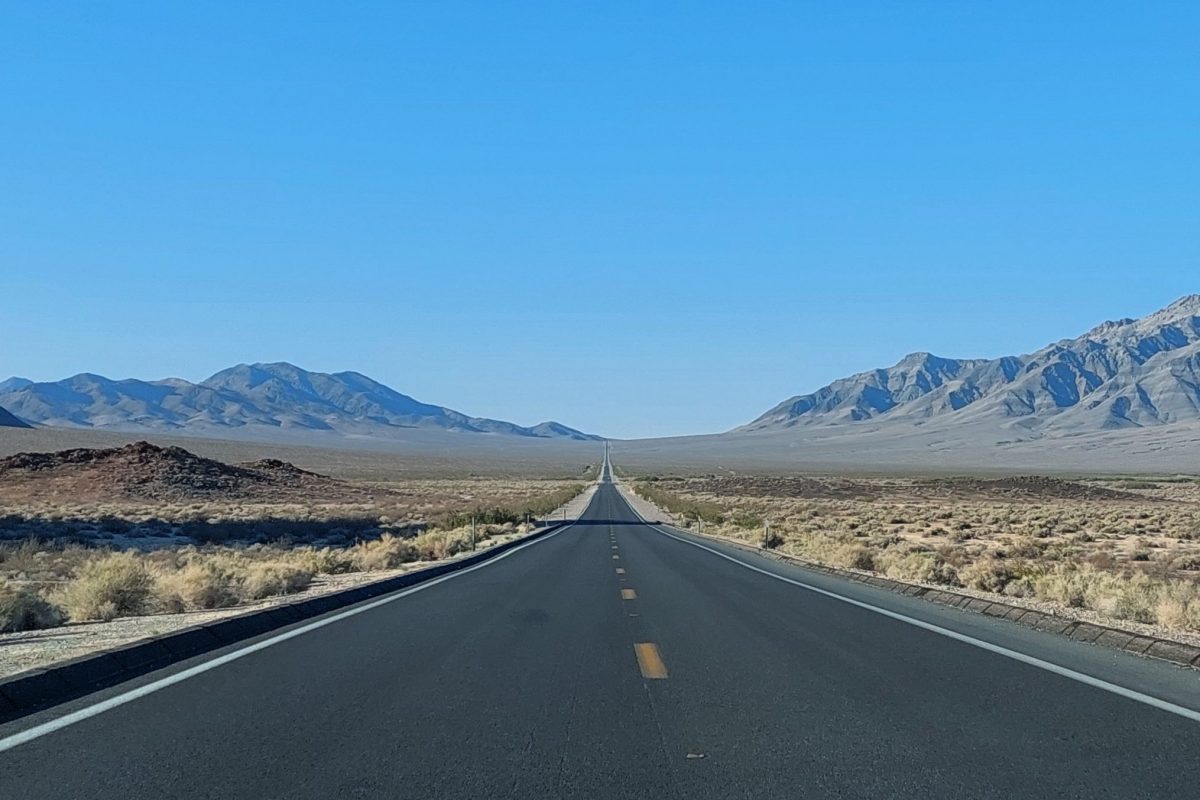 Away from the beaches, the best way to explore California is by car! Photo credit: Tim Wittmann/TU Braunschweig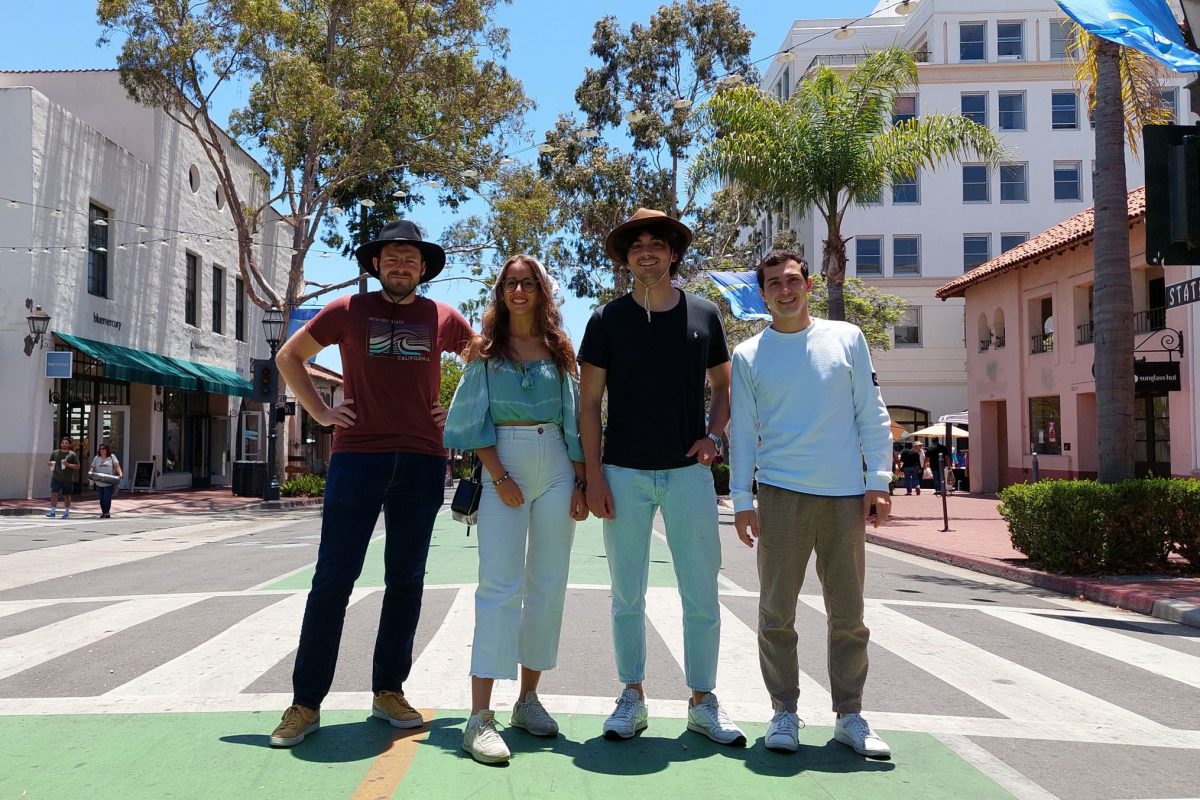 Irvine attracts students and researchers from all over the world. Therefore, it is never difficult to find fellow drivers for a road trip. Here we are in the beautiful coastal town of Santa Barbara. Photo credit: Tim Wittmann/TU Braunschweig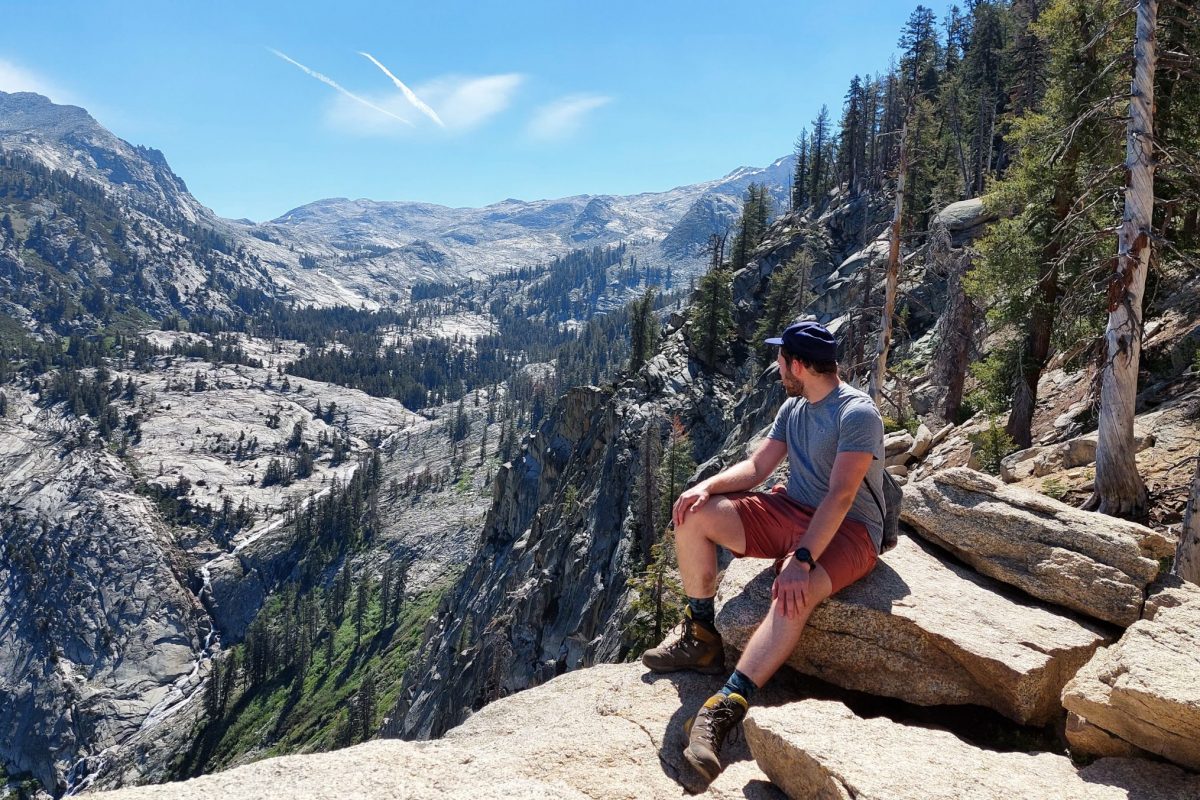 California offers a huge variety of national parks. I especially liked Sequoia National Park. Photo credit: Tim Wittmann/TU Braunschweig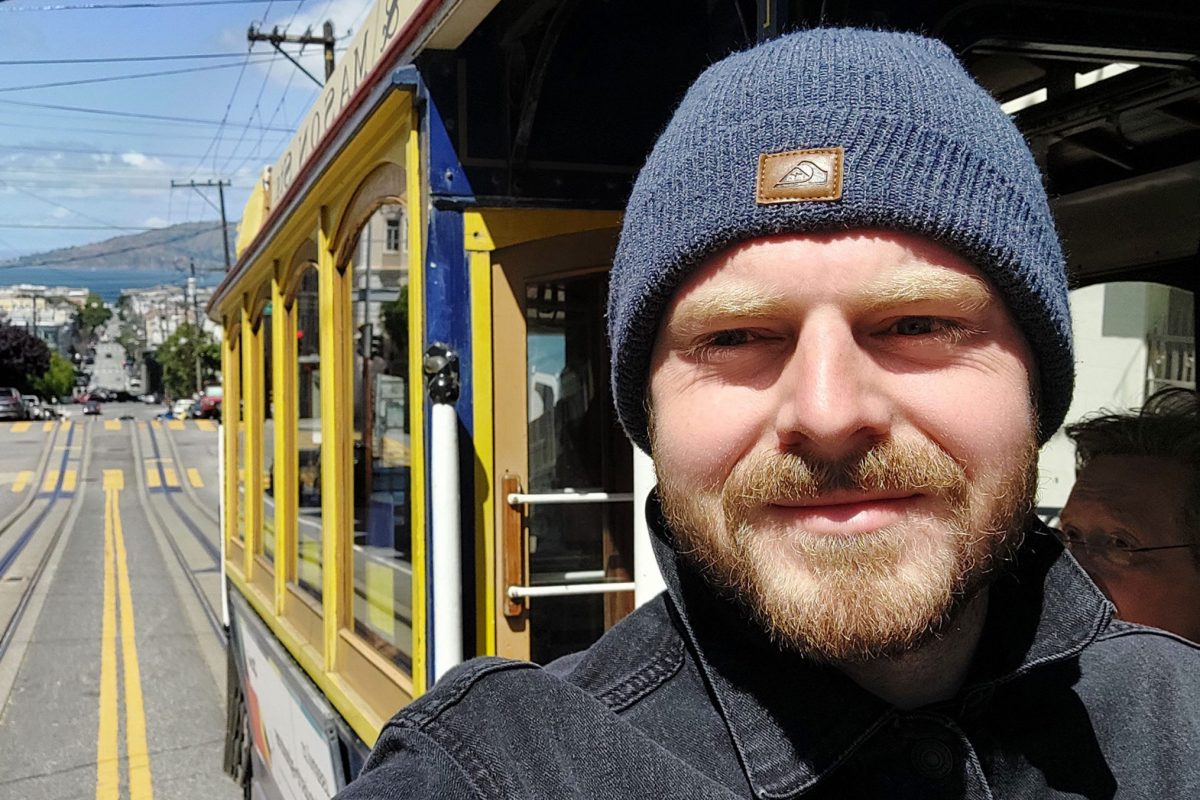 My favourite city in California is San Francisco. A ride in the cable cars is a must! Photo credit: Tim Wittmann/TU Braunschweig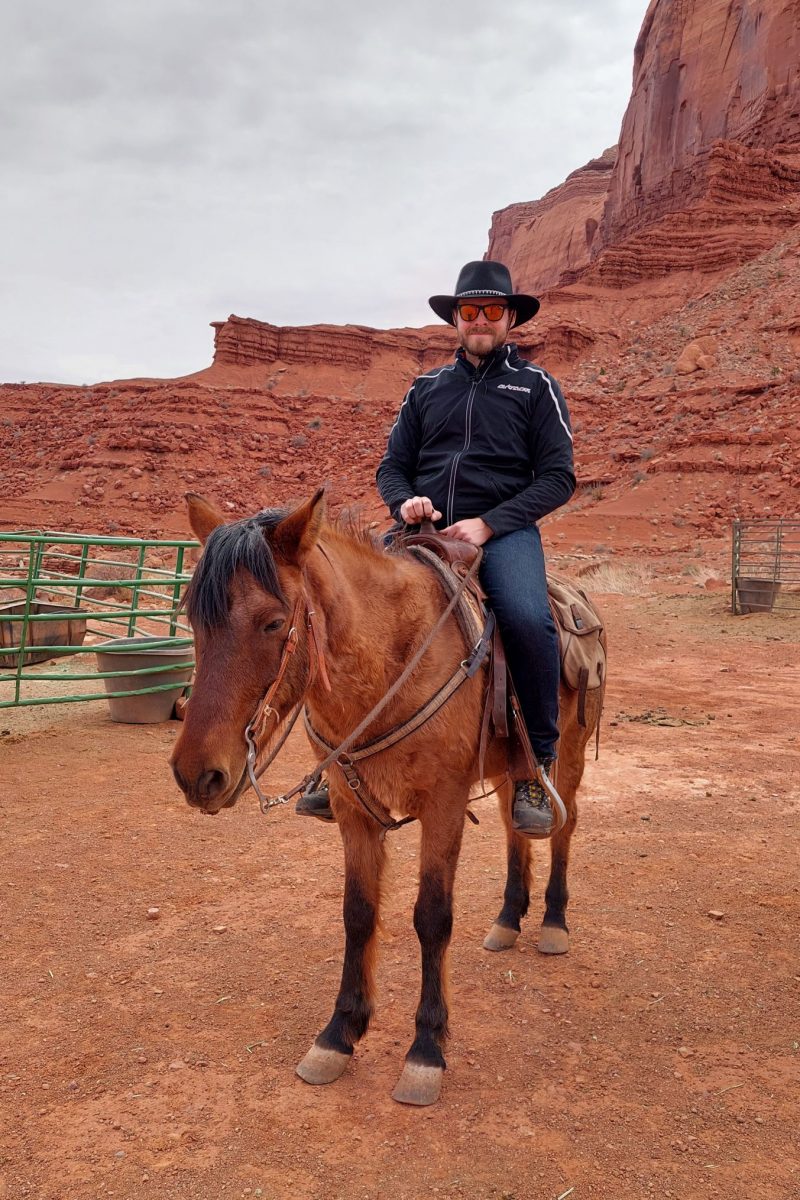 You can also find sustainable means of transport outside the cities. Photo credit: Tim Wittmann/TU Braunschweig
The total duration of my stay is:
My stay in Irvine will last six months and is made possible by the Cluster of Excellence SE²A – Sustainable and Energy-Efficient Aviation.
This is why I decided to go abroad:
Like all PhD students, I didn't meet many people, didn't attend many conferences and didn't learn many things because of the pandemic. The stay in California is a fantastic opportunity for me to make up for that.
Local Life
This is how I live in Irvine:
Irvine is incredibly expensive and due to the sparse development with detached houses, there are also only few rental offers. I now have a room with my own bathroom in the house of an older, very active and cheerful lady. I get on very well with her. We often have a glass of wine and I have also been a guest in her reading circle. For me, it's a great opportunity to leave the university bubble. I meet a lot of exciting people there, but only very few of them are from California.
What makes working in California different from working in Germany?
Unlike TU Braunschweig, UC Irvine is a real campus university. All the buildings are arranged around a large, beautiful park. I enjoy walking through this park every day. Doing a doctorate here works differently than in Germany. Doctoral students here are highly qualified students rather than employees of the university. They take courses, write exams and are hardly involved in teaching themselves.
Particularly typical for the country of my study abroad is:
Definitely the sun, palm trees and beaches. Southern California really does fulfil the familiar clichés. What surprised me were the many mountains right on the city limits. From my office window I can see Mount San Antonio, 3069 metres high. That's higher than the Zugspitze! In some places, I can even set off on hikes by bike that take me many hours through sandstone canyons and cactus forests.
This is what I learned here during the first three days:
Without a car, you are not human here. You step outside the door and feel like you're on an island surrounded by traffic. Fortunately, Uber is relatively cheap and Irvine, as a major exception, has a passable bicycle infrastructure. I therefore didn't have to buy my own car and only rent a car for weekend trips. I'm already looking forward to local transport in Braunschweig again!
The biggest challenge during my stay so far:
The Russian war of aggression kept me very busy. I demonstrated for Ukraine on the beach under palm trees. That was a surreal experience. Apart from that, I had to get used to the nine-hour time difference to Germany. If you want to keep in touch with friends and family, you do it in the Californian morning. Accordingly, you have to stay in the office longer in the evening. Otherwise, it is very easy to settle in California.
This is what I will take home with me from here:
The most obvious souvenir is my suntan. But I'll also get myself a few more things in the huge UC Irvine merchandise shop.
Good to know
This is a local dish you definitely have to try:
In its short history, California has not yet managed to develop many dishes of its own. "Chowder" is popular. It' s a thick fish soup with mussels. Typically Californian to me is the huge variety of street food and restaurants with food from all over the world. You can try something new here every day for weeks. Of course, there are also a lot of fast food chains. I did a broad, scientific study and can say: The best burgers are at In-n-Out!
Which blunder should you avoid in California?
There are no real blunders. However, you have to familiarise yourself with the different rules and laws. For example, public beer drinking in the university park would arouse the interest of armed campus police.
This is a tip I give to other students who want to go abroad:
Find friends, rent a car and head out into nature! The American Southwest is the absolute dreamland for road trips. For me, the national parks are the best California has to offer. If you want to see cities, avoid Los Angeles and visit my new great love San Francisco.
Pandemic
I took these special precautions in advance because of the Corona virus:
As an employed doctoral student, you have to clarify not only the American entry requirements but also a whole host of service-law related issues. It was quite a complex process with many ups and downs. Otherwise, of course: vaccinate and wear a mask!
This is how the Corona virus is affecting my stay:
When I left, Germany was in the middle of the Omicron wave. Before I left, I was extremely careful not to catch it. In California, however, Omicron had already subsided and Corona was suddenly very far away for me. At work, masks were still compulsory for a few weeks, but outside under the palm trees you could already enjoy life again.