For a colorful, diverse and open-minded university
By raising the rainbow flag the TU Braunschweig takes a stand
Today, at the beginning of the Sommerlochfestival, the rainbow flag was raised on the Universitätsplatz to set a sign for diversity, acceptance, openness and the right to self-determination. The event took place together with the new president of the TU Braunschweig, Professor Angela Ittel, as well as representatives of the Homosexuals University Group, the Women-Lesbian-Office, the Women's Library, LGBTIQ*@TU and the Coordination Office Diversity.
The rainbow is the symbol of the LGBTIQ community and with its variety of colors embodies a colorful society of acceptance, tolerance and diversity. The acronym stands for the English terms lesbians, gays, bisexuals, transsexuals, intersexuals and queers. Since July 15, 2021, the rainbow flag has been waving over the Universitätsplatz for the fourth time.
A tradition that inspires
"As a student body, we are very excited about this event and the appreciation of diversity it brings," Luca Kienel from the AStA board tells us. "Since the flag has already been raised every year since 2018 during the Sommerlochfestival, this sign has become a tradition that we definitely want to keep."
Professor Angela Ittel, President of the TU Braunschweig, also made her position clear on this occasion: "I am particularly pleased to be able to open this event today. Acceptance, diversity, anti-discrimination and openness are particularly important topics for me, from which we can all benefit! Both here at the university and in society in general, these are very essential values that make us strong and special. Only by trying to take different perspectives into account do we continue to develop and expand our thoughts. Only in this way can we raise our teaching, our administration and our research to a whole new level."
A sign that brings people together
In addition to various speeches, the event included a hands-on activity: equipped with colorful chalk, participants drew a rainbow on the ground of the Universitätsplatz. An opportunity that was gladly and much used. "It's great to see how many people have come, to show solidarity and to set a sign together," says Anouk Almstedt, officer of the Diversity Coordination Office at TU Braunschweig. In addition to colorful fingers and floors, there were also seed bags that, once fully blossomed, also stand for diversity in the form of colorful flowers.
A look into the future
There is more to come! Ideas for next year are already being collected: "This time we were limited in our options due to the current situation. In 2022, we want to enlarge the event and ensure with different stands, a lot of fun and diversity that this important topic is not forgotten," reports Thomas Kütz from the Homosexuals University Group (HUBS).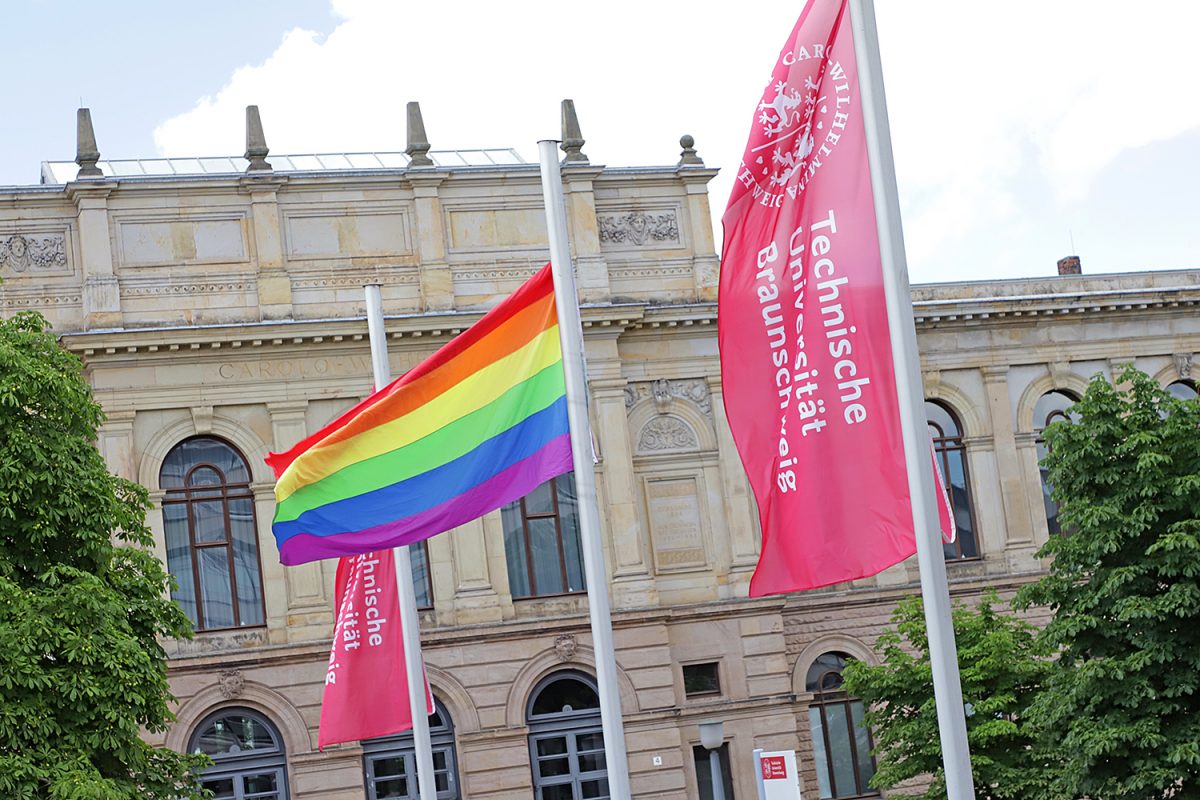 The rainbow flag centrally located between the flags of the university. Photo credit: Kristina Rottig/TU Braunschweig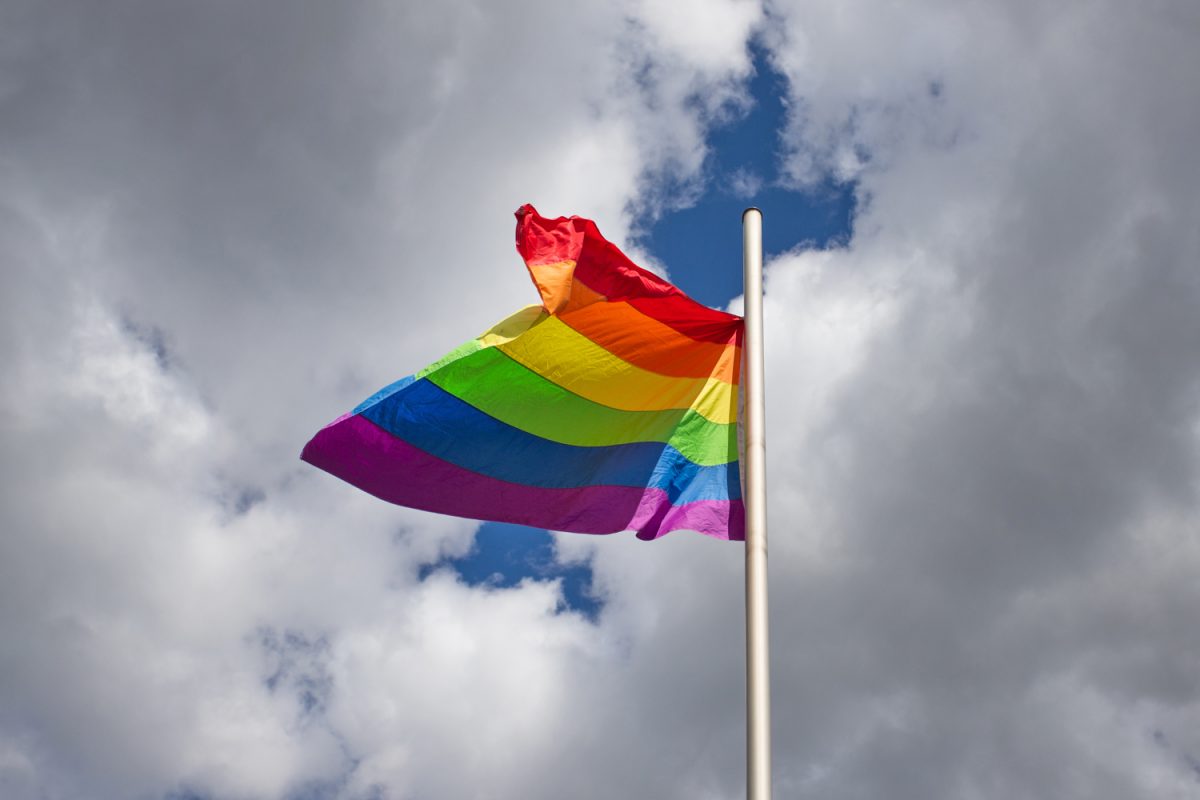 The flag now waves over the Univesitätsplatz for the duration of the Sommerlochfestival. Photo credit: Max Fuhrmann/TU Braunschweig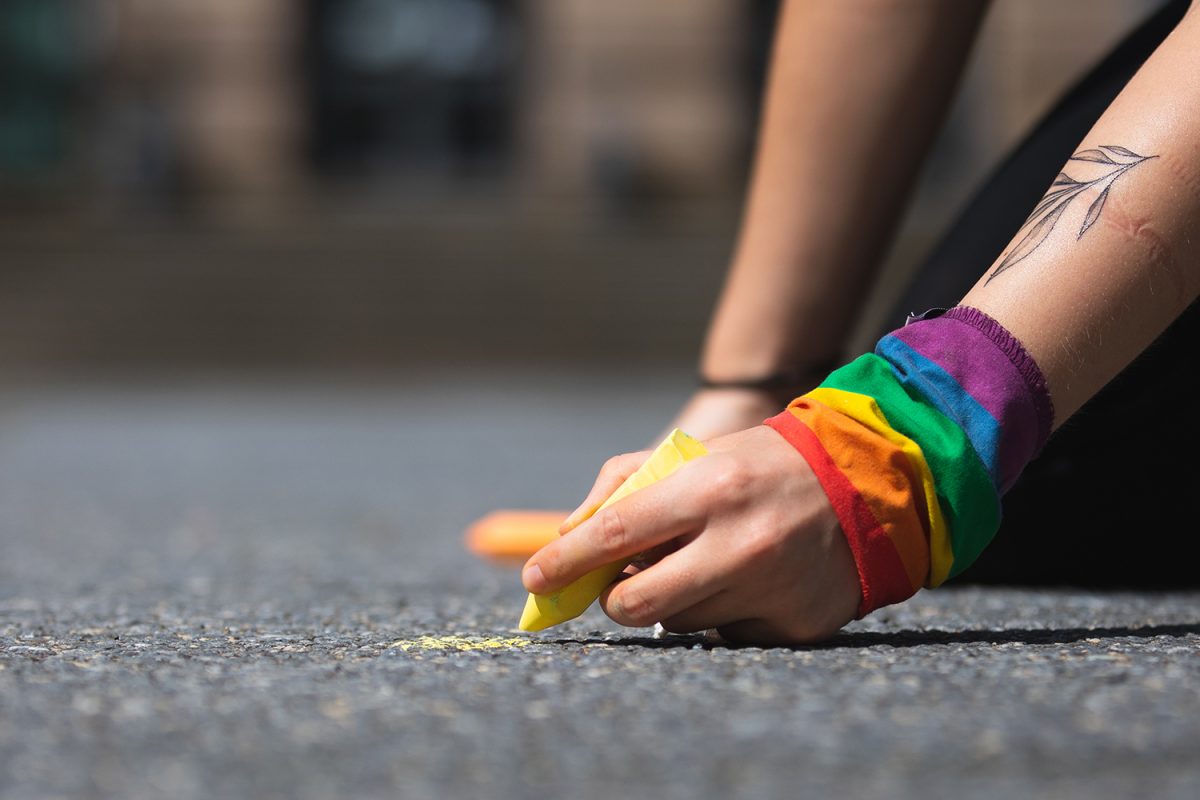 As a hands-on activity, the rainbow flag was also captured in chalk on the floor of the Universitätsplatz. Photo credit: Max Fuhrmann/TU Braunschweig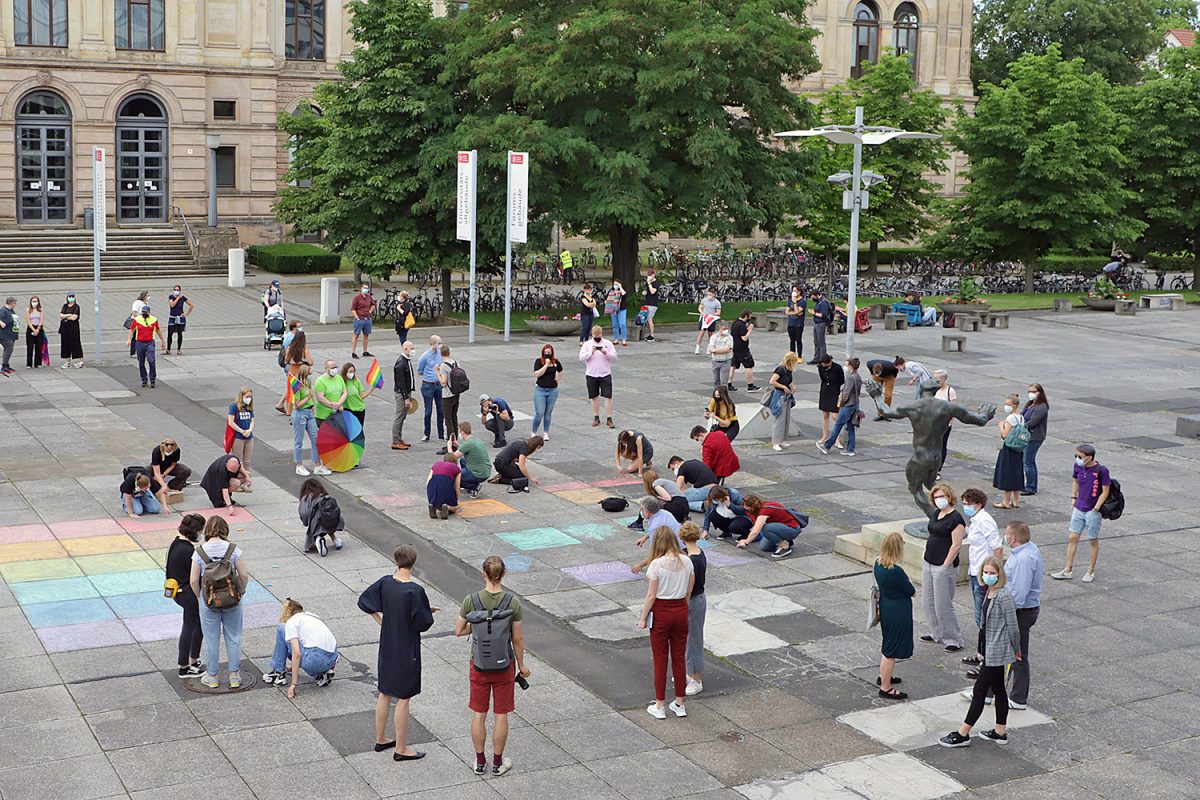 Many spectators and participants together set a sign for diversity, acceptance and self-determination. Picture credits: Kristina Rottig/TU Braunschweig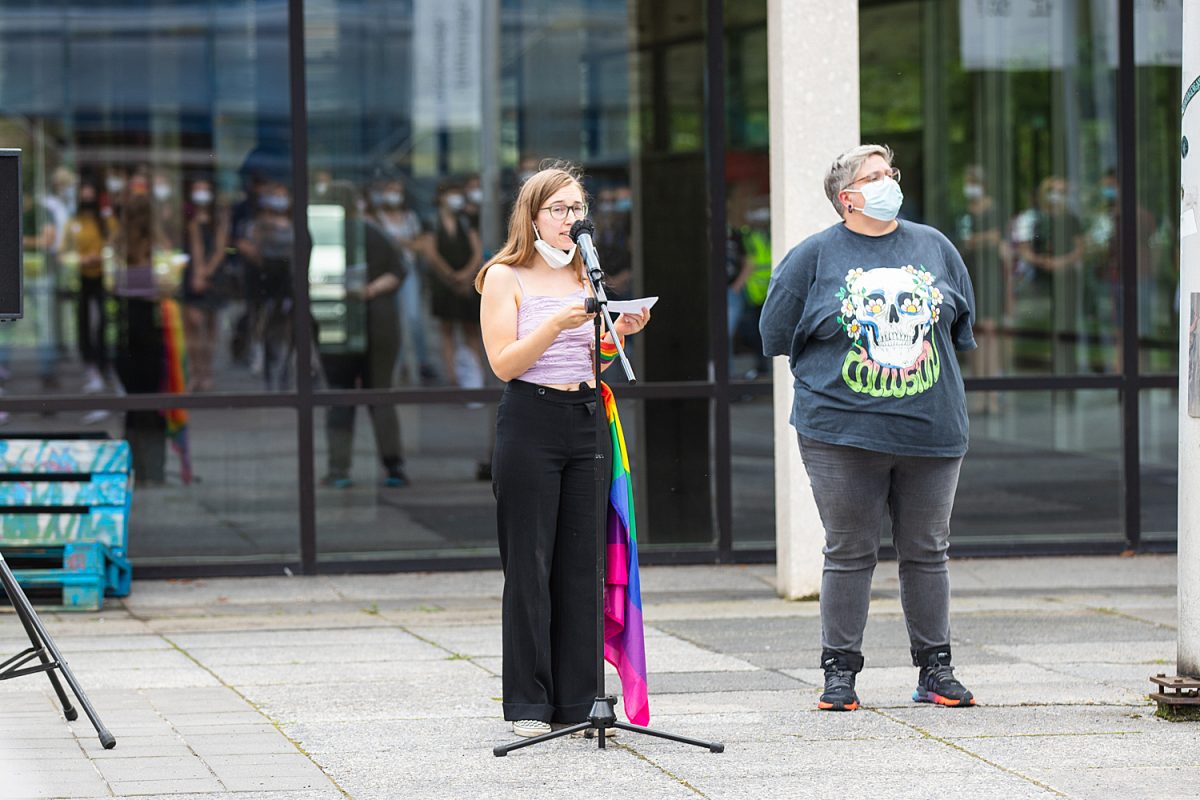 Anne and Britta from the Autonomous Women's and Lesbians' Office at TU Braunschweig. Photo credit: Max Fuhrmann/TU Braunschweig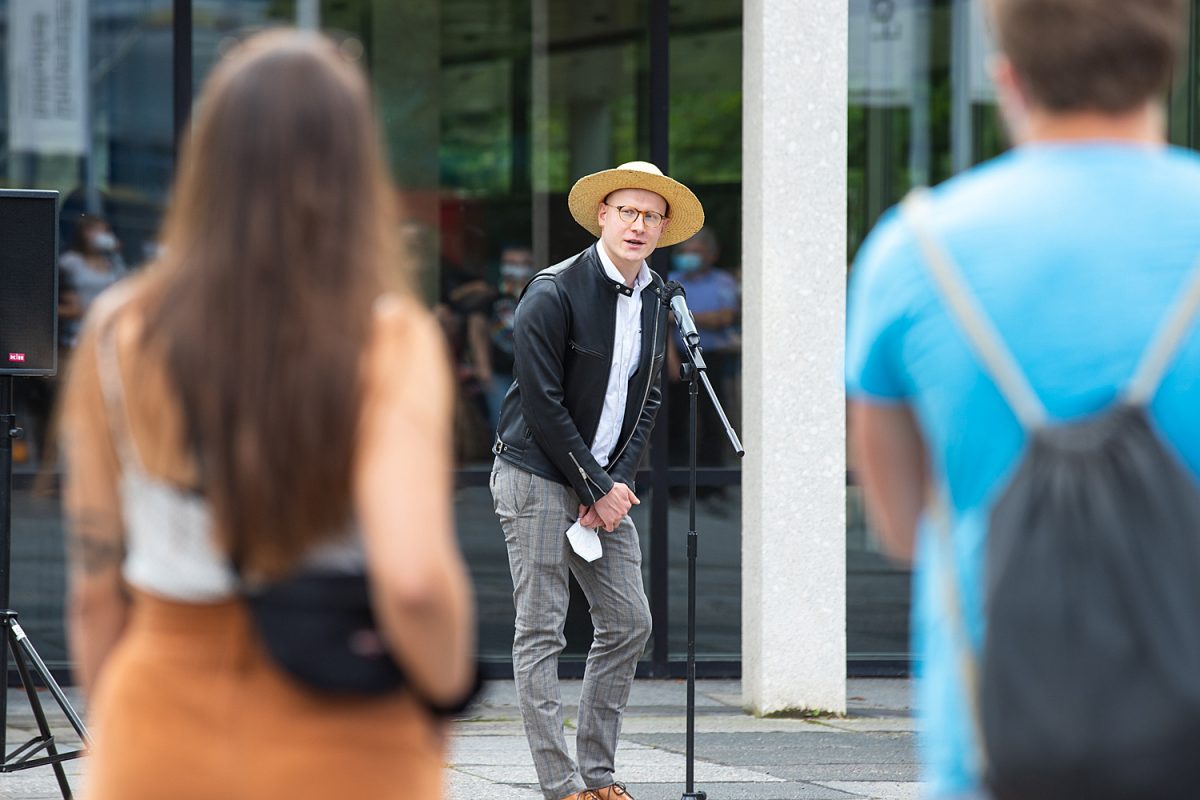 Thomas Kütz, representative of the Homosexuelle Unigruppe Braunschweig, expresses his pleasure at the continuation of this tradition. Photo credit: Max Fuhrmann/TU Braunschweig