"A Stroke of Luck for Both Sides"
International Partners of TU Braunschweig: Tampere University
TU Braunschweig works closely with numerous international universities and cooperation partners. By defining strategic partners, the international relations become even more targeted. In our new series, we present the universities with which strategic joint activities exist or are being developed and expanded in the areas of study and teaching, student mobility, research cooperation and staff mobility. To be presented today is a partner from the far north: Tampere University.
"Tervetuloa Tampereelle!" – that's Finnish and means "welcome to Tampere!". Tampere is the third largest city in Finland and is picturesquely nestled between the two lakes "Näsijärvi" and "Pyhäjärvi" in the southwest of the country. Tampere University is one of the most interdisciplinary universities in Finland and offers a wide range of degree programmes in English. In 2019, it merged with the two formerly independent universities, the University of Tampere and Tampere University of Technology. Today, 21,000 students and approximately 4,000 employees study and work under the umbrella of Tampere University.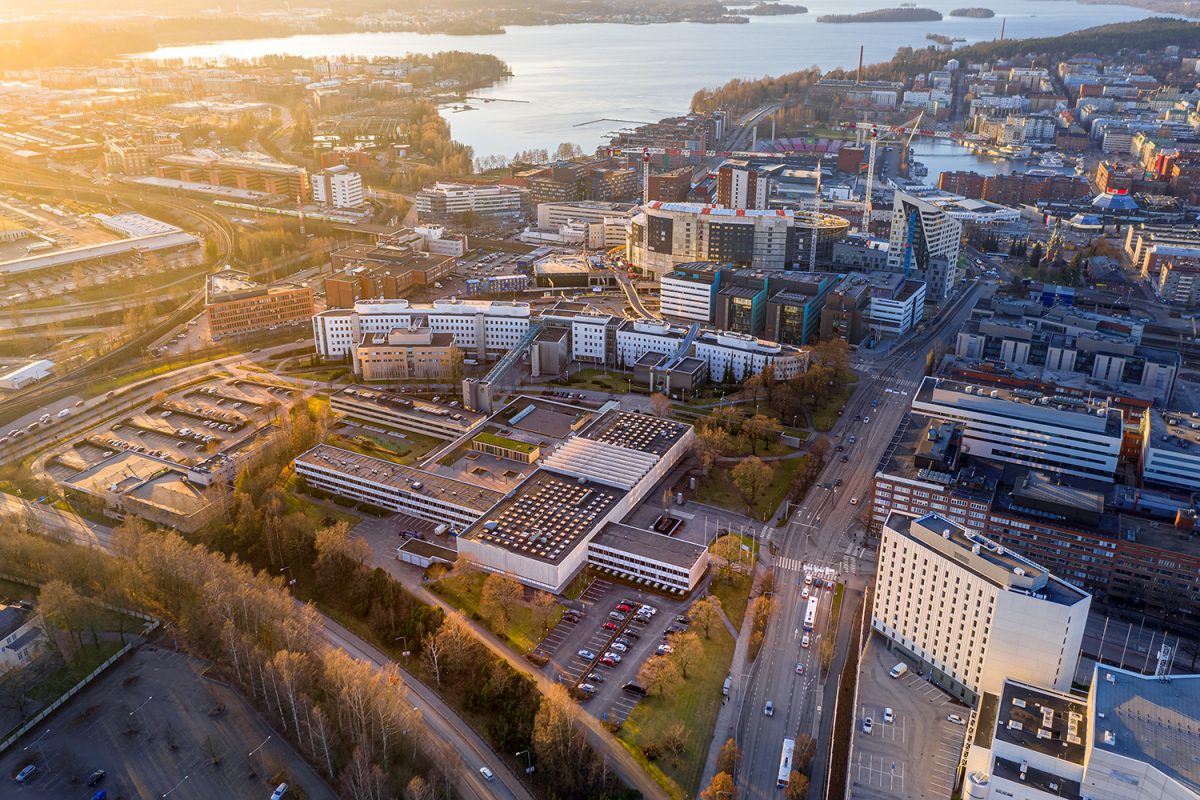 Tampere University has three different campuses spread across the city centre and the two districts of Hervanta and Kauppi. Photo Credit: Marko Kallio / Skyfox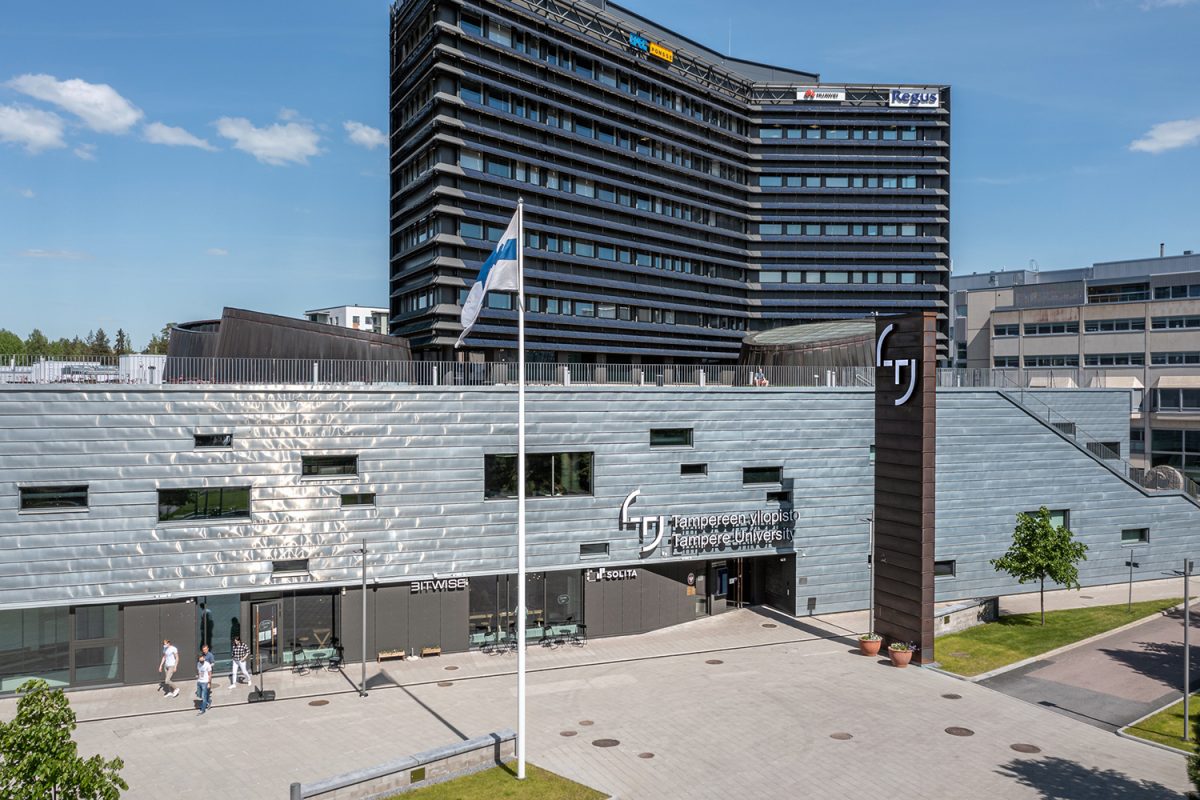 Tampere University's Campus Arena is an innovative building that combines many uses and aims to promote productive exchange between different groups at the university. Photo Credit: Marko Kallio / Skyfox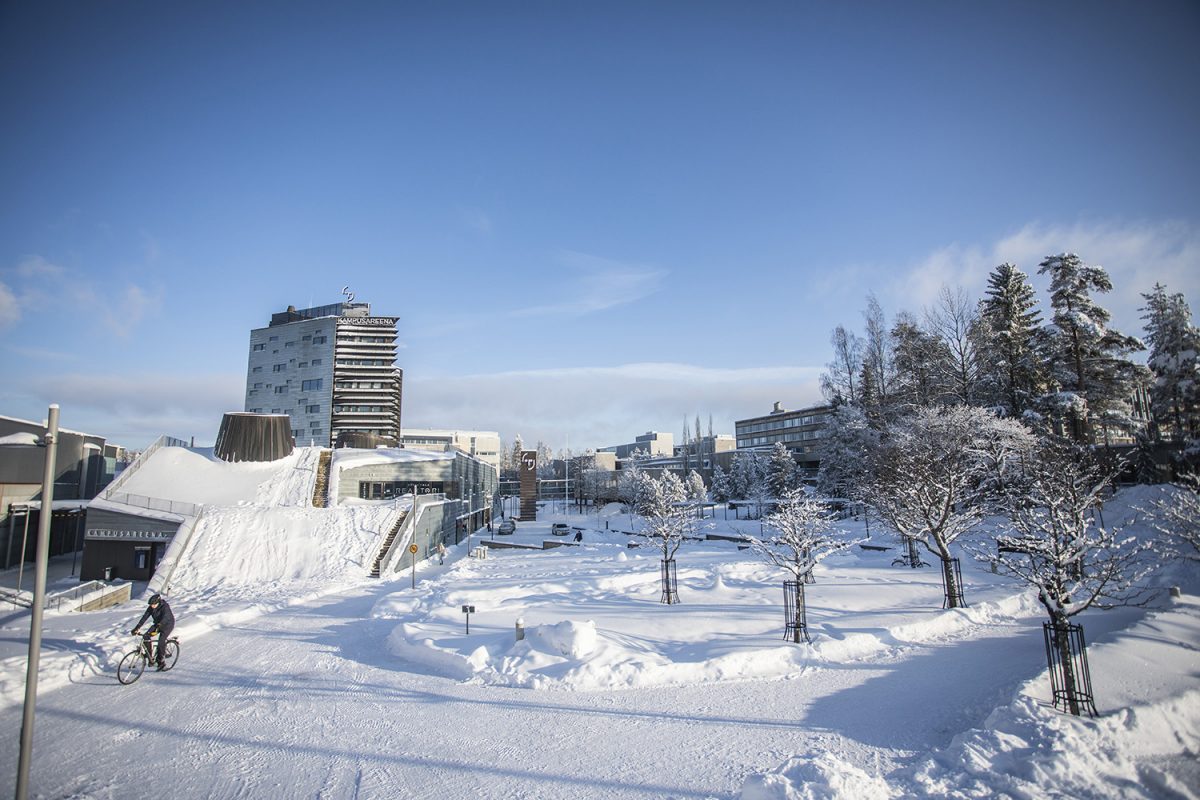 Tampere is Finland's third largest city with 230,000 inhabitants and attracts many visitors, especially in winter. Photo Credit: Jonne Renvall
Initial contacts between Tampere and Braunschweig have existed since 2008 through the research service of the two universities and the EU project Mamina, an interdisciplinary European research and training project which was coordinated on TU side by the Institute for Materials. During this time, there were already Erasmus partnerships between the two universities in the fields of mechanical engineering, economics and computer science. Over the years, these initial links developed into closer contact, which culminated in the first visit of a Braunschweig delegation to Tampere in 2017. Dietmar Smyrek, Vice President for Human Resources, Finance and Infrastructure at TU Braunschweig remembers: "What I remember most about our first trip to Tampere was the special flair on campus. I got to know our Finnish hosts as very pragmatic colleagues who are very good at finding creative solutions to their challenges and implementing them unbureaucratically." The idea to have Tampere University as a strategic international partner came about because there were many overlaps in central research areas such as mechanical engineering and communications engineering. The Tampere University of Technology was the second largest technical university in Finland as well, with a strong emphasis on programmes in English and internationally respected for its excellent science management. The Finnish hosts were particularly impressed at the time by the lecture given by the Vice President for Research, Prof. Dieter Jahn, who presented TU Braunschweig's research centres and networking with research in the region.
During the Finnish delegation's return visit to Braunschweig, which also took place in 2017, the Finnish guests were able to see for themselves the extensive research infrastructure at TU Braunschweig. "I didn't know much about Braunschweig beforehand and was very positively surprised at the time by what we saw on campus," says Ilkka Virtanen, International Relations Manager at Tampere University. "We met many open-minded and friendly people in Braunschweig. The excellent reputation of TU Braunschweig and the fact that our research areas are similar were instrumental in further deepening the partnership," Virtanen adds.
Further delegation visits from both sides followed in 2018, 2019 and 2020, during which the first joint projects were planned and implemented in addition to the exchange of experiences. For example, a seed-funding call for joint research projects was launched and the two university libraries also tackled joint projects. In the summer of 2019, the strategic connection between the two universities became official: since then, a cooperation agreement has governed the collaboration and underscores the firm intention to tackle further joint projects.
The partnership also increasingly focused on the exchange of administrative staff. An aspect that is also becoming more and more important for Bernt Erlewein, Head of Human Resources, Legal Services and Student Services at TU Braunschweig: "I think it is important and extremely exciting for our employees to be able to gain international experience. Many of the challenges we face in our day-to-day work in administration are the same at other universities. If we look beyond our own horizons, we can learn a lot from each other and implement best practices." Ilkka Virtanen sees the exchange via the Erasmus Staff Exchange Programme as playing an important role in the partnership: "The partnership with TU Braunschweig differs from our other partnerships primarily through this strong focus on the exchange of administrative staff. Both sides learn from each other by seeing how tasks or projects are approached at the other university."
Due to the Corona pandemic, opportunities for physical exchanges have been severely limited over the past two years, but hopes are high that reciprocal visits will be possible again in 2022. "Of course, it is important for the Staff Exchange Programme that the colleagues are on site at the partner university and not in the home office," explains Bernt Erlewein. "We are currently planning to travel to Tampere with a delegation in May or September. The prerequisite is, of course, that business trips abroad are then possible again without danger," he adds.
"There are still many possibilities in the partnership between our two universities that we have by no means exhausted," Virtanen looks ahead. Among other things, a joint summer school on the topic of aviation is being planned, in which TU Delft is also involved, and joint research is planned with the topic of "City of the Future". Some projects are already underway and to be continued, such as joint research funding programmes or the internationalisation of teacher training.
Dietmar Smyrek concludes: "From my point of view, the partnership between our two universities is a stroke of luck for both sides. Even the pandemic will not stop us and we are already looking forward to hopefully meeting again soon in person in Braunschweig or Tampere".
Text: Henrike Hoy (International House/TU Braunschweig)