Picture of the Month: Oregano
Spice with healing properties grows in the Medicinal Plant Garden at TU Braunschweig
Oregano makes people happy and insects too! – that could be the motto for our picture of the month. Oregano is an indispensable spice in Italian cuisine, but it also has numerous positive properties for humans and the environment. In the Medicinal Plant Garden of the Institute of Pharmaceutical Biology at Technische Universität Braunschweig, you can find not only the well-known Mediterranean oregano but also the native wild oregano.
In addition to its function as a spice, the native common Origanum shown in the picture of the month, also known as wild oregano, is also an ancient medicinal plant that possesses numerous health-promoting active ingredients. Especially in the Middle Ages, wild oregano was a popular medicinal plant because of its calming effect on body and mind. Hildegard von Bingen used the herb as a bath additive and as a liniment for skin diseases. In folk medicine, oregano is also used as a tea or tincture for respiratory diseases, colds, flu and digestive complaints. Its essential oils are also an important raw material for the cosmetics, perfumery and soap industries and a component of many herbal liqueur recipes. Often, however, it is no longer the wild oregano that is used, but its relative from the Mediterranean region. Mediterranean oregano has a higher concentration of active ingredients and was also cultivated in Central and Northern Europe with the monastic tradition.
On the menu of humans and insects
The oregano leaves are harvested before flowering in May and June and used in dried form as a spice. Burkhard Bohne, master gardener in the Medicinal Plant Garden, also has a tip for gourmets: "The flowers are also edible. Although they have hardly any active ingredients, they can enrich salads and vinegar with their fine aroma." Oregano is a welcome addition to the food palette not only for us humans. As our picture of the month shows, it is also an excellent food source for insects, as the nectar contains a lot of sugar.
The name "oregano" comes from the Greek [origanon] and gives an indication of its natural distribution. The generic name is composed of "óros" (mountain) and "gános" (ornament). The popular herb from the labiates family is native to Europe, Asia and North Africa. The perennial plant grows densely bushy, forms runners and grows about 50 centimetres high. Wild oregano is recognisable by its dark green, egg-shaped leaves with entire margins and downy hairs. Its upright stems are reddish, not branched at the base and bear pink or white flowers from June to September.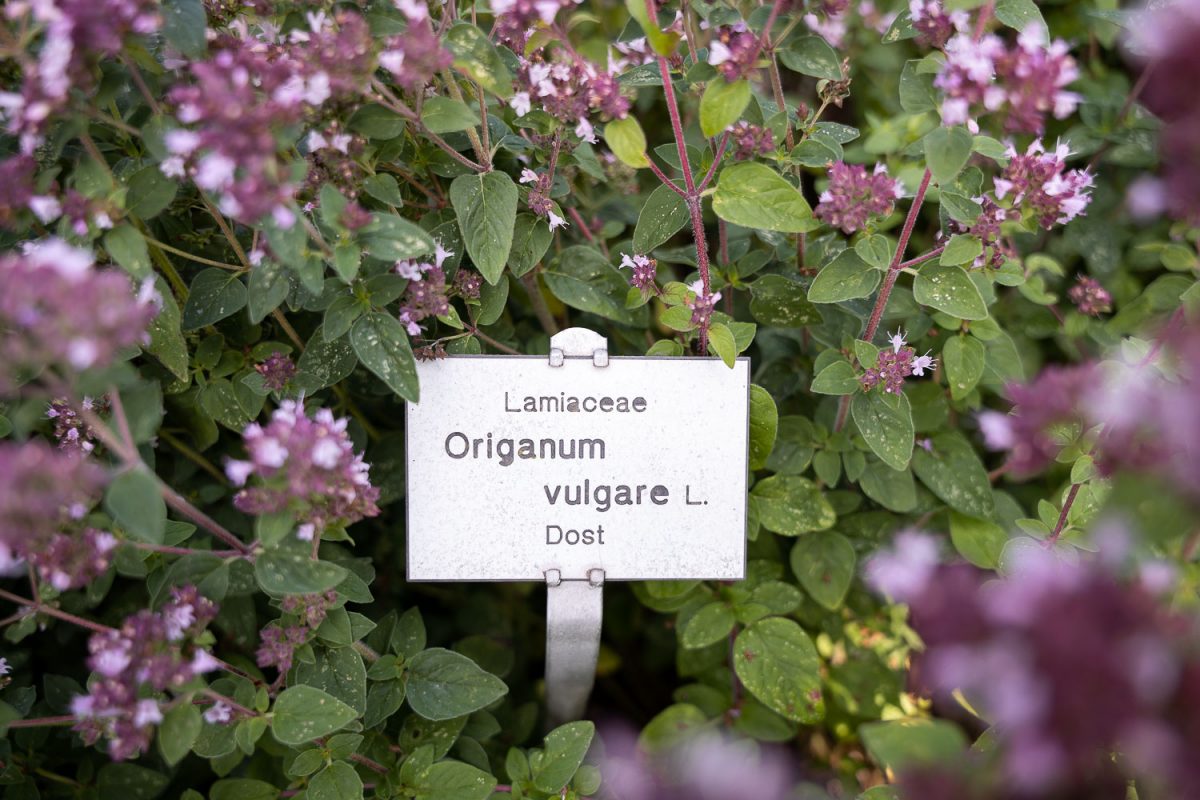 "Origanum vulgare" is the Latin name of the common oregano. Photo credit: Markus Hörster/ TU Braunschweig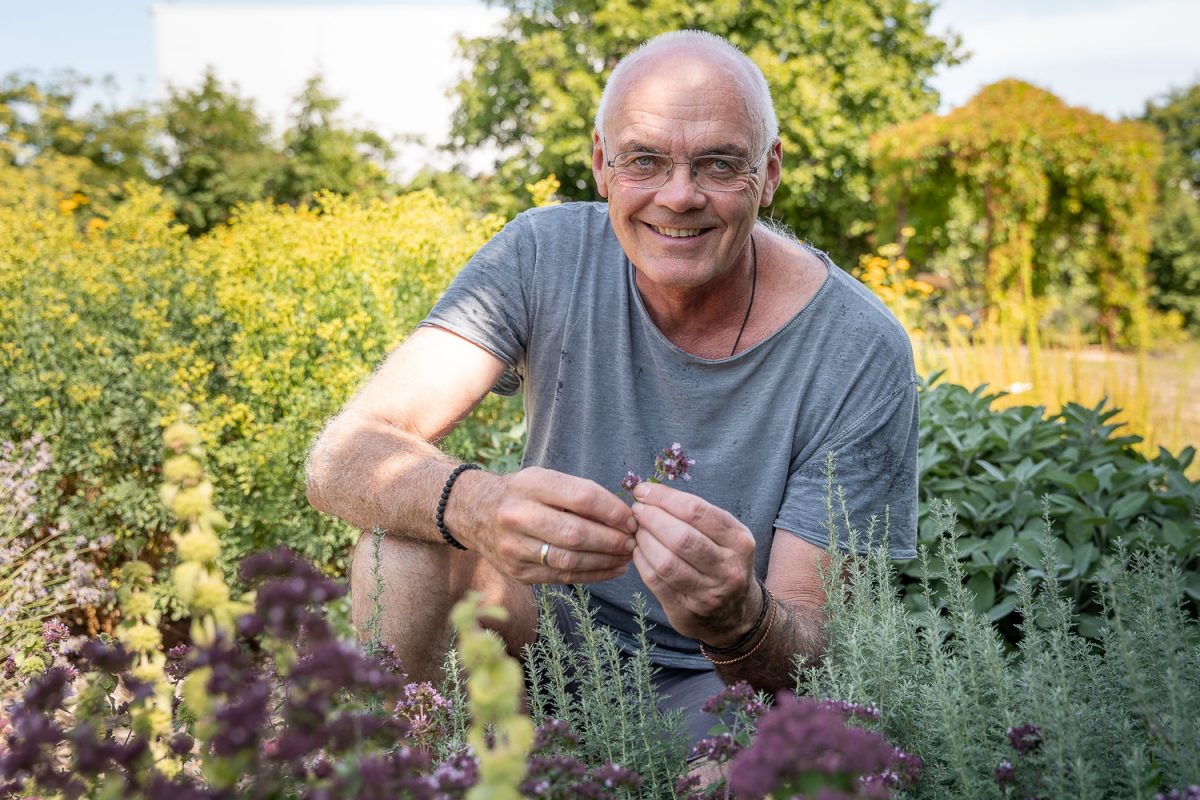 Burkhard Bohne, master gardener in the Medicinal Plant Garden, holds the flower of the common oregano in his hands. Photo credit: Markus Hörster/ TU Braunschweig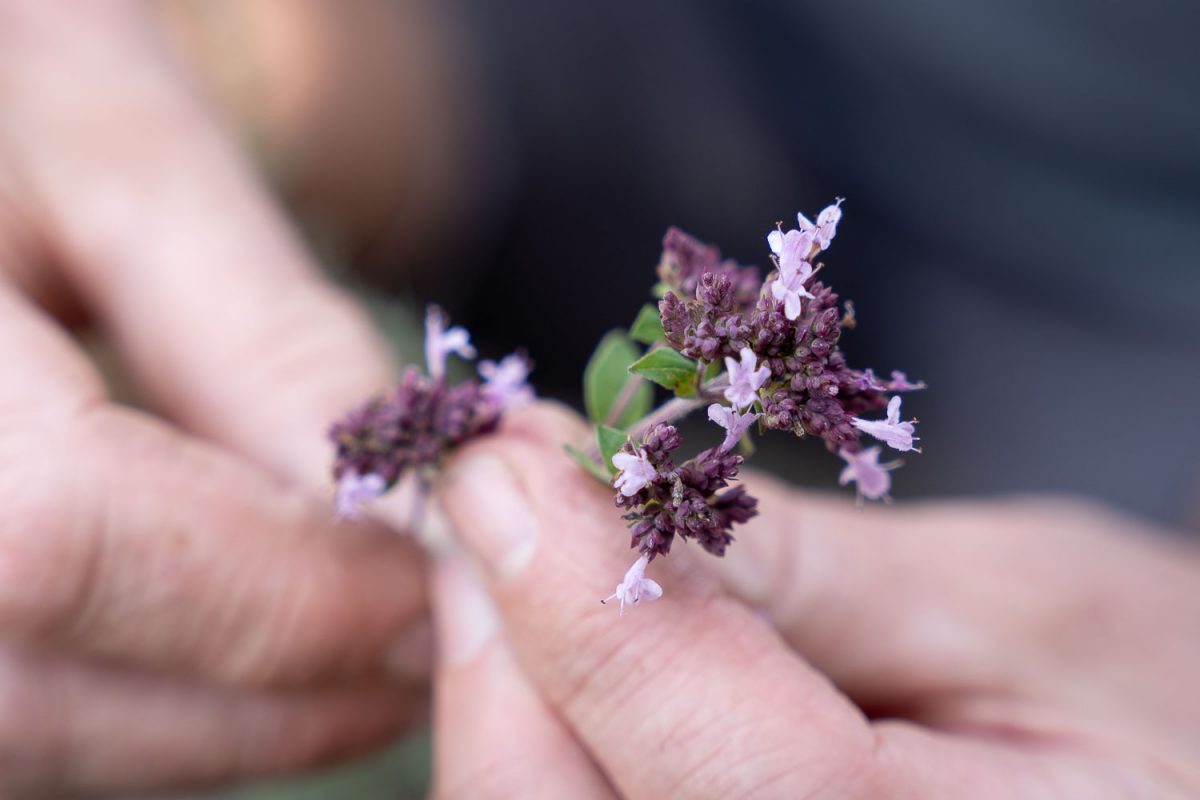 Oregano flowers from June to September. Typical for it are its white or pink flowers. Photo credit: Markus Hörster/ TU Braunschweig